Man who landed gyrocopter outside Capitol rejects deal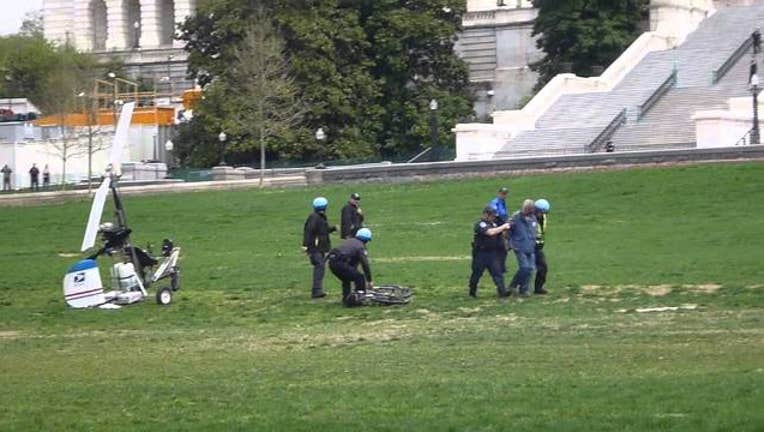 article
WASHINGTON (AP) - A man who landed a gyrocopter on the West Lawn of the Capitol as part of a protest against the influence of big money in politics said Thursday that he has rejected a plea deal that would strip him of his right to vote.
Douglas Hughes said after a hearing in federal court in Washington that prosecutors had offered him a deal that would have let him plead guilty to one felony count. But he said he rejected that deal and offered to plead guilty to misdemeanors because pleading guilty to a felony would mean he can't vote or run for office in Florida, where he lives. The Florida Constitution bars convicted felons from voting, serving on a jury or holding public office. People convicted of a felony must wait a minimum of five years after finishing their sentences and any supervised release before applying to get those rights restored.
Hughes, from Ruskin, Florida, was arrested April 15 after flying from Gettysburg, Pennsylvania, to Washington and flouting flying restrictions around and over the nation's capital. He has been allowed to return to Florida while his case continues.
On Thursday, a prosecutor said in court that lawyers are still working on a potential plea. Both sides recently got a report from the probation office, which calculates guideline sentences to assist judges in sentencing. If Hughes were convicted of all six counts against him, he would face no time to 9.5 years in prison, but the probation office said there were no directly similar cases to compare Hughes' to as far as giving guidance to a judge on a sentence, prosecutor Tejpal Chawla said. Hughes said outside of court that the probation office did say that what he did was similar to trespassing, an offense that would carry a zero-to-six-month guideline sentence.
Hughes said Thursday that he was "not at all optimistic" about reaching a plea deal. He has said previously that he rejected a deal that included several years in prison and that if prosecutors continued to insist on "significant hard jail time," his case would go to trial.
Hughes is scheduled to return to court Nov. 20.
___
Follow Jessica Gresko at https://twitter.com/jessicagresko