Tropical Depression 10: Florida in projected path of tropical system in Gulf of Mexico
Original story
A tropical system slowly moving through the Caribbean and approaching the Gulf of Mexico has strengthened to become a tropical depression – and could become a tropical storm and eventually a hurricane before it reaches Florida.
Shortly after 4 p.m., the National Hurricane Center upgraded Invest 93L to Tropical Depression Ten. If it continues to strengthen and becomes a tropical storm, it will be known as Tropical Storm Idalia.
At its 5 p.m. advisory, the NHC said the storm was about 65 miles northeast of Cozumel, Mexico and was nearly stationary. The minimum central pressure was 1006 mb.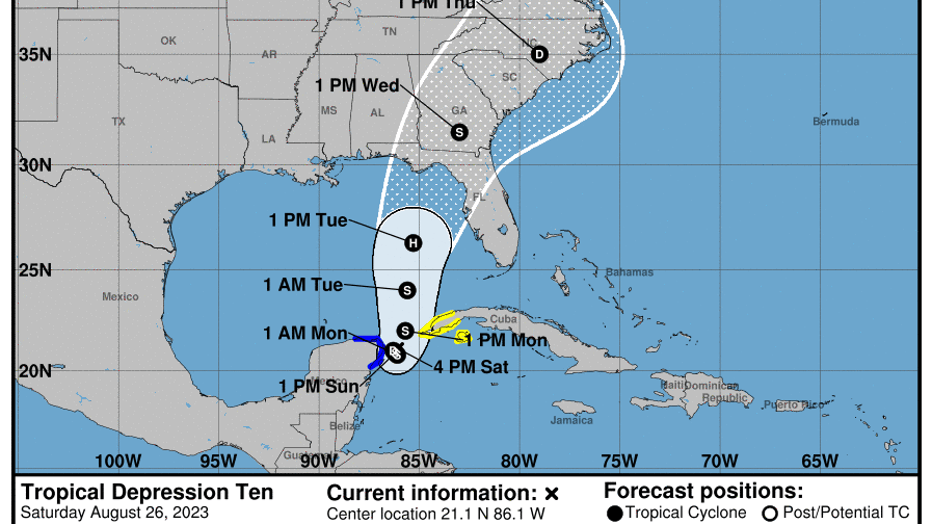 "Little overall movement is expected through Sunday," NHC said. "A slow, generally northward, motion is expected to begin on Monday."
It is expected to gradually strengthen over the next 48 hours and is likely to become a tropical storm on Sunday, the NHC said.
DOWNLOAD THE FOX 35 NEWS AND FOX 35 STORM TEAM APPS
Sandbags: Here's where to get them in Central Florida
Where is Tropical Depression 10 headed?
Tropical Depression 10 is expectedly to slowly move northward into the southeastern Gulf of Mexico. The possible pathway still leads it across the Gulf of Mexico toward Florida, but exactly where the system will travel is still unknown at this time.
Western Cuba and Mexico's Yucatan Peninsula could see heavy rain from this system.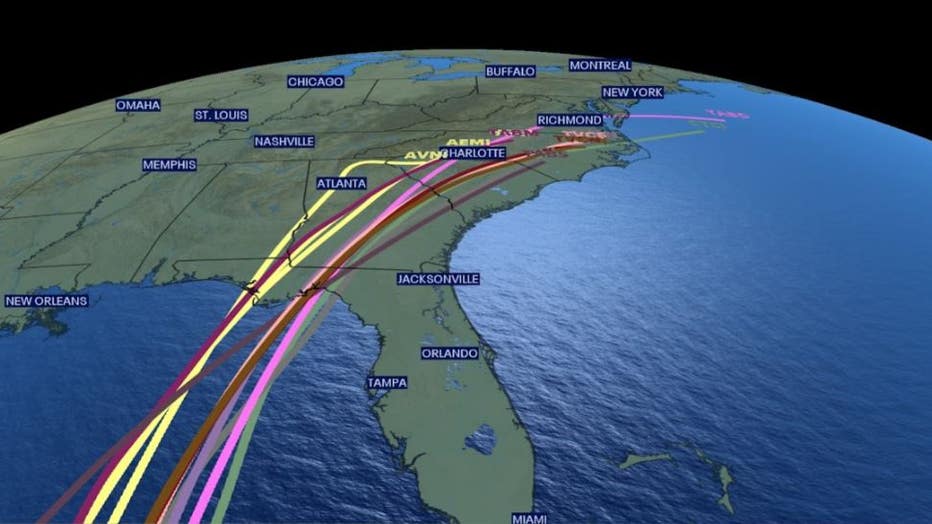 Tracking Tropical Depression 10: What are we expecting in Florida?
Florida should remain on guard and prepared for possible impacts as soon as Tuesday and Wednesday, according to FOX 35 Chief Meteorologist Jayme King. Regardless of where the system lands, heavy rain, gusty winds, and isolated tornadoes are all possible.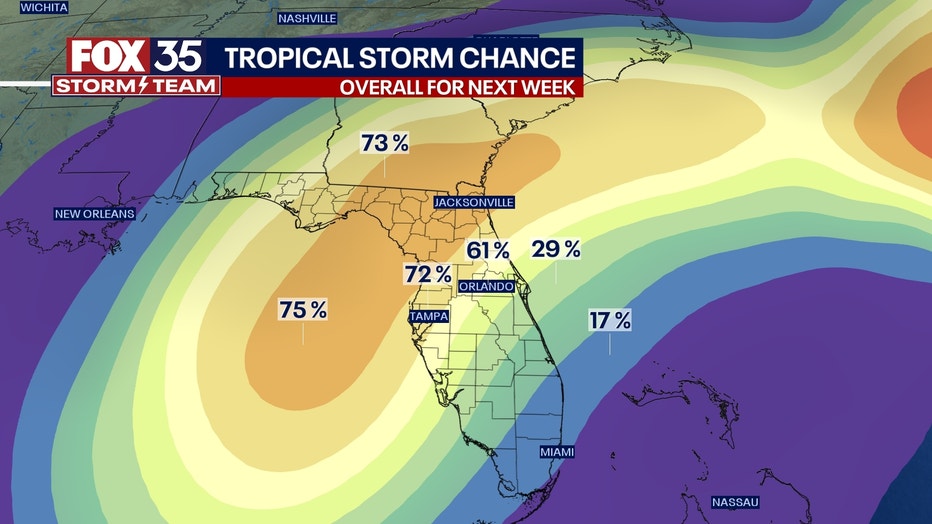 Be prepared just in case
Florida Gov. Ron DeSantis said in a tweet earlier this week that he's instructed Florida's Emergency Management Team to prepare for a possible tropical system to reach Florida.
"Residents should remain vigilant and prepare for possible impacts early next week," he said.
On Saturday, Gov. DeSantis declared a state of emergency for 33 Florida counties "out of an abundance of caution" to allow the Florida Division of Emergency Management to begin staging resources and allow Floridians to begin preparing for a possible storm.
The State of Emergency was issued for the following counties:
Alachua
Bay
Calhoun
Charlotte
Citrus
Columbia
DeSoto
Dixie
Franklin
Gadsden
Gilchrist
Gulf
Hamilton
Hardee
Hernando
Hillsborough
Jefferson
Lafayette
Lee
Leon
Levy
Liberty
Madison
Manatee
Marion
Pasco
Pinellas
Polk
Sarasota
Sumter
Suwannee
Taylor
Wakulla
What is an invest?
An invest system is short for "investigative system" or "area of interest." The invest tag is reserved for areas of disturbed weather being monitored for potential tropical development.
Once the National Hurricane Center expresses interest in a potential system, spaghetti forecast models are generated, which can help forecast where a particular system may travel.
Invests are identified by numbers ranging from 90-99, and the letter "L" is attached if the system is located in the North Atlantic. These numbers are rotated throughout the season and re-used if necessary.
This system of identification is crucial to forecasters, especially if there are multiple tropical disturbances being tracked in a particular area at the same time.