Hurricane Idalia flashes toward Florida on anniversaries of devastating hurricanes Katrina, Ida
Tuesday marks the anniversary of the devastating hurricanes Katrina and Ida. At the same time, Hurricane Idalia is approaching Florida, while Hurricane Franklin continues churning in open Atlantic. 
The anniversaries fall just one day before Idalia is predicted to make landfall on the Big Bend of Florida's Gulf Coast on Wednesday morning. The storm is expected to escalate into an extremely hazardous Category 3 hurricane, with destructive winds, flooding rains, and storm surges that pose a risk to life along most of the state's west coast.
HURRICANE IDALIA RAPIDLY INTENSIFYING AS FLORIDA BRACES FOR CATASTROPHIC IMPACTS, LIFE-THREATENING STORM SURGE
TOPSHOT - Montegut fire chief Toby Henry walks back to his fire truck in the rain as firefighters cut through trees on the road in Bourg, Louisiana as Hurricane Ida passes on August 29, 2021. - Hurricane Ida struck the coast of Louisiana on August 29 as a powerful Category 4 storm, 16 years to the day after deadly Hurricane Katrina devastated the southern US city of New Orleans."Extremely dangerous Category 4 Hurricane Ida makes landfall near Port Fourchon, Louisiana," the National Hurricane Center wrote in an advisory. (Photo by Mark Felix / AFP) (Photo by MARK FELIX/AFP via Getty Images)
Hurricane Katrina
Hurricane Katrina was a Category 3 storm with winds near 125 mph when it slammed into the New Orleans area on Aug. 29, 2005. 
Those winds pushed a catastrophic storm surge of between 10 and 30 feet in the region ashore. All that water overtopped or breached levees meant to protect New Orleans, which led to calamitous flooding and a humanitarian crisis.
Deaths from the storm were revised this year to 1,392 fatalities, both direct and indirect. A majority of those deaths – 341 – happened in Louisiana, and most of those people were over the age of 60.
According to a report by the National Oceanic and Atmospheric Administration's National Centers for Environmental Information, Hurricane Katrina caused $125 billion in damage in 2005. Adjusted for inflation, the estimated cost of damage caused by the hurricane is $186.3 billion in 2022. That cements its position as the costliest U.S. hurricane on record. Hurricane Harvey in 2017 comes in second at $148.8 billion.
HURRICANE IDALIA TIMELINE TRACKER: WHEN AND WHERE TO EXPECT IMPACTS IN FLORIDA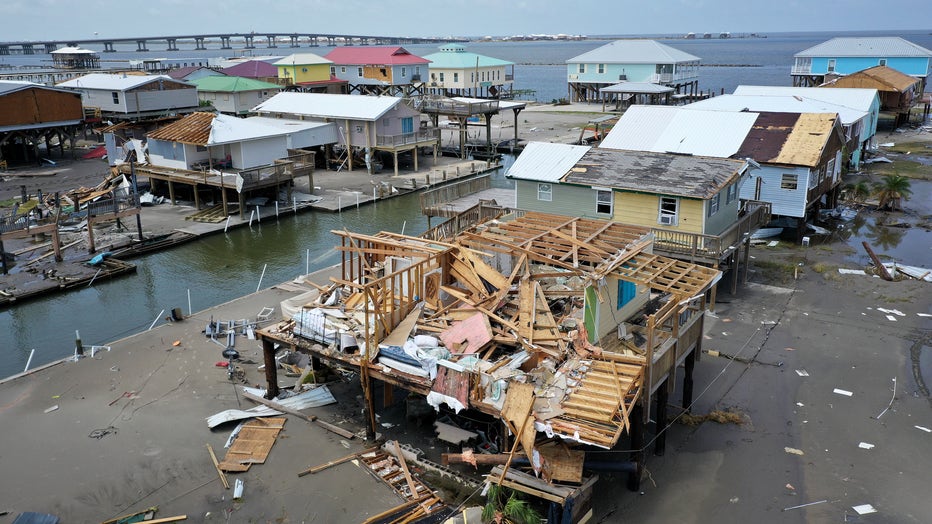 GRAND ISLE, LOUISIANA - SEPTEMBER 02: Homes destroyed in the wake of Hurricane Ida are shown September 2, 2021 in Grand Isle, Louisiana. Ida made landfall August 29 as a Category 4 storm near Grand Isle, southwest of New Orleans, causing widespread p
Hurricane Ida
Hurricane Ida, a Category 4 storm, hit the northern Gulf Coast and Grand Isle, Louisiana, on Aug. 29, 2021, causing devastating damage. 
The storm walloped coastal Louisiana with winds near 150 mph and a 14-foot storm surge. Island towns and fishing villages were left in shambles.
At least 55 deaths were caused by Ida directly, according to the National Hurricane Center's post-storm analysis. The deaths of 32 people were indirectly related to the storm.
BEWARE OF THE 'I' STORM: IT HAS MORE RETIREES THAN ANY LETTER USED FOR ATLANTIC HURRICANE NAMES
According to the NHC report, the storm caused a total of $75 billion in damages. This puts Hurricane Ida in fifth place on the list of costliest landfalling hurricanes on record.
The name Ida was retired from the hurricane naming lists, as was Katrina, meaning there will never be another tropical storm or hurricane with those names.