Gene therapy may reduce need for blood transfusions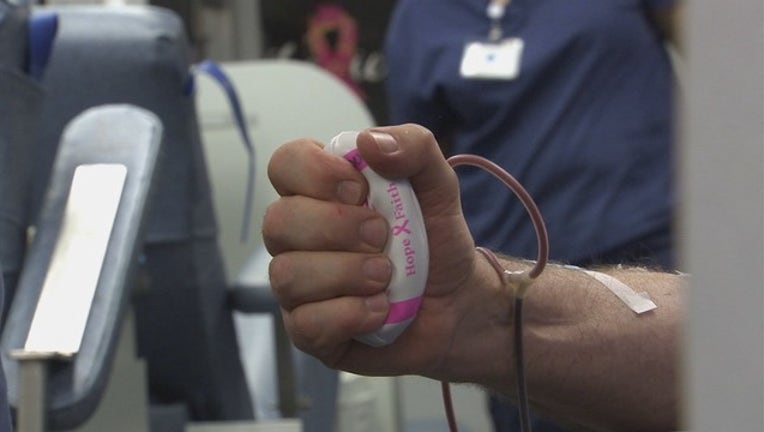 article
ATLANTA - Each year, about 5 million Americans undergo a blood transfusion. The procedure is used to replace blood lost in surgery and accidents, and to help people with certain illnesses. For Rahul Kapoor's life, blood transfusions are a monthly lifeline.
Every 4 weeks, the Stone Mountain 25-year old spends up to 6 hours in an armchair at Emory's Winship Cancer Institute, receiving red blood cells. He's been doing this since he was 4.
"Without it, I wouldn't be here today," Kapoor says.  "So, I'm very grateful for all the doctors, all the nurses who have been with me throughout this process."
Kapoor has a severe form of the inherited blood disorder beta-thalassemia. His body can't produce enough hemoglobin, the protein that allows red blood cells to supply oxygen to his body.
So, he struggles with anemia, and fatigue, especially as he's nearly the next transfusion.
"Once I get home from work, I want to take a 30-minute nap," Kapoor says.  "It ends up being much longer, and I I know why."
The monthly transfusions keep Kapoor going, but Winship Cancer Institute hematologist Dr. Morgan McLemore says they come with risks.
"Individuals can get overloaded with iron, and can reach toxic levels of iron in their bodies rather quickly," Dr. McLemore says.  "So. they all have to be on medications to keep the iron levels low in their body."
But, an experimental gene therapy may put an end to the need for chronic transfusion in beta-thalassemia patients like Rahul Kapoor. Researchers are using a gene-carrying virus to fix the defective globin gene driving the disorder. In early-stage trials, 22 patients between the ages of 12 and 35 had their blood stem cells harvested and treated in a lab.
After undergoing 4 days of chemotherapy, the patients' gene-altered cells were reintroduced back into their body. Then, they were followed for anywhere between 15 to 42 months. Researchers say 15 of the 22 patients, most with a less severe form of the disorder, were able to stop receiving red blood cell transfusions for at least a year. The others were able to dramatically reduce the number of transfusions they needed a year.
Dr. McLemore cautions the study, published in the April 2018 issue of the New England Journal of Medicine, was small, and there are still unanswered questions. Researchers don't know how long the effects of the treatment will last, whether the therapy will work in children under 12 and whether the findings can be replicated in a larger group of patients. Researchers are set to begin additional trials.
Rahul Kapoor is eager to see what will happen. He says he'd jump at the chance to help pioneer a treatment that might help him put the monthly transfusions behind him.
"I'd be very grateful," he says.  "I wouldn't have to worry about taking so much time off. I wouldn't have to worry about the risks of month transfusions."