Fulton County DA files motion to move up Georgia election interference trial; Trump responds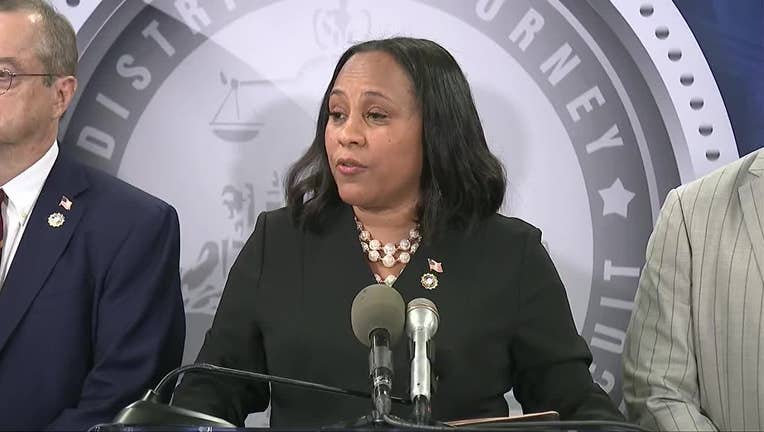 article
ATLANTA - On the day former President Donald Trump is expected to surrender to authorities in Georgia on charges that he illegally schemed to overturn the 2020 election in the state, Fulton County District Attorney Fani Willis has filed a motion to move the trial date up for Trump and his co-defendants.
Last week, the former president and 18 other associates were indicted in Georgia as part of a sweeping case alleging they all schemed to illegally overturn his 2020 election loss and stop the peaceful transition of power to President Joe Biden. The indictment, brought by Willis, follows an investigation that lasted more than two years and marks the fourth criminal case brought against the former president.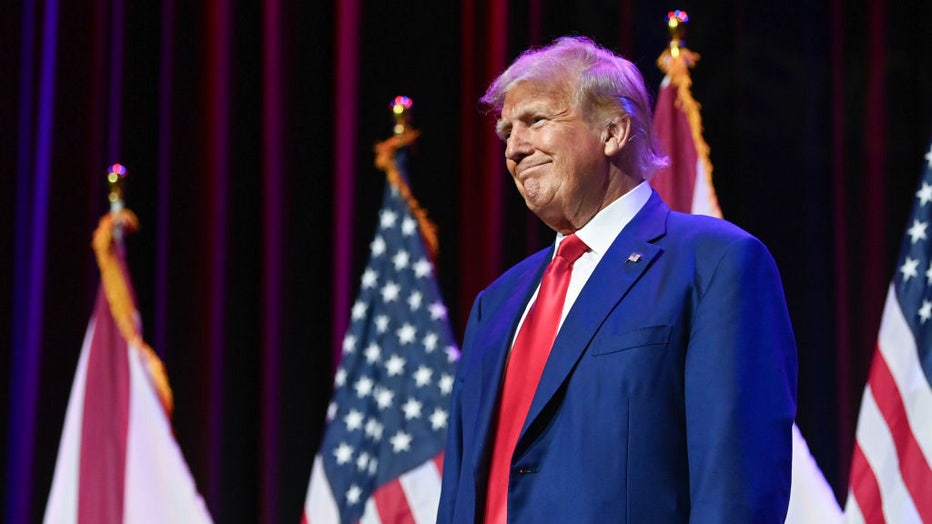 Former U.S. President Donald Trump looks on during the Alabama Republican Party's 2023 Summer meeting at the Renaissance Montgomery Hotel on August 4, 2023 in Montgomery, Alabama. (Photo by Julie Bennett/Getty Images)
LIVE UPDATES: TRUMP TO SURRENDER IN ATLANTA 
Willis had earlier given all the defendants until Friday afternoon to turn themselves in at the main Fulton County jail. On Thursday, her office proposed an October 23 trial date, though the complexities of the 19-person case — and potential scheduling conflicts with other Trump prosecutions — would appear to make it all but impossible. 
The date seemed to be a response to early legal maneuvering by at least one defendant, Kenneth Chesebro, who requested a speedy trial.
"Without waiving any objection as to the sufficiency of Defendant Kenneth John Chesebro's filing, the State requests that this Court specially set the trial in this case to commence on October 23, 2023, which falls within the term of the "next succeeding regular court term" after the July-August, 2023 term of the Superior Court of Fulton County, Atlanta Judicial Circuit, as contemplated by…" the motion reads in part.
SUPPORTERS GATHER AT FULTON COUNTY JAIL TO SHOW SUPPORT FOR FORMER PRESIDENT DONALD TRUMP
The Fulton County prosecution is the fourth criminal case against Trump since March, when he became the first former president in U.S. history to be indicted. Since then, he's faced federal charges in Florida and Washington, and this month he was indicted in Atlanta with 18 others — including his ex-chief of staff, Mark Meadows, and former New York Mayor Rudy Giuliani — under a racketeering statute normally associated with gang members and organized crime. Giuliani, Trump's lawyer and confidant, turned himself in on Wednesday and had a booking photo taken.
Rudy Giuliani (Fulton County Sheriff's Office)
Ahead of his expected surrender, Trump hired a new lead attorney for the Georgia case, prominent Atlanta criminal defense attorney Steve Sadow. 
Sadow, who has represented a rapper, Gunna, who pleaded guilty last year in a racketeering case also brought by Willis, said in a statement that "the president should never have been indicted. He is innocent of all the charges brought against him."
"We look forward to the case being dismissed or, if necessary, an unbiased, open-minded jury finding the president not guilty," he added. "Prosecutions intended to advance or serve the ambitions and careers of political opponents of the president have no place in our justice system."
Shortly after Willis' motion was filed, Trump responded to the request for a speedy trial. The former president stated he was "opposed to the motion," and that he plans to file a "timely motion" to sever his case from that of co-defendant Cheseboro or "any other co-defendant who files such a demand."
A copy of the response is listed below:
The Associated Press contributed to this report.