Florida residents impacted by 2022 hurricanes frustrated with rebuilding process
WILBUR-BY-THE-SEA, Fla. - Residents in Wilbur-by-the-Sea, Florida are frustrated with the permit process to rebuild from last year's hurricanes. As the deadline for turtle nesting season approaches, they tell FOX 35 News they feel extra pressure. 
Gary Hubbs said it took weeks to get a response regarding his permit. The backyard and deck of his property were damaged by hurricanes Ian and Nicole. "It's an unnecessary hassle when you have all of these other issues going on," Hubbs said.
He claims his paperwork was denied because of an open permit, filed before he moved in. His frustrations stem from what he's calling a lack of communication from county officials. "The county decided that their priority is code enforcement," he said. "Right now everybody's on their own."
Hubbs said he's teamed up with his neighbor, Linda Abbott, to plan their rebuild. Both expressed a desire for more help from the government. "It's just frustrating because it's sort of like worrying about polishing the deck of a ship when you've got a big hole in the bottom," Hubbs added.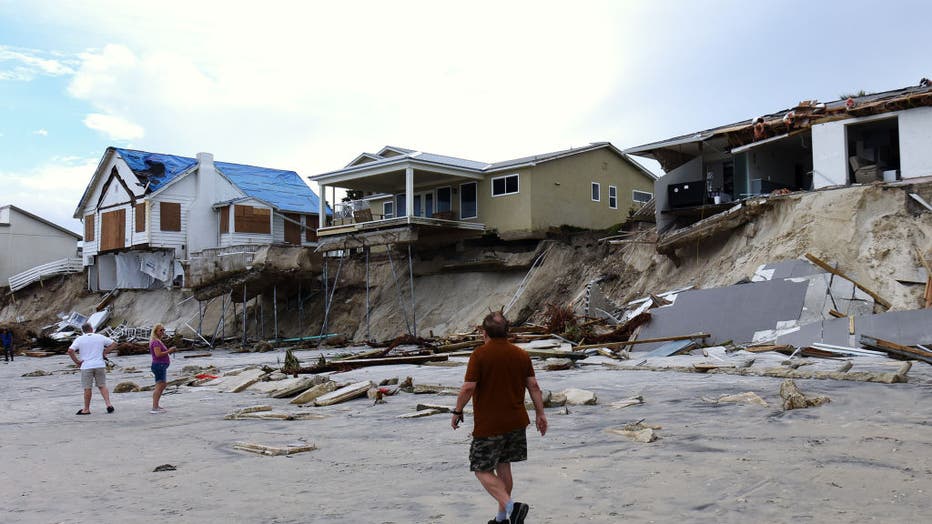 People walk past homes that partially collapsed onto the beach due to the storm surge and resulting erosion caused by Hurricane Nicole on November 11, 2022 in Wilbur-By-The-Sea, Florida. (Photo by Paul Hennessy/Anadolu Agency via Getty Images)
Abbott agreed. She said she was quoted thousands of dollars to have her property surveyed, one of the first steps in the process. "They just seem to be road-blocking us in every way," Abbott said. "We're putting this all in jeopardy all over again."
A spokesperson for Volusia County said the Florida Department of Environmental Protection is the primary permitting agency for significant structural elements to secure coastal property. The DEP released a statement that reads as follows:
"A property owner, whether private or commercial, may need to collaborate with multiple governmental agencies, which may include federal, state, county, and/or municipalities. An impacted resident should first start with their municipal city or county government's building office."
The deadline to receive a permit and begin work is May 1. If it is not acquired by then, residents will be required to wait until November at the end of turtle nesting season.