Fiery car crash causes gas leak, shuts down road in Windermere
WINDERMERE, Fla. - A gas line erupted next to a Windermere neighborhood after a car hit the line while also crashing into a power pole. The impact sent flames shooting sky-high.
Cell phone video from a neighbor captured the car engulfed in flames. The fire showed no sign of slowing down as firefighters drenched the scene and nearby trees.
The fuel to those flames was much more dangerous than initially thought since the car also hit a gas line.
The neighbor recording the fire had to move back as first responders told them of the dangerous situation.
Aubrey Birden said she was doing some online shopping around 2 a.m. when she heard the accident. 
"All of a sudden I heard this very big boom - huge boom - and then it like vibrated," Birden said. "We went to go look and there was a car on fire. I mean flames – very high, very high flames. Luckily a few minutes later, we saw it was our neighbors down the street and luckily they got out. They weren't injured in any way. It was just a miracle."  
After the fire was put out, a charred Toyota was towed away.
FHP said the driver reported losing control of the car on Fiquette Road, less than a mile from her home.  
Firefighters and ambulances had to shut down the road for hours to get the fire and gas leak under control.
"It took them five hours – over five hours to put that fire out," Birden said. "It was huge. It was a very big fire. It was kinda crazy because we didn't even know there was natural gas over there. It was insane."  
Neighbors said they lost power for about seven hours while the utility company worked to restore it.
The cause of the crash is still under investigation. 
"I'm just glad that they're ok," Birden said. "That was the main thing we were worried about."
According to FHP, the crash on Ficquette Road and Overstreet Road happened around 2:28 a.m. Sgt. Kim Montes says that 34-year-old Meredith Chambers lost control of her 2018 Toyota, left the road and crashed into a power pole, causing the vehicle to flip. A gas line was also damaged and the vehicle caught fire.
All northbound and southbound lanes of Ficquette Road were shut down for hours. They have since reopened.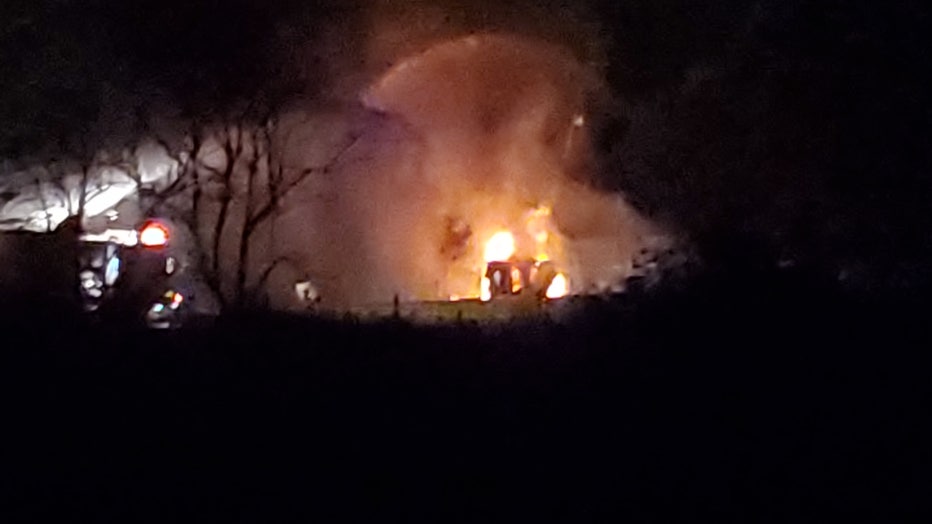 MORE NEWS: 
Orange County deputies searching for attempted rape suspect near UCF
Doctors: Florida girl, 17, dies from contracting mononucleosis
Deputies: Emaciated horses near Edgewater seized, will see vet and receive proper care