'Thank God, my baby girl pulled through': Father of toddler shot during drive-by says child is recovering
ORANGE COUNTY, Fla. - A 3-year-old girl is back home from Arnold Palmer Hospital for Children, recovering from what authorities said was an injury she received during a drive-by shooting at an Orange County apartment complex on Tuesday.  The father of the child, Thomas Banks, spoke exclusively with FOX 35 News about the incident.
"The bullet protruded through the trunk, and it went through the trunk, through the backseat, through my baby's car seat," Banks explained as he pointed out what appeared to be a bullet hole in the back of a Nissan Rogue.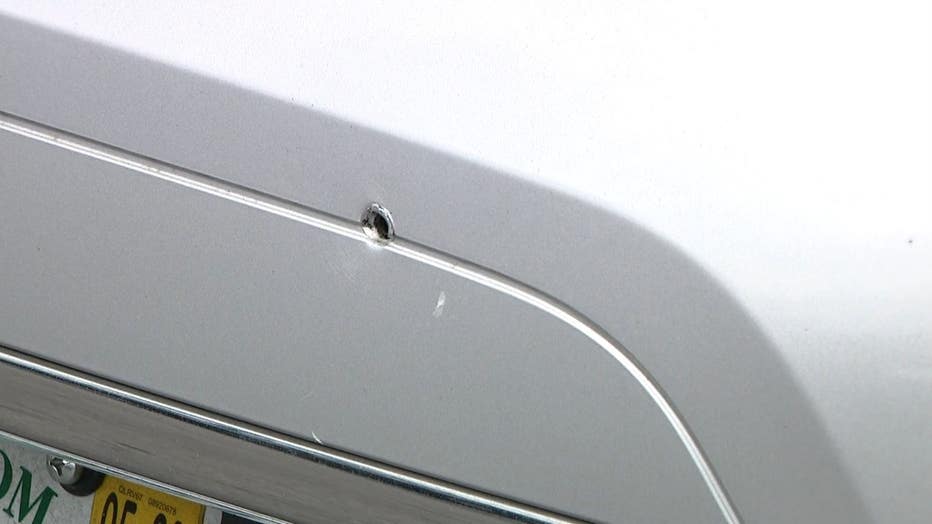 The child and her mother had just arrived home at Hidden Creek Villas when the shooting occurred, Banks said. "She had just picked her up from daycare and just pulled into the parking spot and out of nowhere, gunfire came from nowhere. Unfortunately one of the bullets that came through hit my daughter in the arm."
Banks shared a picture of his daughter which shows her in a cast. He said the bullet went through her left arm. "I got a phone call from her mother crying, saying our child was shot. So I just rushed to the hospital," he told us. "Thank God, my baby girl pulled through! She definitely got a guardian angel. "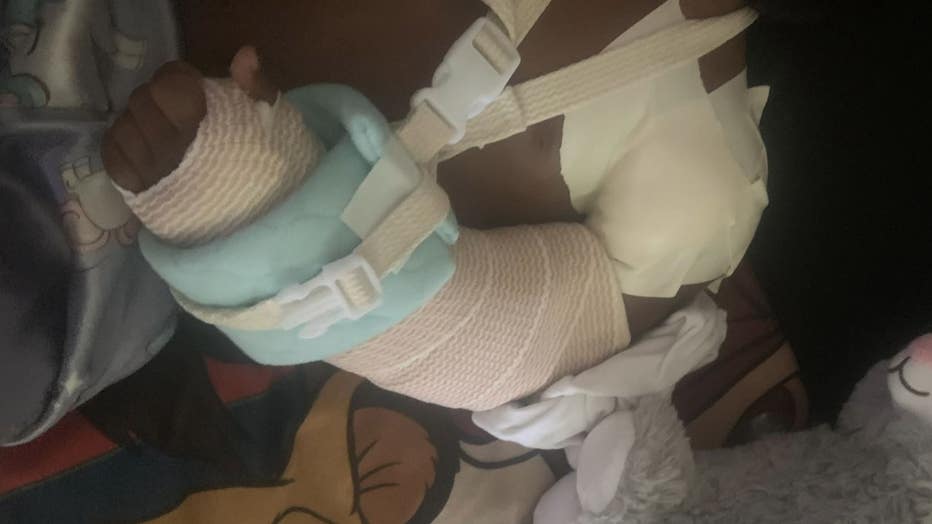 As for his girlfriend and the mother of their child, he said she is a little traumatized. "What mother wouldn't be," he said, adding that no parent should have to experience something like this. "Bullet holes all along the walls. They were basically shooting just to shoot."
He worries others could have been injured, because there is a school next door. He does not think the shooter had an intended target but hopes the person responsible is caught. "Unfortunately, my daughter ended up being the target and something needs to be done about it. They need to be off the streets. Laws need to be passed with these guns."  
He said his daughter was trying to understand what happened to her and why. "We are not going to elaborate too much with her, because she's so young," Banks said. "She did ask if she got shot, but I think she thinks it's like a doctor's shot. Right now, we're just going to let her think it's that."
Banks also expressed how grateful he was to everyone who helped. "A lot of people came running to help. I don't know who they are, but all the guardian angels, I appreciate you all helping my baby pull through.  I'm very thankful. I'm thankful for all the prayers, support from everybody. I definitely still need them for her to have a full recovery." 
As his daughter recovers, we asked how she is doing. "She's been bossy lately, but other than being bossy, she's back to being herself," he said with a laugh.
The Orange County Sheriff's Office is investigating the shooting incident. They said detectives have collected evidence and are following leads. Anyone with information is asked to call Crimeline at 800-423-TIPS (8477).