Emergency shelter information across Central Florida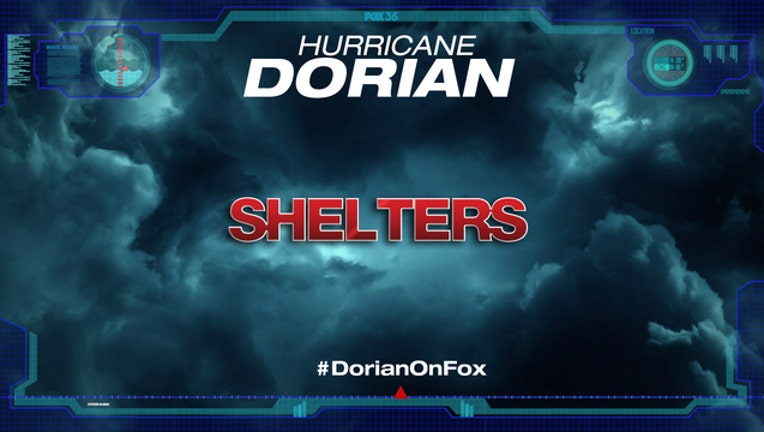 LAKE MARY, Fla. (FOX 35 ORLANDO) - With Hurricane Dorian on track to impact Florida, here is a list of shelters and information across Central Florida.
BREVARD COUNTY
Brevard County has announced a list of shelters, which will open at 5 p.m. on Sunday. The locations are:
Apollo Elementary School, 3085 Knox McRae Dr., Titusville

Walter Butler Community Center, Bernice Jackson Park, 4201 U.S. Highway 1, Cocoa

Manatee Elementary School, 3425 Viera Boulevard, Viera

Sherwood Elementary School, 2451 Post Road, Melbourne

Bayside High School, South Mainland, Community Center, 3700 Allen Avenue, Micco

Mims Elementary, Titusville
There are five pet-friendly shelters open in Brevard County as well. They are:
Port St. John Community Center, 6650 Corto Road, Port St. John 

Veira regional Community Center, 2300 Judge Fran Jamieson Way, Viera

Wickham Park Community Center, 2815 Leisure Way, Melbourne

Ted Whitlock Community Center, Fred Poppe Regional Park, 1951 Malabar Road Northwest, Palm Bay
FLAGLER COUNTY
Flagler County opened at noon on Monday.
An evacuation order was also activated at noon.
A special needs shelters is open at Rymfire Elementary. This is for nursing homes, assisted living facilities, and group homes in zones A, B, F, and flood-prone areas.
INDIAN RIVER COUNTY
Mandatory evacuations will begin at 8 a.m. on Monday. 
The following shelters will open on Monday at noon:
Fellsmere Elementary, 50 N. Cypress Street 

Sebastian River Middle, 9400 CR 512 

Freshman Learning Center, 1507 19th Street 

Oslo Middle School, 480 20th Ave SW 
There will be one pet-friendly shelter in Indian River County:
Liberty Magnet Elementary, 6580 81st Street 
There will also be one special needs shelter, which opens at 8 a.m. on Monday:
Treasure Coast Elementary, 8955 85th Street 
LAKE COUNTY
Lake County is opening six emergency shelters at noon on Monday.
Mount Dora High, 700 N. Highland Street, Mt. Dora
Public and Pet-Friendly Shelters
Round Lake Elementary, 31333 Round Lake Road, Mt. Dora

Spring Creek Elementary, 44440 Spring Creek Road, Paisley
Public, Pet-Friendly, and Special Needs Shelters
Leesburg Elementary, 2229 South St., Leesburg

Lost Lake Elementary, 1901 Johns Lake Road, Clermont

Umatilla Elementary, 401 Lake St., Umatilla
ORANGE COUNTY
Cypress Creek High School    1101 Bear Crossing Drive Orlando, FL 32824

Discovery Middle School    601 Woodbury Road Orlando, FL 32828

East River High School    654 Columbia School Road Orlando, FL 32833    Pet Friendly

Edgewater High School    3100 Edgewater Drive Orlando, FL 32804

Evans High School    4949 Silver Star Road Orlando, FL 32808

Freedom Middle School    2850 W. Taft Vineland Road Orlando, FL 32837

Lake Nona High School    12500 Narcoosee Road Orlando, FL 32832    Pet Friendly

Oak Ridge High School    6000 Winegard Road Orlando, FL 32809    Pet Friendly

Ocoee High School    1925 Ocoee Crown Point Pkwy Ocoee, FL 34761
OSCEOLA COUNTY
Due to the track and timing of Hurricane Dorian, Osceola County will open its general population shelters at noon on Monday, Sept. 2 - NOT at noon Sunday, Sept. 1 as previously announced.  
The locations of general population shelters are:
Harmony High School (pet-friendly) 3601 Arthur J Gallagher Blvd., St Cloud, FL 34771

St. Cloud High School- 2000 Bulldog Ln, St Cloud, FL 34769

Horizon Middle School- 2020 Ham Brown Rd, Kissimmee, FL 34746

Kenansville Community Center, 1178 S Canoe Creek Rd, Kenansville, FL 34739
As a reminder, the Osceola County Special Needs Shelter opened at 4 p.m. today, Saturday, August 31, 2019, at the Council on Aging, located at 700 Generation Pt, Kissimmee, FL 34744.  The Special Needs Shelter will remain open and fully operating until further notice. Individuals staying at the special needs shelter should bring medicine and other vital supplies.
POLK COUNTY
Based on the current track and estimated time of arrival in Polk County of Hurricane Dorian, the following public shelters will open at 8 a.m. Sunday, Sept. 1:
•    Auburndale High School, 1 Bloodhound Trail, Auburndale
•    Chain of Lakes Elementary, 7001 CR 653, Winter Haven
•    Davenport School of the Arts, 4751 N CR 547, Davenport
•    Donald Bronson Community, 124 Bronson Trail, Polk City
•    George Jenkins High School, 6000 Lakeland Highlands Road, Lakeland
•    Kathleen High School, 2600 Crutchfield Road, Lakeland
•    Lake Marion Creek Elem., 3055 Lk. Marion Creek Road, Poinciana
•    Mulberry Middle School, 500 Martin Luther King Ave., Mulberry
Special Needs shelters will also open at 8 a.m. Sunday, for those residents with special medical needs. Polk County Emergency Management's Special Needs Program is designed to provide shelter and/or transportation for residents with medical or physical conditions and/or dependent on medical electrical equipment who require assistance during an emergency. Those staying at the special needs shelters have been prearranged and registered.
The only pet friendly shelter that will be open will be at Lake Region High School, 1995 Thunder Road, Eagle Lake. Pet owners must bring shot records for their pets, an airline-approved carrying case or crate and pet food. Visit Polk County's emergency website for more information.
SEMINOLE COUNTY
Shelter openings have not yet been announced. Find out more information.
VOLUSIA COUNTY
Volusia County is scheduled to open shelters on Monday, Sept. 2.
TD Taylor Middle/High, 100 E. Washington Ave, Pierson

DeLand High, 800 N Hill Rd, DeLand

University High School, 1000 W Rhode Island Ave, Orange City

​Mainland High School, 1255 W. Intl Speedway Blvd, Daytona Beach

Sweetwater Elementary, 5800 Victoria Gardens Blvd, Port Orange
Special-needs shelters: 
Assists evacuees with disabilities or functional medical needs. This is a Pet Friendly shelter for Special Needs persons only.
Atlantic High, 1250 Reed Canal Rd, Port Orange

Creekside Middle, 6801 Airport Rd, Port Orange

Freedom Elementary, 1395 S. Blue Lake Avenue, DeLand

Galaxy Middle, 2400 Eustace Ave, Deltona

​Palm Terrace Elementary, 1825 Dunn Avenue, Daytona Beach

Pride Elementary, 1100 Learning Lane, Deltona
Pet-friendly (people and pets housed separately:
Hinson Middle,1860 N. Clyde Morris Blvd, Daytona Beach

Pine Ridge High, 925 Howland Blvd, Deltona

River Springs Middle, 900 West Ohio Ave, Orange City
Your pet can stay with you here:
Volusia County Fairgrounds, 3150 W. State Rd 44, DeLand
MARION COUNTY
Marion County is opening several shelters for the general population. They include:
Ft. McCoy School

North Marion Middle School 

Lake Weir High School
They also said that residents who live east of Highway 441 and have special, medical needs may go to Westport High School for shelter. This shelter can only be used for special needs patients and special needs services are available there.
Make sure to download the Fox 35 Weather App
Visit our Orlando Hurricane's page to track Dorian