Lockdown at Orlando VA Medical Center sparked by Florida man in stolen semi: deputies
ORLANDO, Fla. - A Florida man who reportedly barricaded himself inside a stolen semi-truck (with no trailer) on the property of the Orlando VA Medical Center in Lake Nona was taken into custody late Monday night.
Edward Dial, 45, was arrested by deputies of the Orange County Sheriff's Office (OCSO) on a charge of grand theft of a motor vehicle, according to an arrest report.  
Shortly before 6:30 p.m. Monday, deputies received a report that the stolen truck driven by Dial had reportedly struck multiple vehicles in Lake County, and was headed into Orange County. 
MORE NEWS: Florida family mourns death of father killed in multiple hit-and-runs
OCSO's helicopter followed the truck from above until it parked at the hospital's entrance gate on Veterans Way near Laureate Boulevard.
Dial refused to come out of the vehicle and was seen placing and moving multiple items around from inside the truck, the affidavit stated.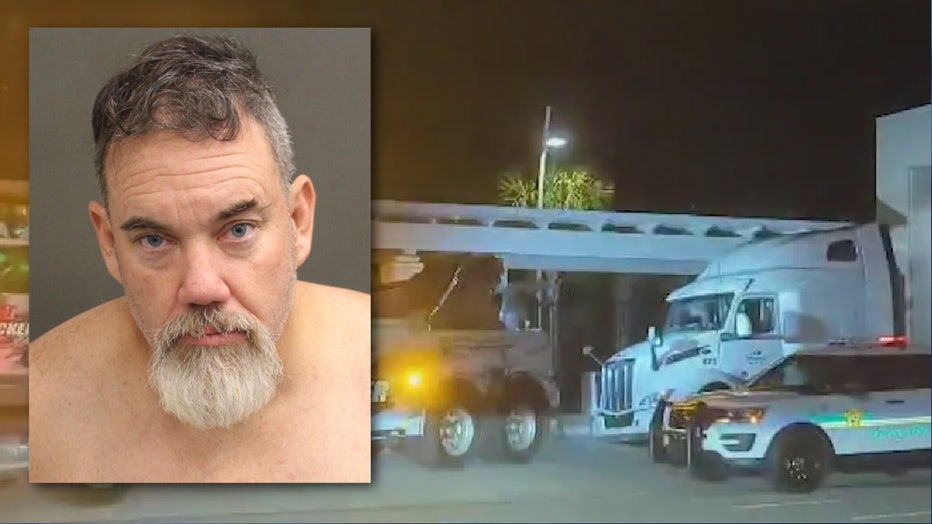 (Mugshot via Orange County Sheriff's Office)
As a result, the hospital was placed on lockdown with a large police presence outside the facility. The standoff went on for hours but wrapped up shortly before midnight when SWAT responded to the area and searched and placed Dial in handcuffs.
Dial has a pending out-of-county warrant for fleeing or attempting to elude and leaving the scene of a crash with property damage, the report stated.