Driver goes over edge of SR 528 overpass, landing on I-4 below
ORLANDO, Fla. - Troopers with the Florida Highway Patrol said a driver lost control of his vehicle and went over the edge of a State Road 528 overpass, falling onto Interstate 4 below.  That driver survived the fall and talked to FOX 35 News from his hospital bed.
"I fell down about 50 feet," Angel Garcia explains.  "Somebody had cut me off, and I avoided getting into a collision, and I flew off the highway."
According to FHP, Garcia failed to maintain control of his 2018 Acura, ending up on the shoulder of the I-4 exit ramp.  He doesn't remember much about the fall itself.  
Garcia said he broke his back, injured his face, and has been left paralyzed from the chest down.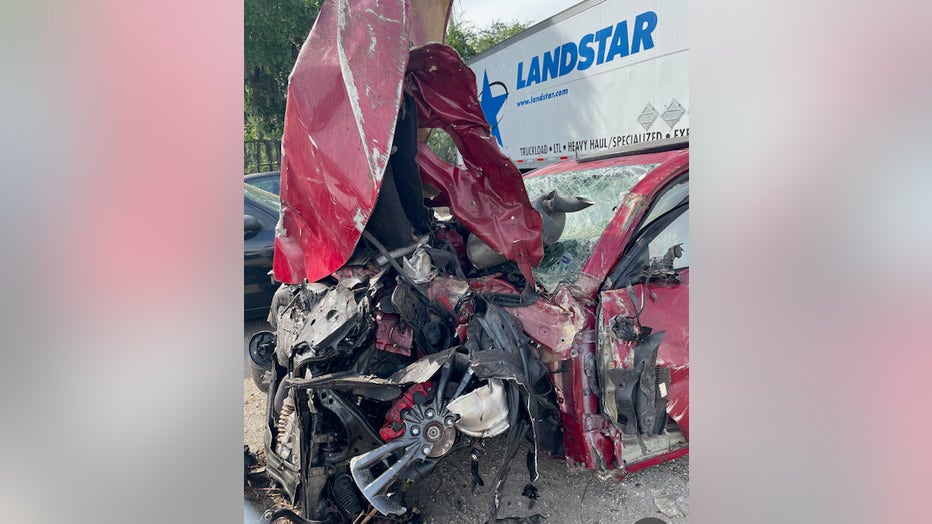 "I still feel like I'm stuck in a nightmare because how do you go from walking one minute, to not being able to walk the next? It's just the worst feeling in the world."
Back in 2017, Jesus Escobar was injured as he was driving on I-4. Investigators said a monster pipe fell off a construction truck, rolled off an SR 528 overpass, and landed on his car. "Wow! Wow! I haven't heard that story. It's almost bizarre as me, falling from the 528 to the I-4 – this pipe falling from the 528 to I4. That is crazy!"
Luckily, this 39-year-old said he has health insurance and is getting plenty of support at work. 
"They're doing everything they can to help me out, even created a GoFundMe account to help me out to help with any financial burdens that I have with financial expenses."
He realizes it was a very close call. 
"I feel like I have a guardian angel watching over me. There's still a lot for me to do. It's clearly not my time." 
So with his time, he has a message to all drivers. 
"I just hope to God people are more careful on the road. Because from one moment to the next, your life could be taken away, and you don't even know it."