'Drag & Donuts' event at Florida school canceled after state questions appropriateness
ORLANDO, Fla. - A Florida high school organization's after-school event, dubbed "Drag & Donuts," has been canceled following intervention by state officials, according to the school's principal. 
In a recorded voice message sent to parents, the principal of Orlando's Boone High School said the event was not a drag show, but rather "an opportunity for the students to hear a positive message of acceptance and love."
Dr. Hector Maestre said a guest speaker had been invited to talk to students at their regularly scheduled meeting. "This was to be the third year the speaker has addressed this club," Maestre said.
As a result of a call from the Florida Department of Education (FDOE), the event was canceled, according to Maestre. "The Department questioned whether the event was age and developmentally appropriate and indicated any administrator, teacher, or staff member in attendance may be investigated and jeopardize their professional license," Maestre explained.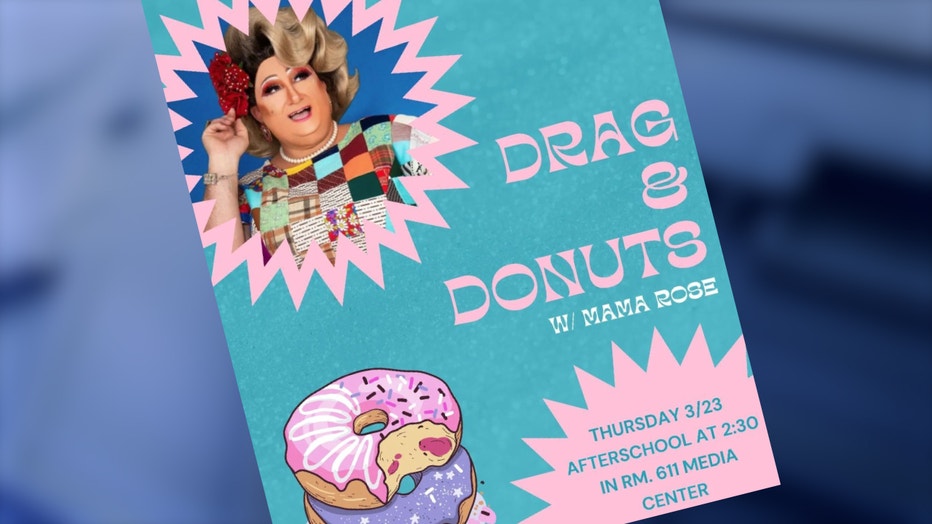 "It's a clear message that this is going to be the future of Florida public education, and it's been really disheartening," said Boone High School junior Scarlett Seyler.
Seyler, 16, is president of the school's Queer and Ally Alliance. Weeks ago, she said she invited Jason DeShazo, who performs as a drag queen under the name "Mama Ashley Rose," to speak to fellow after-school club members.
"This was supposed to be an optional extracurricular nonacademic event. It was supposed to be a speaker coming to tell kids about how to feel comfortable in their own skin," Seyler explained.
All was set to go as planned until she learned on Wednesday that it was not permitted to happen.
"Basically, anyone that had anything to do with this, if it moved forward, they would be in trouble," said DeShazo. 
DeShazo, who founded the nonprofit Rose Dynasty Foundation, which raises thousands of dollars every year for charities, doesn't understand why his appearance is a concern this year but not in years prior.
"How dare they focus on a man in a dress coming to speak to queer kids and spread a message of love and acceptance rather than focusing on the real issues that are going on in our schools in our country," he said.
Orange County School Board member Alicia Farrant spoke against the event on her social media Wednesday after hearing from concerned parents the night before, but she said she wasn't responsible for the event's cancelation. 
"If we're allowing this, then are we going to start allowing female strippers to come in and dress as strippers? But they're not stripping for anyone. They're just going to be mentoring. Is that going to be allowed?" Farrant asked. "What happens outside of our public schools is on parents, but here in our public schools as educators, we are held to a higher standard."
Both DeShazo and Seyler said they believe the battle the state is waging is bigger than drag queens.
"No matter what they say, it's homophobic, and it's transphobic, and the list can go on of what phobias it is," DeShazo said.
"There was nothing wrong with what 'Mama Rose' was going to wear if it was on a woman. It was a wig and a dress. But the problem was who was in the dress," added Seyler.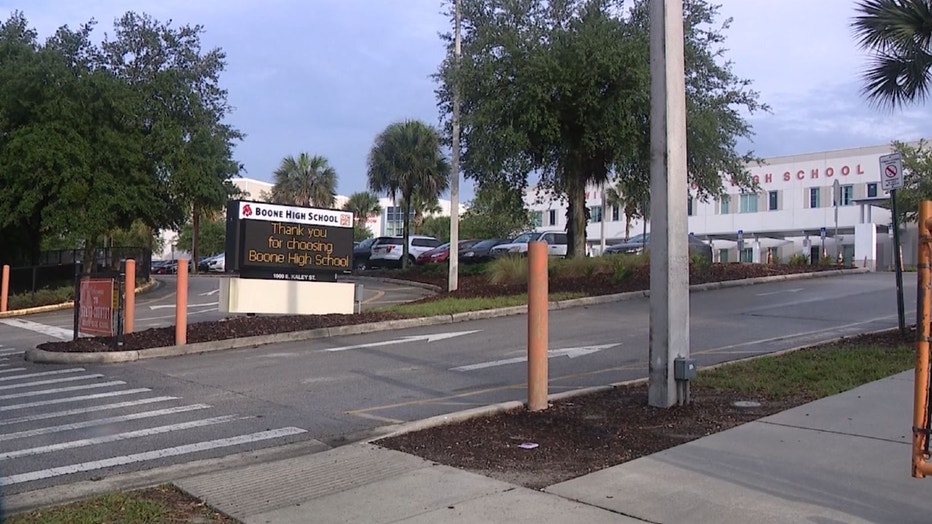 William Rennick Boone High School is a public high school in Orlando, Florida. 
Seyler told FOX 35 the event will still happen on Thursday – but without a drag queen. Instead, she and her fellow students plan to discuss Florida's education policy as a result of this debacle.
"I honestly feel as though this is a clear statement that certain cultural norms are going to be enforced in our schools and that anything that doesn't fit with the Department of Education's cultural norms is not allowed on campus, even if it's not academic, student-led, extracurricular and optional," she said.
FOX 35 reached out to the Florida Department of Education for a statement but has not yet received a response. 
MORE HEADLINES:
The reported action by the FDOE comes as Florida's Parental Rights in Education Law, which critics dubbed the "Don't Say Gay" law, could be expanding.  The 2022 law prohibited instruction about sexual orientation and gender identity in kindergarten through third grade and required it to be "age-appropriate or developmentally appropriate" in higher grades.
Earlier this month, a Republican lawmaker in the Florida House filed a proposal that would bar instruction about sexual orientation and gender identity through the eighth grade.  Under the bill filed by Rep. Adam Anderson, R-Palm Harbor, the "age-appropriate or developmentally appropriate" test would continue to apply in ninth through 12th grades.
FOX 35 on Wednesday learned that Gov. Ron DeSantis is wanting to expand the law even further by prohibiting any instruction about sexual orientation and gender identity for all grades unless required by existing state standards or as part of reproductive health instruction that students can choose not to take.
The governor's new proposal doesn't appear to require the approval of lawmakers and would instead go to a vote by the Florida Board of Education. That board will likely pass the proposal because the board is led by people who the governor has appointed.  
The vote will take place at 9 a.m. April 19 at the Florida State Capitol Complex, 400 S Monroe St, Tallahassee, FL 32399, Cabinet Meeting Room LL03.