DiGiorno releases new 'contentious' Pineapple Pickle Pizza: 'We love to push culinary boundaries'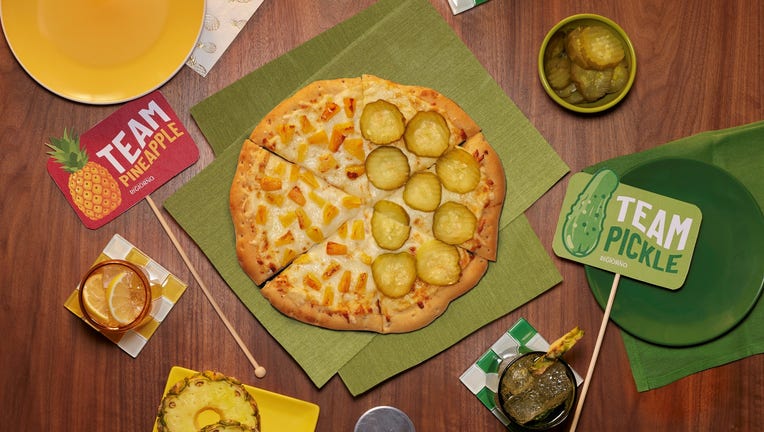 article
DiGiorno is releasing a "contentious" new frozen meal: the Pineapple Pickle Pizza.
The Nestlé-owned brand is offering the pizza for free on a first come, first served basis on its website in the month of September. Supplies will be replenished every week.
Anyone interested in trying out the unusual flavor combination can visit shopdigiorno.goodnes.com for their chance at a free pie.
"It's an age-old question: Does pineapple belong on pizza? Or more recently, what about pickles?" DiGiorno said in a press release. "Whether you love them or hate them, this summer, DIGIORNO is saying YES to both."
WHITE CASTLE HIRING ROBOTS TO 'GIVE THE RIGHT TOOLS' FOR SERVING MORE 'HOT AND TASTY FOOD': VP
The frozen pizza features a cream-based garlic sauce, mozzarella cheese and hand-tossed crust. The pie is split in the middle: one half with dill pickles, and another half with pineapple chunks.
"From the DiGiornut [pizza donut] to the Crust Cone, we love to push culinary boundaries and surprise our fans with unique innovations that spark conversation," DiGiorno Senior Brand Manager Kimberly Holowiak said in a statement. "We know consumers love to debate pizza toppings, especially pineapple and pickles, and we're excited to see how pizza lovers will react to this latest creation."  
"We hope our Pineapple Pickle Pizza brings people together through friendly debate, no matter which side they choose," Howowiak added.
WHITE CASTLE CELEBRATES 101ST ANNIVERSARY OF THE SLIDER
In their announcement, DiGiorno referenced the popularity of pickle and pineapple pizzas on social media.
"The numbers don't lie — there have been over 135M TikTok views for #PineapplePizza and #PicklePizza to date," the brand explained. "While some have previously created pizza varieties using these hot-button toppings, this is the first-ever DIGIORNO pie to have both pineapples and pickles on one pizza." 
The brand is also selling Pineapple Pickle Pizza-themed merchandise on their website, offering pickleball paddles, bucket hats and more.