2022 Florida governor race: Ron DeSantis defeats Charlie Crist
Gov. Ron DeSantis easily won a second term Tuesday and further cemented his conservative imprint on the state, amid growing speculation that he will run for the White House in two years.
With First Lady Casey DeSantis at his side, DeSantis appeared before a boisterous crowd at the Tampa Convention Center and said, "I have fought the good fight," while touting Florida's stance against federal directives.
"And so today, after four years, the people have delivered their verdict: Freedom is here to stay," DeSantis said to a roar of cheers.
DeSantis, who ran for re-election with Lt. Gov. Jeanette Nunez, said "we reject woke ideology" and that "while our country flounders due to failed leadership in Washington, Florida is on the right track."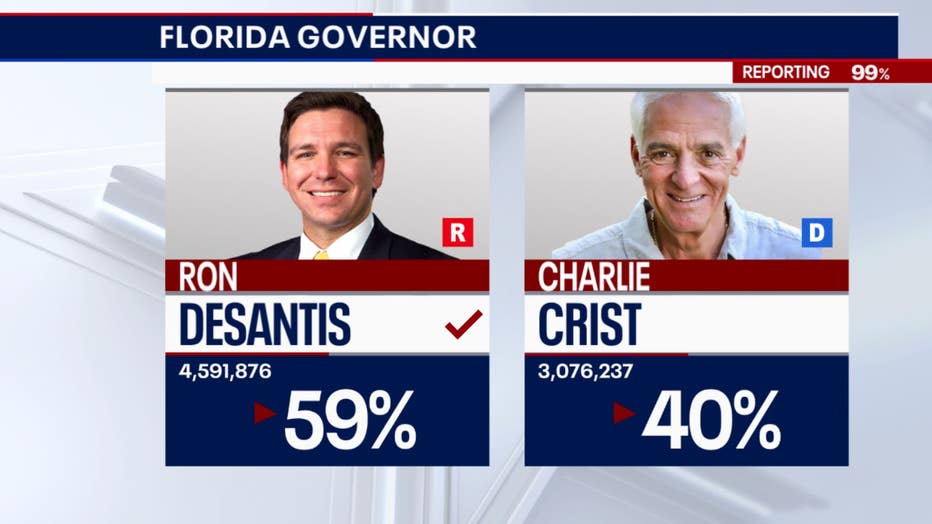 "I believe that the survival of the American experiment requires a revival of true American principles. Florida has proved that it can be done," DeSantis said. "We offer a ray of hope that better days still lie ahead."
Democratic challenger Charlie Crist gave a roughly two-minute concession speech to a small crowd of supporters at the Carillon Park Hotel in his hometown of St. Petersburg.
"We were the underdog from the minute I entered this race 18 months ago. I knew we would be outspent. I knew we would not have as many television ads. But you know me. I am an optimist. I love Florida," Crist, a former Republican governor who later was elected as a Democrat to Congress, said in a prepared statement. "Together, we stood up for our democracy and our freedoms, and we treated everyone with dignity and respect. I am very proud of that --- and you should be too."
Gov. DeSantis announced his first run for governor in January 2018 when he was a Florida congressman. When he was first elected governor, DeSantis defeated Democrat Andrew Gillum by just 0.4 percentage points. 
Gov. DeSantis gained more notoriety for his COVID-19 pandemic response. In November 2020, he vowed there'll be no statewide restrictions despite Florida nearing 1,000,000 COVID-19 cases, citing other states who were locked down but still increasing at twice the rate of the sunshine state.