Florida man killed by tractor-trailer after walking onto I-75 in Marion County, FHP says
OCALA, Fla. - A 63-year-old man was killed after he was struck by a tractor-trailer on Interstate-75 on Monday morning, according to Florida Highway Patrol. 
The incident happened shortly before 6 a.m. near the SR-326 exit in Marion County. 
The tractor-trailer was traveling south on I-75 in the right lane while another tractor-trailer was well behind it, troopers said. The pedestrian was walking from east to west from the west paved shoulder and entered the right lane of the highway. 
That's when the tractor-trailer driving in front swerved to avoid hitting the man, but didn't have enough time to do so. The man was struck with the tractor-trailer's front fender and the driver lost control, left the highway and entered the grass median. The trailer overturned as the tractor section struck the median guardrail, according to FHP.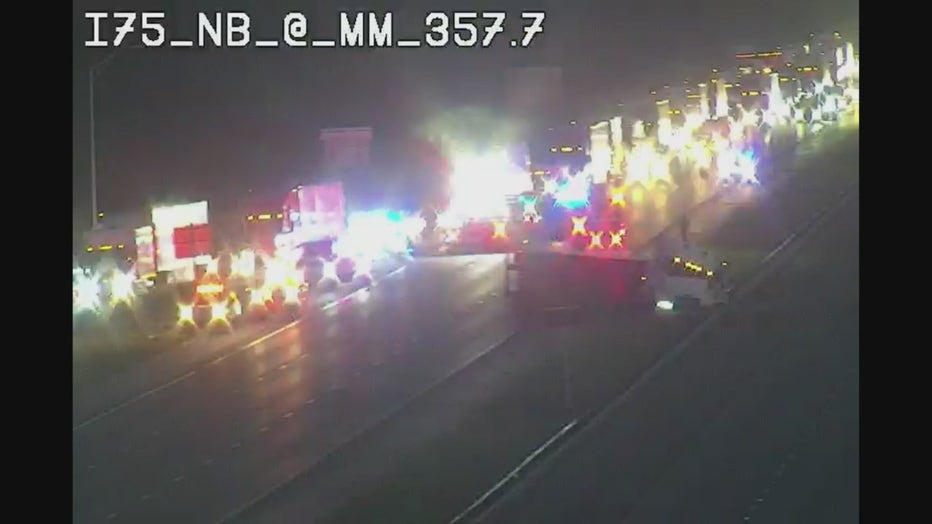 A FDOT traffic camera shows the backups on I-75 in Marion County following a deadly crash Monday morning.
MORE NEWS: Woman, 3 children killed after teen runs stop sign in Osceola County, troopers say
The trailer section came to a rest on its left side, obstructing the left lane of I-75. Troopers said he pedestrian came to rest in the right lane. 
The second tractor-trailer was unable to avoid the overturned trailer, and struck it with its front and undercarriage section, officials said. 
Officials said the man from Opa Locka was pronounced dead on the scene by Marion County Fire Rescue and the roadway was shut down for investigation.