Bunnell Elementary principal, teacher suspended after assembly held for Black students over test scores
A principal and teacher at a Florida elementary school have been suspended and placed on paid administrative leave pending an investigation into an "out of the box" assembly that was held for only Black students to discuss underperforming test scores, the district's interim superintendent said Thursday.
"This should not have happened, but it did. And as the interim superintendent of Flagler Schools, it is my responsibility to identify why did this happen," said Interim Superintendent LaShakia Moore. "We do have an investigation that is ongoing at this time."
The scrutinized assembly was held Friday at Bunnell Elementary. Black fourth and fifth-grade students were allegedly pulled out of class to attend an assembly about test scores. Students who performed well on tests were singled out as model examples for the other students, parents and students told FOX 35.
CONTINUING COVERAGE
Other students and parents told FOX 35 that the students were told they could receive gift cards to fast-food restaurants for improved test scores, and given a dire warning should test scores not improve – they could end up shot, dead, in jail, or on the side of the road.
Officials showed a presentation to the students, which Moore initially described as part of an "out of the box" idea with the goal of motivating the students.
"Sometimes, when you try to think "outside of the box," you forget why the box is there," Moore said in an initial statement. She's since posted a video statement on the district's website and held a press conference Thursday.
Flagler Schools Interim Superintendent: 'This should not have happened, but it did"
"Students should never be separated by race," Moore said Wednesday in a video statement posted to the schools' website. "We acknowledge that this and other subgroups of students need to improve, but our commitment is to improve academic achievement for all students."
Parents told FOX 35 that they were not made aware of the poor test scores or of the assembly. The district confirmed parents were not notified earlier this week.
Flagler Schools Board Chair Cheryl Massaro: 'This should not have happened'
Congressman Maxwell Frost: 'This is racism, it's wrong, and it has no place in Florida'
Democratic Congressman Maxwell Frost, who represents Florida's 10th Congressional District, released a statement on Thursday slamming the special assembly at Bunnell Elementary School and said he shared the outrage expressed by parents and families of the Black children who attended the gathering.
"The fact that school employees felt empowered enough to discriminate based on race in a public school underscores just how far Florida has fallen when it comes to providing a good quality education free of racism and prejudice," Rep. Frost said. "If this was truly about test scores, the school in question would have approached all students and parents about what can be done to help those children succeed."
Frost said, instead, the school chose to round up Black kids for a racially motivated presentation meant to "scare them straight."
"This is racism, it's wrong, and it has no place in Florida," he added.
Frost said he is calling for immediate accountability and action from the school district, "to ensure this does not happen again."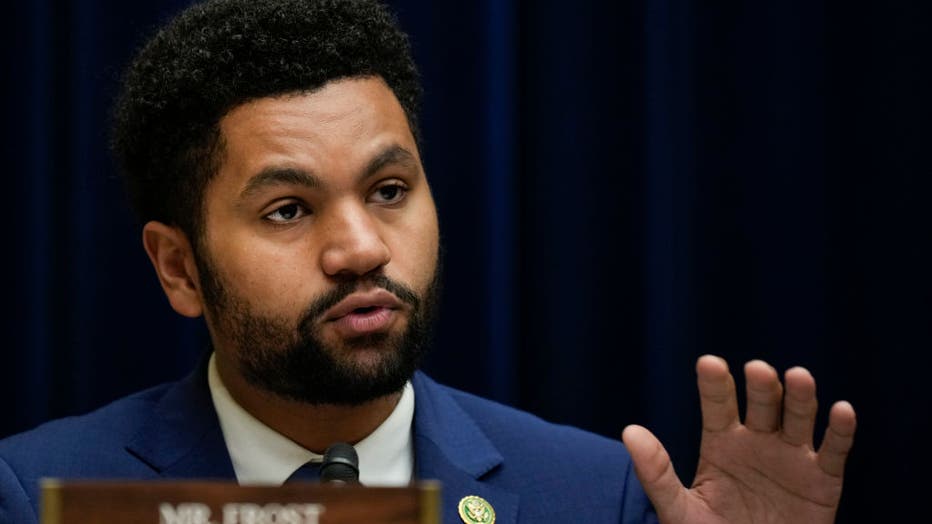 Rep. Maxwell Frost (D-FL) speaks during a House Oversight Committee hearing titled "Unidentified Anomalous Phenomena: Implications on National Security, Public Safety, and Government Transparency" on Capitol Hill 26, 2023 in Washington, DC. (Photo by
On Wednesday, two students – fourth graders at Bunnell Elementary – agreed to talk with FOX 35 about the assembly and how they felt after attending it. The students' parents gave FOX 35 permission to talk with them.
"I just noticed how it was only Black kids in the cafeteria," said Jeff, 9. 
"I was embarrassed," said Kenadee, also 9.
Robinson said she was confused at first why she was at the assembly because she scored high on her standardized test.
Regardless, Jeff said the assembly actually scared him. Teachers at that assembly apparently told the students that they could end up shot, dead, or in jail.
"It made me feel uncomfortable and unsafe. I don't want to go to school now because I don't want to end up in jail, the side of the road – or get shot or anything," he told FOX 35.
Superintendent Moore declined to discuss the specifics of what as said at the meeting, but said it was under investigation and that all details would be made public at the conclusion of that investigation.
The district did, however, released the presentation that was shown to the students. On one slide, titled "The Problem," it discussed "AA" test scores, which FOX 35 has learned referred to African American.