Boy, 10, arrested for bringing 'realistic-looking' Airsoft gun to school, deputies say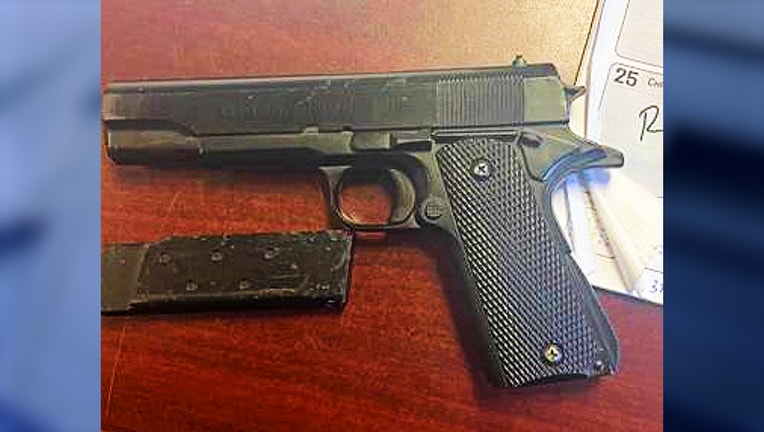 article
BUNNELL, Fla. - Authorities say a 10-year-old Florida boy has been arrested for being in possession of a weapon on school grounds.
Deputies with the Flagler County Sheriff's Office (FCSO) took the student into custody after they said he brought an Airsoft gun into Wadsworth Elementary School and showed it off to his classmates. The replica gun shoots small pellets; however, the orange tip had been removed making it look like an authentic semi-automatic pistol, which caused a commotion among classmates, school officials said.
School officials said the boy was seen displaying the gun to his friends in the cafeteria prior to school starting. He was escorted to the principal's office where the realistic-looking was discovered after a search of his backpack, they said.
The student was transported to the Sheriff Perry Hall Inmate Detention Facility for processing before the Florida Department of Children and Families released the student back to a parent.
"This situation could have ended up a lot worse. Thankfully, the Assistant Principal was alert and took action before someone could get hurt," Sheriff Rick Staly said. "We don't like arresting children, but the Flagler County Sheriff's Office has a zero tolerance to weapons and threats on school campuses. I'm also astounded that a child thinks it is okay or 'cool' to bring a toy gun to a school that looks like a real gun and show it off to other students. Parents I once again implore you to be the Sheriff in your home. Talk to your kids and know what they are doing and playing with before we have to be the Sheriff of your child."
The student is facing charges of carrying an Airsoft/BB gun under the age of 16.