'Absolute mayhem': Suspect dead after shootout in Poinciana, Polk County sheriff says
POINCIANA, Fla. - One man is dead, and two others were seriously injured in a shootout in Poinciana Thursday, according to the Polk County Sheriff's Office. Grady Judd recounted the details of the "absolute mayhem" that happened on Sawfish Drive.
Someone called 911 around 4 p.m. to report hearing gunfire in the neighborhood. When deputies arrived, they found a vehicle crashed into the side of a house, a woman with a gunshot wound on her jaw, a man with gunshot wounds on the ground, and another man who had been shot multiple times, including in the face, standing on the street and begged deputies "please don't let me die."
They worked quickly to unravel what happened. 
Five victims were involved in the incident. 
Victim 1, a 30-year-old man, was in the driver's seat of a parked car.
Victim 2, a 19-year-old woman, was in the passenger's seat.
Victim 3, an adult male, was at the home where the car was parked.
Victim 4 is the homeowner and was at the residence with victim 3.
Victim 5 is an adult neighbor.
Sheriff Grady Judd said the suspect, Derek Bacote, arrived at victim 4's home to confront victim 3 about a woman the two men had both dated.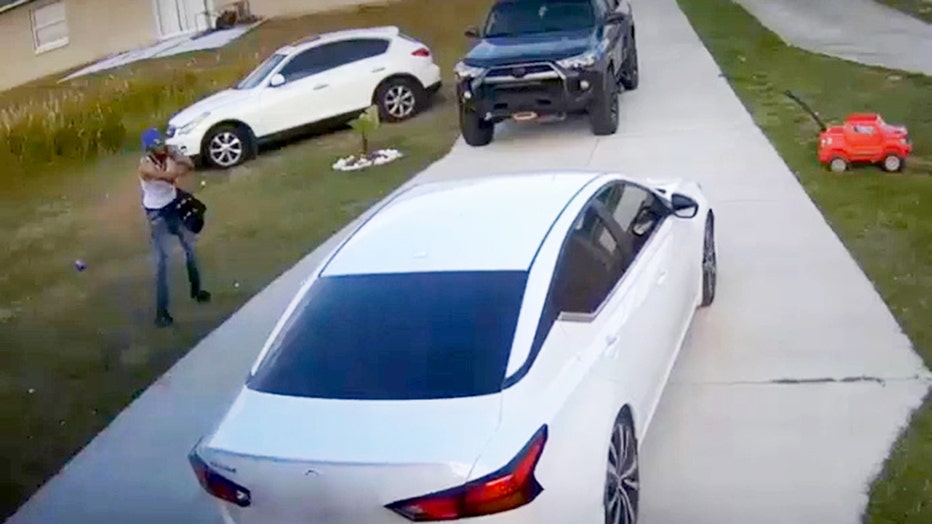 Surveillance video showed suspect pointing gun at two victims inside a vehicle
Surveillance video shows Bacote walked up the driveway, where victim 1 greeted Bacote from the car. 
Victim 3 approached, and Bacote punched him, and then the situation escalated. Bacote pulled out a gun and began waving it at the victims.
Victim 4 ran back into the house, where four children under 12 years old were located.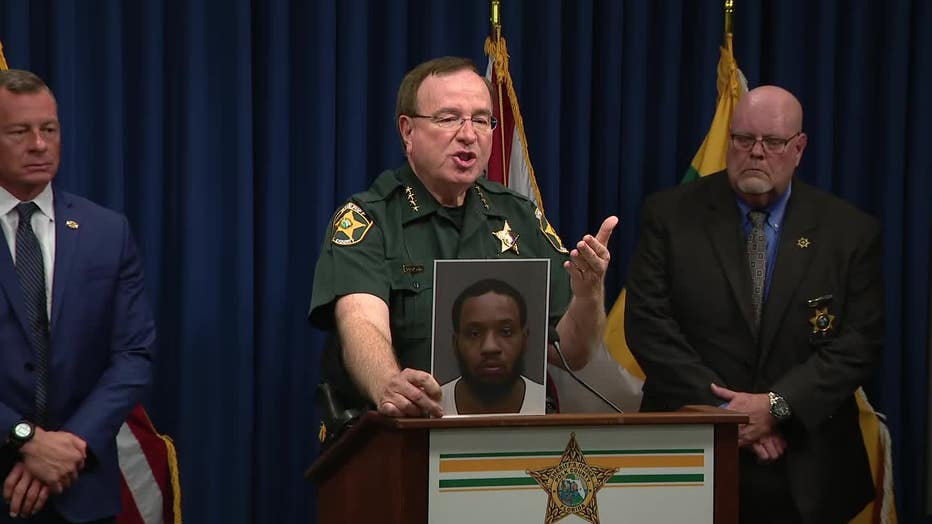 Grady Judd shows photo of suspect Derek Bacote
Meanwhile, victim 5 saw the fight break out and went to get a gun from a garage. 
Judd said it appears victim 5 may have fired the first shot, setting off a shootout. 
Bacote began firing shots toward the car. Victim 1 tried to drive away, but hit a mailbox, crossed the street, and drove through a fence. The car stopped in the yard across the street.
Victims 3 and 5 ran from the scene.
Bacote, who had been hit by a bullet, died on the lawn of victim 4's home.
Deputies said victim 4 stayed at the home and was cooperating with the investigation. 
Victim 2 suffered serious injuries after a bullet went through her jaw. She is expected to survive. Victim 1 was said to be critical and unstable in the hospital. 
The investigation is ongoing.