5 US Senate candidates address Florida reporters, editors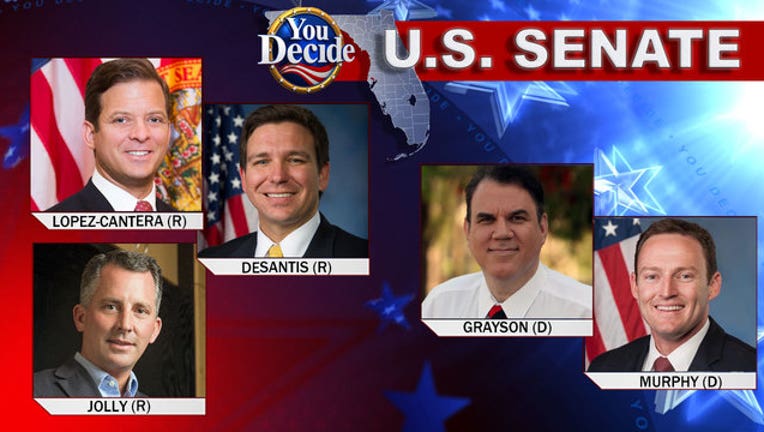 article
TALLAHASSEE, Fla. (AP) - Five major candidates for U.S. Senate addressed editors and reporters from across Florida Wednesday, acknowledging the frustration with Washington and all predicting they can do something to help change the atmosphere there and get something done.
What they want to get done is where some of the differences are between the Democratic and Republican candidates that attended a meeting hosted by The Associated Press.
Republican Lt. Gov. Carlos Lopez-Cantera was quick to point the most noticeable difference he had with the group: He's the only one not already serving in Washington. Instead he pointed at accomplishments during his time as a state representative from 2004 to 2012.
"Washington, D.C., is completely disconnected," he said. "I'm uniquely qualified to be Florida's next Senator because I'm the only one that's never served in Washington, D.C. Everyone else, every other candidate in this race, their only experience is Washington, D.C., and at this point in our history I think that is the most important thing voters are concerned with. They don't want more of the same."
Democratic Congressman Alan Grayson made his case by pointing out that he is one of the most productive members of Congress despite working with a Republican-led House. He spent much of his time talking about how he wants to increase seniors' social security benefits in part by reconfiguring cost of living increases. He also dismissed the idea that he is too outspoken and too liberal to win.
When asked about angry statements he's made, Grayson cut off a reporter who said he's made Democrats nervous because of the "inelegant" way he says things. Grayson calmly stated, "No, interesting is the word you're looking for. I say interesting things. I don't like to bore people with usual drivel."
But Grayson's Democratic primary rival, Congressman Patrick Murphy, also mentioned Grayson's penchant for making headlines with what he says.
"The biggest difference between us is style," Murphy said. "Congressman Grayson prides himself on being the bomb-throwing, name-calling, finger-pointing person. Calling the president a sellout a few weeks ago, calling a member of Congress Taliban Dan and KKK members. If you ask me, that's no way to work with people."
But afterward, Murphy did refer to Grayson as "two-faced" when he criticizes Wall Street while he has his own hedge fund in the Cayman Islands.
Republican Congressman Ron DeSantis expressed several ways that the federal government can have a better synergy with the states, including giving them back more of the federal gas tax and letting them decide the best way for it to be spent on transportation projects.
He also said he doesn't plan to write off any voting constituencies and it would be a mistake for other Republicans to give up on minority voters.
"You can get elected to Congress without ever having to go talk to any black voters at all and I think that that's bad for the party. I think you want to have a message that goes to people regardless of their race and regardless of their class," DeSantis said. "You've got to show up. And I think that a lot of people say, 'Oh, well don't show up here, don't show up there, because you're going to lose most of those votes!' But it really does make a difference."
Congressman David Jolly noted that his voting record shows that he can be an independent thinker instead of always towing the party line. He criticized the dysfunction in Washington for members taking positions for political reasons instead of for the good of the country.
"I would rather have a Congress that puts legislation on the floor. Spend the next three weeks debating border security and immigration. Let the House work its will on behalf of the American people and see what happens. I would rather do that and risk my own political fortunes and know we got something done than go along with the current strategy of avoiding the hard issues simply for the sake of re-election," he said.