3 rocket launches to liftoff from Florida's Space Coast this week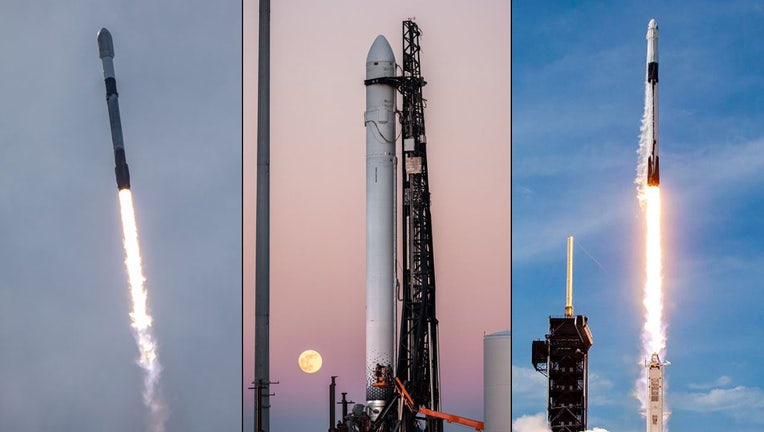 article
CAPE CANAVERAL, Fla. - Florida's Space Coast will be busy this week with three launches in a row scheduled for liftoff. 
Relativity Space 'Good Luck, Have Fun' Mission
On Wednesday, March 8,  Relativity Space was set to make history with the launch of Terran 1, the first 3D-printed rocket. The rocket was scheduled to liftoff from Launch Complex 16 at Cape Canaveral Space Force Station with a launch window opening at 2:40 p.m. but was scrubbed in the final minutes before liftoff. 
Relativity Space said it will attempt its test launch again on Saturday, March 11, with a launch window from 1 p.m. to 4 p.m. 
The launch, also known as the "Good Luck, Have Fun" Mission, will be the first orbital attempt for Terran 1. About 85% of it is 3D-printed and uses liquid oxygen and liquid natural gas, which scientists say is not only best for rocket propulsion, but also for reusability. 
OneWeb 3
On Thursday, March, 9, SpaceX is planning to send up a Falcon 9 rocket for the afternoon launch of the OneWeb 3 mission. Forty satellites for OneWeb will be carried to space with liftoff set for 2:13 p.m. from Space Launch Complex 40 at Cape Canaveral Space Force Station.
OneWeb is putting hundreds of satellites in low earth orbit for low-latency broadband communications.
CRS-27
On Friday, March 10, SpaceX will launch a Falcon 9 rocket from Kennedy Space Center on a resupply mission to the International Space Station. SpaceX's Dragon will deliver new science investigations, supplies, and equipment to the crew at the ISS as part of NASA's s Commercial Resupply Services (CRS) mission.
A definite liftoff time has not been announced yet.
When the launch happens, you can see it by downloading the FOX 35 News App on your cellphone.