3 teens shot, killed in Marion County may be connected; 'We're looking for help,' sheriff says
OCKLAWAHA, Fla. - Three teenagers – a boy and two girls – have died after being found with gunshot wounds days apart from each other in Marion County, and Sheriff Billy Woods is asking the public for help to find the suspected killer.
Two of the teens were located within a half-mile of each other in Ocklawaha, and a third was found in a vehicle in a lake about 10 miles away, investigators said.
"We're looking for help. We're looking for help for the families who lost of a loved one – and there are folks out there that know," Sheriff Woods said Tuesday in a video statement posted to the Marion County Sheriff's Office Facebook page.
On Thursday, a 16-year-old girl, later identified as Layla Silvernail, was found laying on the side of a road near Forest Lakes Park in Ocklawaha, Florida. She was shot and transported to the hospital in critical condition, where she died.
On Friday, Marion County deputies responded to SE 94th Street and SE 188th Court and found a 17-year-old boy with gunshot wounds lying on the roadside. He was pronounced dead at the scene. The sheriff's office said that his name was being withheld at the request of her family.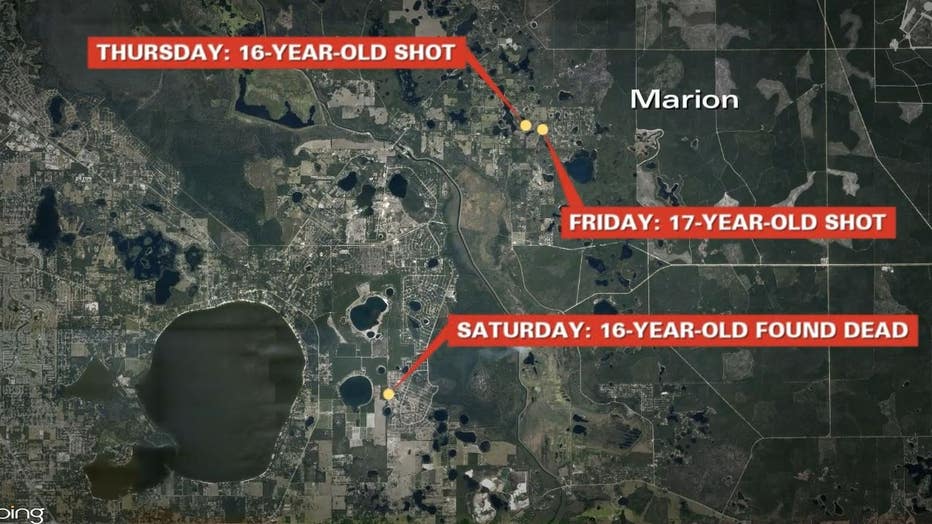 Then on Saturday afternoon, deputies responded to the area of Malauka Loop and Malauka Loop Trace regarding a vehicle that was partially submerged at the edge of the lake. Inside the vehicle, deputies found a third person– a 16-year-old girl – who had been shot and was declared dead at the scene.
Sheriff's officials did not release her name at the request of her family.
Few details have been released. No one has been detained or arrested, and it's unclear if officials have a possible person of interest or suspect identified.
"Someone out there knows something. Word travels fast, but we want you to have accurate information and not rumors. Limited information is available right now because this case is active," Sheriff Woods said.
In an effort to dispel rumors on social media, Sheriff Woods said deputies have not found or identified a fourth victim, and that there is not a serial killer out there.
"That is far from the truth," he said.
Anyone with information is asked to contact Marion County Crime Stoppers at 352-368-2322 (STOP).