4 dead after 2 planes collide over Lake Hartridge in Winter Haven
WINTER HAVEN, Fla. - Authorities have identified three of the four people killed in a midair collision involving two planes over Lake Hartridge in Winter Haven, Florida on Tuesday.  The crash occurred not far from Winter Haven Regional Airport, according to officials. 
The Polk County Sheriff's Office confirmed the four deaths late Tuesday evening.  According to the sheriff's office, one of the planes has been described as a Piper J3 Cub seaplane operated by Jack Brown's Seaplane Base in Winter Haven, and the other is a Piper PA-28 fixed-wing plane operated by Sunrise Aviation out of Ormond Beach, on behalf of Polk State College.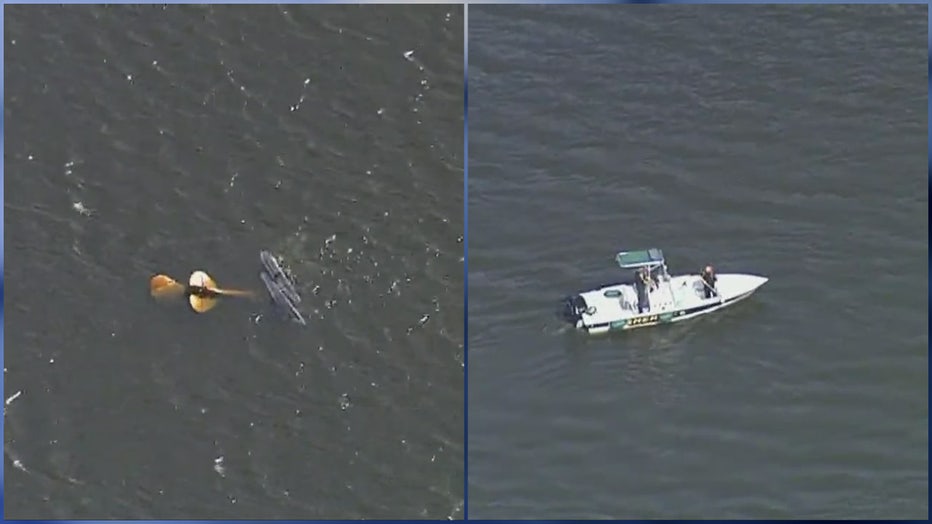 Among the deceased are Faith Irene Baker, 24, of Winter Haven, a flight instructor and pilot of the Piper PA-28, and passenger Zachary Jean Mace, 19, of Winter Haven, a student at Polk State College; and Randall Elbert Crawford, 67, from Carlisle, Pennsylvania, who was an occupant of the Piper J-3 Cub. On Wednesday, officials identified the fourth victim as Louis C. Defazio, 78 of Fredricksburg, Texas (and Winter Haven, Florida) is one of two men who were in the Piper J-3 Cub airplane. 
"One plane you may see out there is partially submerged, and the other plane is completely submerged," said Polk County Sheriff's Office Chief of Staff Steve Lester.
One plane was 21-feet under the water, he said.  
A search-and-rescue operation was actively underway for several hours involving agencies including the Polk County Sheriff's Office, Polk County Fire Rescue, the Winter Haven Police Department, Winter Haven Fire Rescue, and county resources.  Those rescue efforts turned into a recovery mission after it was determined that all four located persons were the only occupants of the planes. 
"My heart goes out to the families and friends of those who were killed in today's crash," said Polk County Sheriff Grady Judd. "Please keep the families in your prayers during this difficult and stressful time." 
The Federal Aviation Administration (FAA) and the National Transportation Safety Board (NTSB) will investigate the crash.
"Once the wreckage is recovered, the investigator will begin the process of documenting the scene and examining the aircraft," explained NTSB spokesperson Jennifer Gabris. "Part of the investigation will be to request radar data, weather information, air traffic control communication, maintenance records, and the pilot's medical records. NTSB investigators will look at the human, machine, and environment as the outline of the investigation."
According to Gabris, a preliminary report on the crash is expected within 15 days.

"At this early stage of an investigation, NTSB does not state a cause but will provide factual information when available," Gabris added. "Investigations involving fatalities and other major investigations currently take between 12 and 24 months to complete."

Lake Hartridge is located east of Lakeland and about 40 miles southwest of Orlando. Winter Haven Regional Airport is not far from the lake, though it is not confirmed how the planes collided or where they were traveling to or from.
SKYFOX video from our news partners at FOX 13 Tampa showed a small yellow plane upside down in the water with rescue boats nearby.
Crews search for survivors of Winter Haven plane crash