2 bitten by sharks at same FL beach • 2 brothers headstones vandalized at cemetery • FL couple drowned child
Two people were bitten by sharks at the same Florida beach on Labor Day, a family is devastated after two brothers' headstones were vandalized at an Apopka cemetery, a 5-year-old girl got back at a man accused of exposing himself to her by recording him, a Florida man was arrested for trying to cross the Atlantic Ocean from Florida to London in a hamster wheel, and a Winter Haven couple was arrested after a 6-year-old child was reportedly abused and drowned in their care: Here's FOX 35's Week in Review. 
2 bitten by sharks at same Florida beach on Labor Day, officials say
Two people were bitten by sharks at the same Volusia County beach on Labor Day, officials said. 
A 37-year-old woman was bitten on the right foot while in the shallow waters on Ponce Inlet, according to Volusia County Beach Safety. The woman from Apopka was playing in the waist-deep water but didn't see the shark that bit her. 
She was transported to a local hospital by Volusia County Emergency Medical Services with a non-life-threatening injury. 
A man in his 30s was also bitten by a shark near the Ponce Inlet Jetty. He was bitten in the left hand, but refused medical attention and took himself to the hospital. His condition is unknown at this time. 
Families 'devastated' after 2 brothers' headstones vandalized at Central Florida cemetery, police say
Police are investigating a local cemetery after two brothers' burial headstones at an Apopka cemetery were damaged and stolen. 
Both incidents happened over the weekend at Edgewood Cemetery on East 1st Street. The Apopka Police Department responded to the cemetery regarding a felony criminal mischief of damaging a burial headstone. 
A victim told police that a family member's headstone was damaged. 
A couple of days later, police arrested 
5-year-old Florida girl gets back at man accused of exposing himself to her by recording him, police say
A mother is proud of her little girl after she recorded a stranger who exposed himself to her.
Carlos Rivera Luciano, 46, is in jail, facing charges of lewd and lascivious behavior upon a 5-year-old girl. But in this case, deputies say the victim fought back by recording the act with her sister's cell phone.
Florida man tried to travel to London by crossing Atlantic Ocean in hamster wheel: Coast Guard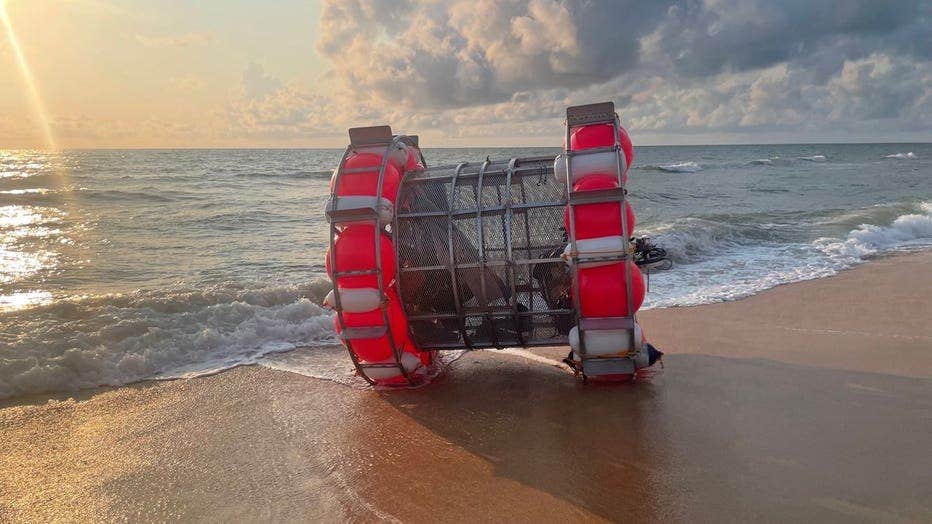 (Photo via Flagler Sheriff's Office)
A Florida man is facing federal criminal charges after he attempted to cross the Atlantic Ocean to get to England in a human-sized hamster wheel contraption, officials said. 
Ray "Reza" Baluchi was charged with obstruction of boarding and violation of a captain of the port order, according to a criminal complaint.
On Aug. 26, US Coast Guard officers stopped Baluchi after spotting him on his homemade vessel approximately 70 nautical miles east of Tybee Island, Georgia. It was then that he told officials he was headed to London, court documents said. 
Officers deemed his hamster wheel – which was afloat as a result of wiring and buoys – was unsafe for the voyage and ordered him to get into their boat.
Authorities said Baluchi said he was armed with a 12-inch knife and would attempt to kill himself if officers tried to remove him from the wheel.
For days, Coast Guard officers tried to get Baluchi into their boat. At one point, officials said he displayed two knives and threatened to use a bomb to blow himself up, along with the wheel.
Officers believed his threat was valid because Baluchi was reportedly holding wires in his hand. He later told officers the bomb was not real.
On Aug. 29, officers were able to safely get Baluchi off the hamster wheel. He was brought to ashore at the US Coast Guard base in Miami Beach.
Winter Haven couple indicted on murder charges after caging, drowning 6-year-old: Deputies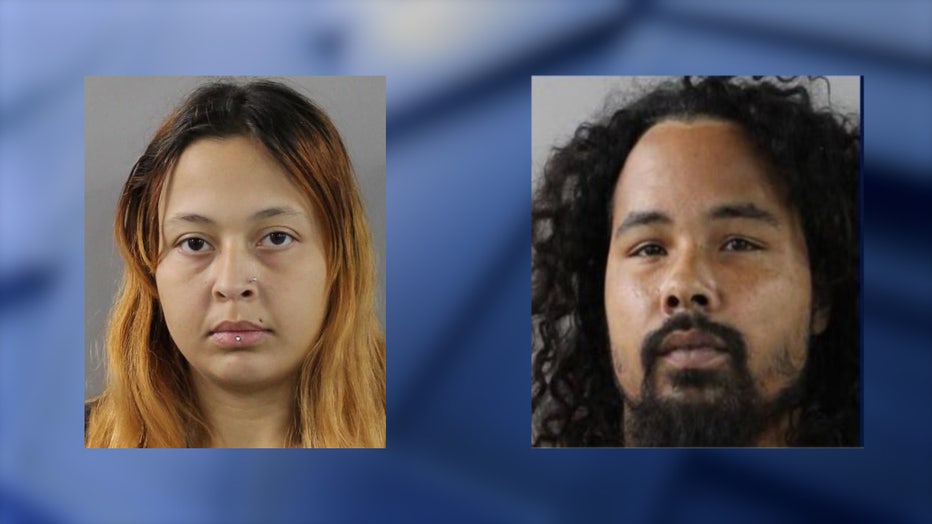 Credit: Polk County Sheriff's Office
A Winter Haven couple has been indicted following a months-long death investigation into the drowning of a 6-year-old child in their care, Deputies said. 
Married couple Tre Seymore, 27, and Alize Seymore, 25, are accused of repeatedly abusing a 6-year-old boy and coercing two other children in their home to engage in the abuse which led to the child being drowned in a bathtub in April, deputies said. 
The Seymores originally told deputies on April 22 that the 6-year-old was "sent to the bath as punishment for soiling himself." The couple said the child was left in the bath for about 20 minutes before Tre went to open the bathroom door, which was locked. 
The couple told deputies after Tre broke into the bathroom he saw the 6-year-old face down in the water and called 911. The child didn't regain consciousness and later died on April 24.