Orlando Weather Forecast: High rain chances for Tuesday with evening storms possible
Tonight's low: 76 degrees | Tomorrow's low: 92 degrees | Rain: 80 percent chance of p.m. storms
MAIN WEATHER CONCERNS
Tropical moisture means more afternoon storms again on Tuesday. Concerns are like previous days, including heavy rain, frequent lightning, and gusty winds. Once again, the best coverage will be along and west of 95 at 80 percent. A Flood Watch continues for Marion and Alachua counties until 4 a.m. on Tuesday.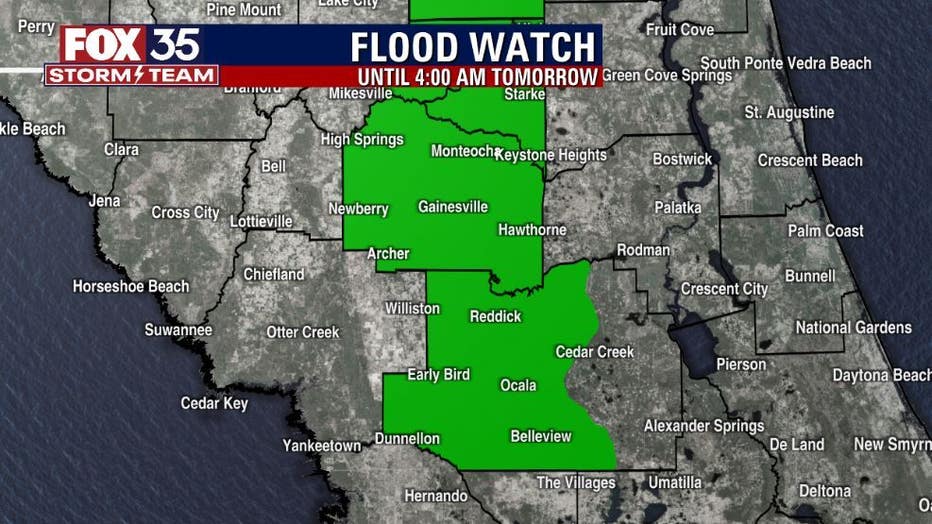 BEACHES
There will be a 70 percent chance for afternoon showers/storms at the beaches primarily by lunchtime and early afternoon. There is a moderate risk for rip currents. Surf at 1-2 feet, around knee-high. Lightning will be a possible danger should storms drift back towards the coast in the late afternoon and early evening.  Be ready to run to the car.
THEME PARKS
Hot and humid conditions with numerous afternoon storms. Heat index temps will be in the upper-90s, so make sure to drink more water than you might normally. Torrential storms may threaten each day after 3:30 p.m. and continue on and off through 9 p.m.
EXTENDED OUTLOOK
Rain chances remain high through Friday with localized minor flooding. Depend on the FOX 35 Storm Team and download the FOX 35 Storm Team App!
TROPICS
The National Hurricane Center is currently watching FOUR tropical waves. Three of the disturbances are given a 20% of development over the next 5 days, but one in the middle of the Atlantic has been given an 80% chance.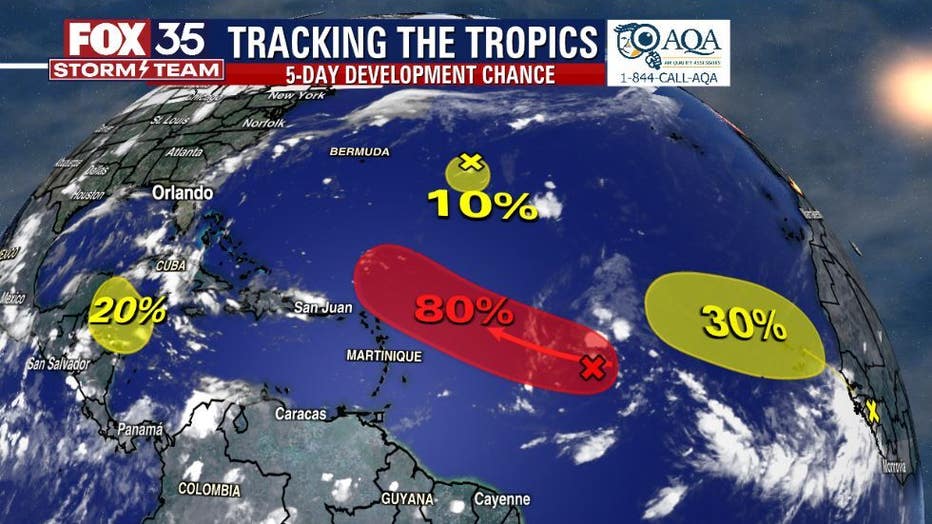 We're watching a tropical wave in the Atlantic, expected to become the season's next named storm. No threat to Florida at this time, as many computer models deflect the system into the open ocean before coming close to the USA. 
Track the tropics in real-time on the FOX 35 Storm Team App.