Franklin to rapidly intensify into season's first major hurricane; East Coast to see dangerous rip currents
Hurricane Franklin is continuing to strengthen as it spins across the Atlantic Ocean and is expected to rapidly intensify into the season's first major hurricane over the warm waters between the East Coast and Bermuda.
Forecasters say Franklin could strengthen into a Category 3 hurricane by Monday and will pass several hundred miles off the mid-Atlantic coast.
The FOX Forecast Center says the Southeast and mid-Atlantic coasts could experience big swells and rip currents through the Labor Day weekend, but the forecast remains that the storm will not make landfall in the U.S. 
HURRICANE FRANKLIN AMONG SEVERAL SYSTEMS BEING TRACKED IN ACTIVE ATLANTIC
Where is Hurricane Franklin now?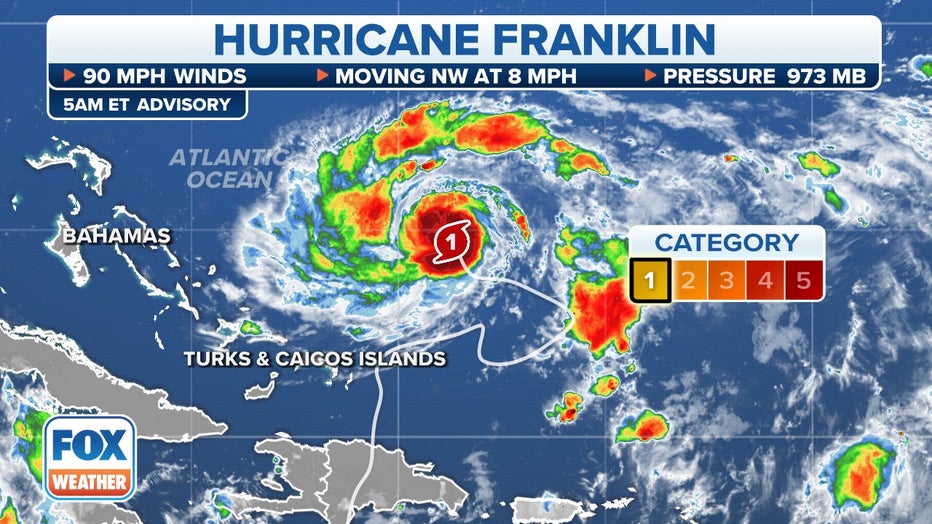 Hurricane Franklin stats.(FOX Weather)
Where is Hurricane Franklin headed?
Hurricane Franklin is not forecast to make landfall in the U.S. The track from the NHC shows the strengthening storm moving between the East Coast and Bermuda this week.
The hurricane is expected to move to the north-northwest later on Sunday, followed by a turn to the north and then north-northeastward during the early part of the workweek.
On the forecast track, the cyclone is expected to shoot the gap between Bermuda and the U.S.
GUIDE FOR 2023 ATLANTIC HURRICANE SEASON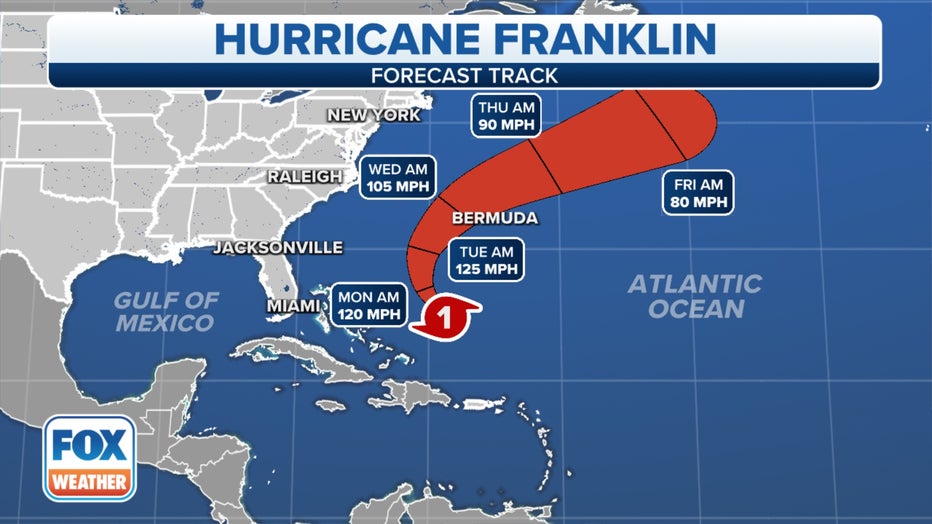 Franklin's forecast track.(FOX Weather)
Will the US be affected by Franklin?
While Hurricane Franklin is not expected to hit the U.S. mainland, big swells will impact the Eastern Seaboard starting Monday and will likely linger through Labor Day weekend, the FOX Forecast Center said. In addition, dangerous rip currents are forecast for beaches up and down the East Coast this week.
"This is not going to be a landfall for us," said FOX Weather meteorologist Britta Merwin. "We have a series of troughs coming off the East Coast, and that's going to be our protector. You don't have to worry about this making landfall on the East Coast, but we could see some rough surf conditions."
NEAR-AVERAGE 2023 ATLANTIC HURRICANE SEASON EXPECTED WITH UP TO 17 NAMED STORMS, NOAA SAYS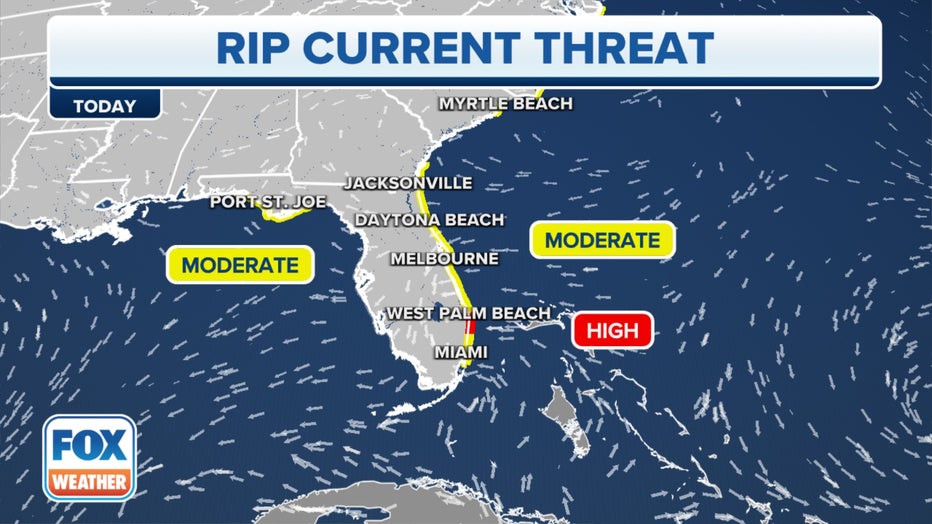 The rip current forecast for Aug. 27, 2023.(FOX Weather)
By Wednesday morning, waves off the coast of North Carolina could be 9 to 12 feet, Merwin adds. 
"Thankfully, the strongest waves and the biggest waves are going to be out of here by the time we get to Labor Day weekend," she said. "But if we have this pass too close, and we have some beach erosion ahead of the Labor Day weekend holiday, we could see some minor implications there."
BEWARE THE 'I' STORM: IT HAS MORE RETIREES THAN ANY LETTER USED FOR ATLANTIC HURRICANE NAMES