How you can help survivors of Mississippi, Alabama tornadoes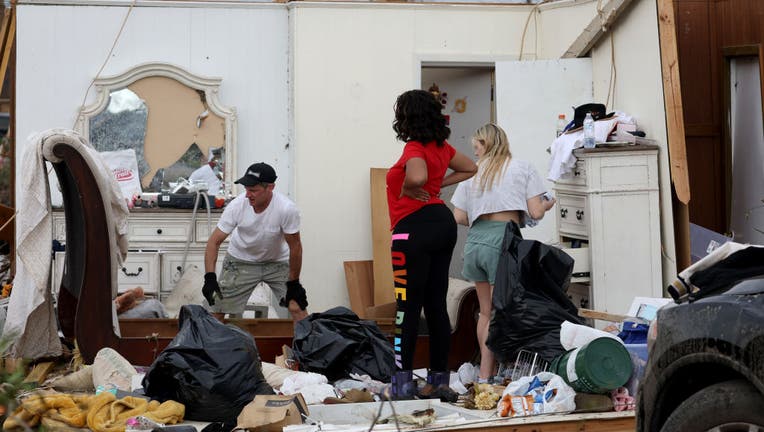 article
ROLLING FORK, Miss. - The search for survivors continues as well as the rush to help hundreds of people left homeless after a powerful tornado cut a devastating path through Mississippi, killing at least 25 people, injuring dozens, and flattening entire blocks as it carved a path of destruction for more than an hour. 
One person was killed in Alabama.
The tornado devastated a swath of the Mississippi Delta town of Rolling Fork, reducing homes to piles of rubble, flipping cars on their sides and toppling the town's water tower. Residents hunkered down in bath tubs and hallways during Friday night's storm and later broke into a John Deere store that they converted into a triage center for the wounded.
RELATED: Father shields 1-week-old baby as Mississippi tornado destroys home
Based on early data, the tornado received a preliminary EF-4 rating, the National Weather Service office in Jackson said late Saturday in a tweet. An EF-4 tornado has top wind gusts between 166 mph and 200 mph (265 kph and 320 kph), according to the service.
RELATED: Recovery from deadly Mississippi tornado tough for low-income residents
ROLLING FORK, MISSISSIPPI - MARCH 26: Residents continue to recover possessions and secure homes that were damaged by Friday's tornado on March 26, 2023 in Rolling Fork, Mississippi. A least 26 people died when an EF-4 tornado ripped through the small town of Rolling Fork and other nearby communities on Friday evening. (Photo by Scott Olson/Getty Images)
Here are some ways you can help those impacted by the storm:
To make a donation: 
Several local and national organizations are now accepting donations to help those impacted by the storms in Mississippi and Alabama. 
If you would like to volunteer:
Officials are asking people not to self-deploy as volunteers to affected regions. Instead, they are directing those interested to Volunteer Mississippi. 
FOX is also working with the American Red Cross to help those affected by last week's storms. So far, the network has donated $1 million to organization. 
"The Red Cross is on the ground in Mississippi and beyond working with their partners to make sure everyone who was impacted has a safe place to stay, meals, emotional support and comfort in the aftermath of this deadly tornado," the company said in a statement. "They have mobilized relief supplies and disaster workers and are coordinating with local and state officials to help ensure people get the help they need."
The Associated Press contributed to this report. This story was reported from Los Angeles.