Tiger Woods shoots 70 thanks to par-saving shot from trees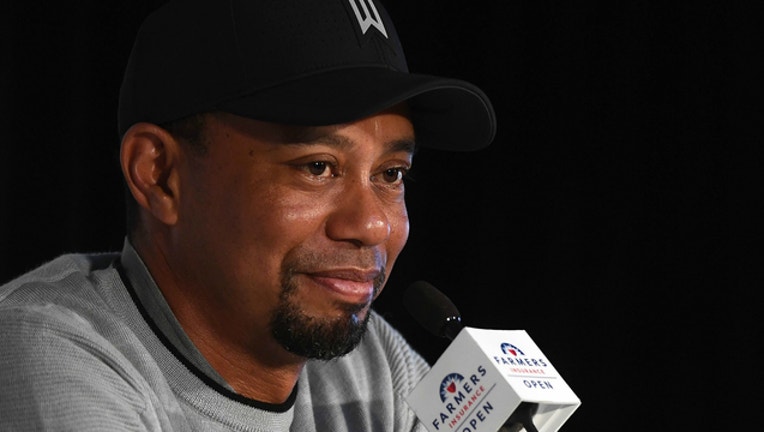 article
By MARK LONG
AP Sports Writer
   PALM HARBOR, Fla. (AP) -- Tiger Woods moved spectators and a TV truck, and then warned everybody in earshot.
 
   He had no idea what was going to happen with his ball sitting near an oak tree at the par-4 16th.
 
   It turned out to be one of his best shots of the day, a low-running wedge from slippery, fallen leaves that could have broken his club and a few fingers.
 
   It ended up just short of the green , Woods followed with a chip shot to 3 feet that saved par and provided one of the top highlights from the opening round at the Valspar Championship on a blustery Thursday.
 
   It also helped Woods finish at 1-under 70 and three shots back of first-round leader Corey Conners.
 
   "It didn't feel very good," said Woods, who let go of the club as it started to wrap about the tree trunk. "I moved all the people even and warned them in case the club breaks and gets over there. I pitched it up the hill and came out nicely."
 
   More like perfectly.
 
   Woods was nearly as good with his next tee shot, a 5-iron to 2 feet on the par-3 17th. He tapped in for a birdie and his best start in nearly three years.
 
   It was his first opening round under par on the PGA Tour since a 64 in the Wyndham Championship in August 2015. To be fair, he's only played six opening rounds since.
 
   Still, there was a lot to feel good about considering Woods remains a work in progress while returning from a fourth back surgery.
 
   Woods is trying to get his game ready for the Masters, and without being eligible for the two World Golf Championships in the spring, he needed a place to play.
 
   Woods captivated thousands with every shot. He had a Sunday crowd -- in 50-degree weather and gusting winds -- following his every move around the Copperhead course at Innisbrook. Fans lined both sides of every fairway, waiting hours just to get a glimpse of Woods in his first appearance at the event.
 
   "Golf needs you, baby!" one fan screamed.
 
   "Thanks for coming, Tiger. Please come back next year," shouted another.
 
   Woods gave them reason to cheer.
 
   His flop shot on the first hole was a thing of beauty and got the round started with a birdie. He drained a downhill, 13-footer for another bird on the par-3 eighth. He got to 2 under after consecutive birdies on 10 and 11, but gave then right back on the next two holes.
 
   He ended the round on a high note with those shots at 16 and 17. He closed with a par after finding the 18th green with a 5-iron from the right rough and then two-putting from 50 feet.
 
   "I enjoy when par is a good score. It's a reward," he said. "There are some tournaments when about four holes you don't make a birdie you feel like you're behind. Today, you know, made a couple birdies, all of a sudden that puts me fourth, fifth right away. That's how hard it is. It's the reward to go out there and make a couple birdies here and there, and I like that type of challenge."
 
   It was his fourth event of the year. He tied for 23rd at Torrey Pines (seven shots out of the lead) and was 12th at the Honda Classic (eight shots behind the winner). In between, he missed the cut at Riviera.
 
   "This was the hardest of all the tests because the wind was all over the place," he said. "I really had a hard time today figuring out what to hit. And a lot of the time, many of them, what the trajectory is. Am I going to hit it above the tree or around tree height? Those are all different distances the ball travels. Couple times I got it just above the trees and it got smoked."
 
   Woods managed the swirling wind better than playing partners Jordan Spieth (76) and Henrik Stenson (74). It was the first time Woods posted a lower score than Spieth in the eight rounds they've played together.
 
   "I feel like I'm pleased with every aspect of my game," Woods said. "I drove it well. I hit a lot of good iron shots today, and I had some good speed on the putts. ... I thought I really did well today, overall."