El Segundo wins Little League World Series with walk-off win over Curaçao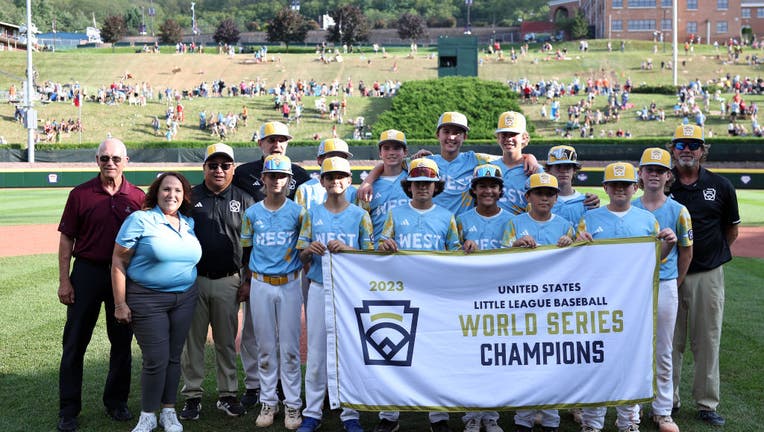 article
EL SEGUNDO, Calif. - The El Segundo All-Star team won the Little League World Series Sunday in dramatic fashion, as tournament home run leader Louis Lappe hit a walk-off home run in the sixth inning, beating Curaçao by a score of 6-5, and sending Los Angeles County home with its first LLWS title in 30 years.
El Segundo picked up right where they left off after their U.S. championship win against Needville, Texas, Saturday, scoring in the very first inning Sunday. Lucas Keidorf hit a line drive that bounced off the center field wall, driving in two and giving El Segundo the early lead. 
After Curaçao brought in one run in the top of the third, Jaxon Kalish helped widen the lead for El Segundo, singling through the hole on the right side to drive in two, making the score 4-1. El Segundo would tack on one more run in the bottom of the fourth thanks to Crew O'Connor. El Segundo was up 5-1.
SUGGESTED: El Segundo all-star team heads to Little League World Series world championship
El Segundo's Ollie Parks put in a good showing on the mound. He was pulled in the top of the fifth, after walking the second batter of the inning. His day was done after 4.1 innings of one-run ball, striking out six and walking four. Kalish came in to replace Parks on the mound. A wild pitch, walk and a single loaded the bases with one out, and Kalish had to be pulled after suffering from what seemed like arm stiffness. 
Max Baker came in, inheriting a full count on Curaçao's Jayvery Felicia, striking him out. Just as El Segundo looked like they were going to get out of the inning, the next batter, Nasir El-Ossais, hit a game-tying grand slam to center field, knotting the score at five. Baker was able to get the next batter.
The score stayed tied at five until the bottom of the sixth inning. When who else but Lappe, El Segundo's first batter of the frame, crushed the second pitch he saw for a no-doubter over the left field wall, ending the game in dramatic fashion. El Segundo takes home the title by a score of 6-5.
Lappe's walk-off shot was his fifth of the tournament. Teammate Brody Brooks finished second in the tournament with three.
The tournament win is the first Los Angeles County since 1993, when Long Beach took home the title. A team from Long Beach also won it all the previous year. 
El Segundo is already planning their victory parade. In a post on the team's Facebook page, the group wrote that they'll be be caravaning down Main Street from Imperial Highway to El Segundo Boulevard at 3:30 p.m. on Monday, Aug. 28.