Denny Hamlin wins on a long-day at Homestead-Miami Speedway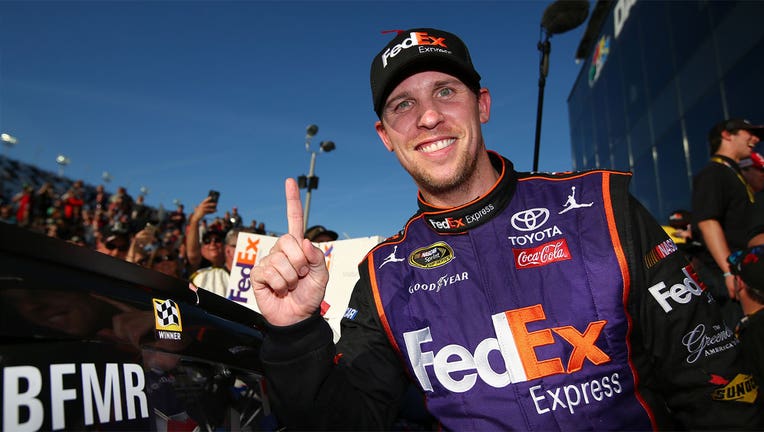 article
HOMESTEAD, Fla. - Denny Hamlin found the magic at Homestead-Miami Speedway, once again.
Hamlin went to the lead for the final time with 30 laps left and held off Chase Elliott for his record-tying third NASCAR Cup Series victory at Homestead.
Former drivers Tony Stewart and Greg Biffle are the other three-time winners. Hamlin is in the club now, after battling Elliott most of the night.
"This one was real special," Hamlin said.
Hamlin raced to his third victory of the season and 40th overall. He opened the season with a victory in the Daytona 500 and won at Darlington last month. And when the night was over, Hamlin — who wears the Michael Jordan "Jumpman" logo on his race suit — made no secret that he's racing with some extra energy these days.
"I'm motivated. I'm motivated more than ever," Hamlin said.
He led 137 of 267 laps on the 1 1/2-mile track in Joe Gibbs Racing's No. 11 Toyota, finishing 0.895 ahead of Elliott.
"I just need to get through lap traffic better," Elliott said.
Ryan Blaney was third in a race oft-delayed by rain and lightning. Tyler Reddick finished fourth.
"I just needed to execute a little bit better," Reddick said. "It was tough. We were just a little bit off there in the last two runs."
Fittingly, a very long day was the capper to a very long week for NASCAR — three Cup Series races in eight days, all of them bringing drivers into hot and steamy weather conditions that left many of them exhausted, all wrapped around the ongoing national outcry surrounding the battle for racial equality.
Bubba Wallace, the only black driver in the Cup Series, has become the sport's most prominent activist after he successfully called last week on NASCAR to ban Confederate flags at its events; the series quickly did just that to mostly rave reviews. So, while fans —1,000 of them, mostly invited military members who could each bring a guest — were back at a NASCAR race for the first time since the coronavirus pandemic started, there were none of the banned flags in sight.
Most of those fans were gone when Hamlin drove under the checkered flag at 10:46 p.m., ending the marathon day.
The Associated Press contributed to this report.