WSJ: 'The Simpsons' Duff Beer hitting shelves in overseas markets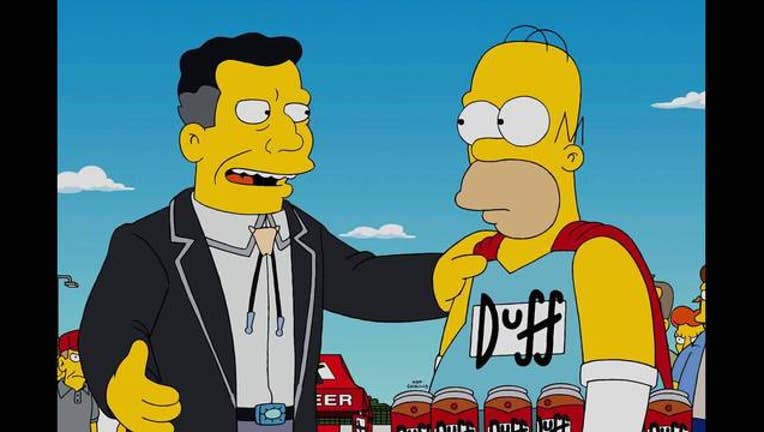 The owner of the long-running, hit animated series "The Simpsons" will be getting into the beer business, according to the Wall Street Journal.
The newspaper reports that 21st Century Fox will soon begin selling Homer Simpson's favorite brew: Duff Beer.  Duff will first be distributed in Chile, with plans to roll out the product to more of South America and Europe by early next year.  21st Century Fox is the parent company of FOX 35 and MyFoxOrlando.com.
The official Duff brew was created for Fox by British brewmaster Paul Farnsworth.
The only place where you can get a sip in the U.S. is at Universal Studios in Orlando, when it began selling Duff Beer in June of 2013 at of Moe's Tavern and Duff Brewery in the Springfield area of the park. For now, the company has no immediate plans to offer the beer outside of the theme parks in the U.S. but Godsick did tell WSJ that he sees "potential to have Duff everywhere in the world."
Sounds like Homer has been sipping a pretty tasty beer all these years.
"It's a premium lager," Godsick said, though admitted he's not much of a beer drinker. "It's got a very good balance of flavor and refreshment to it. It's fairly deep golden in color. It's got a hint of fruit to it. It's got a caramel aromatic to it."
The commercial version of Duff will be available in "subtle packaging with no obvious nods to the TV show," so fans can feel like they're drinking the real deal.
----
On the web:
http://www.wsj.com/articles/duff-beer-tries-to-tap-markets-outside-springfield-1436553842