Woman caught smuggling vodka into sporting event inside salami sandwich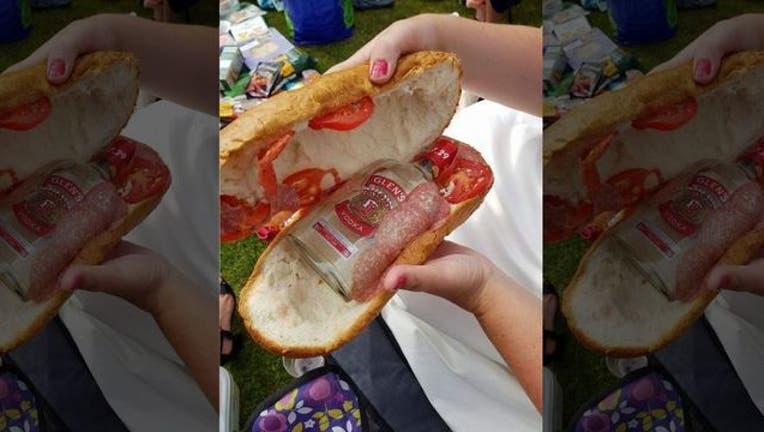 article
(FoxNews.com) - A sporting fan in the U.K. was recently forced to go without the liquor sandwich she so thoughtfully prepared for a day at the races.
On Sunday, authorities at the Southwell horse track in Nottinghamshire, England, reportedly caught an attendee trying to smuggle a 350-milliliter bottle of vodka into the venue by way of a large sandwich filled with salami and tomato. According to the Telegraph, security guards were tipped off by the weight of the "sandwich," and asked the woman to open it for inspection.
"This was spotted by security yesterday," wrote Southwell's social media team on Twitter, alongside a photo of the Glen's Vodka bottle nestled inside a submarine roll.
A spokesman for Southwell added to Fox News that security took the sandwich from the woman, but didn't dispose of it out of respect for her inventiveness.
"We usually confiscate the alcohol and destroy it, but on this occasion, impressed by the lady's ingenuity, we decided she could collect it after racing had finished," said the spokesperson. "Needless to say, she didn't collect the bottle and it is still sat in the racecourse office.
Clearly having a bit of fun with their find, the track also asked Twitter users to submit any witty one-liners that came to mind — and followers didn't disappoint.
A representative for Southwell, however, claims that the track has already seen its fair share of sneaky attendees, but the sandwich trick was altogether new to them.
"It was a bit of an unusual one for us," the spokesperson told the Nottingham Post.
Southwell's spokesperson added to Fox News that they plan on giving out a prize for the best comment to their Twitter post, but they haven't yet decided what it is.
"The prize is to be determined, but I can confirm it will not be either a salami [sandwich] or the confiscated bottle of vodka," he said.