UCF trustees consider $600K settlement agreement for Whittaker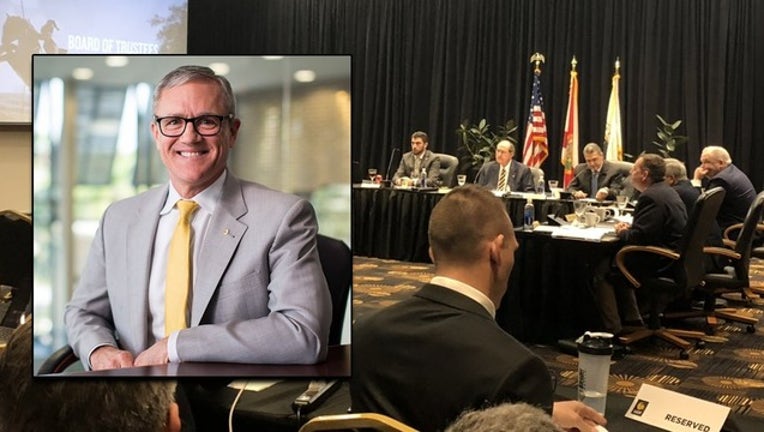 ORLANDO, Fla. (FOX 35 Orlando) - Former University of Central Florida President Dale Whittaker, who resigned from the position last week following an investigation into improper spending at the school, could receive $600,000 as part of his severance.
Last week, Whittaker offered his resignation to the UCF Board of Trustuees, which the board accepted on Thursday. The decision came after an investigation by the state and a subsequent audit revealed there was improper use of state operating funds to build the 137,000-square-foot Trevor Colbourn Hall.  The $38 million was supposed to be used for activities like instruction, research, libraries, student services or maintenance.
RELATED: Lawmaker suggests shutting down UCF as punishment for improper spending
Whittaker had only been UCF's president for less than eight months, assuming the role in July of 2018.  He had served as the school's provost, before being offered the position of president, following the retirement of John Hitt.  
RELATED: Former UCF chair stepping down from board
Whittaker had a four-year contract with a base salarly of around $500,000.  Under an agreement with the school's board, Whittaker was to recieve a package valued at around $400,000, including a percentage of his salary and other expenses. 
The settlement includes $165,000 in a severance payment and $435,000 "for relinquishment of his tenure at UCF," according to a copy posted on the university's website. The university would pay legal costs for Whittaker to cover any claims from former university employees who were terminated while Whittaker was president.  Among the four high-level adminstrators who faced termination, none have filed lawsuits. 
The board is expected to discuss the revised settlement agreement during a meeting on Thursday.