Two men questioned in connection with I-4 stolen car fire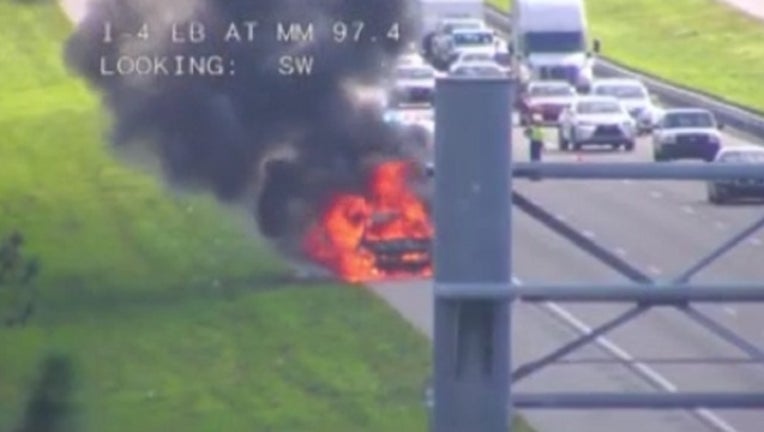 article
LAKE MARY, Fla. (WOFL FOX 35) - A fireball on Interstate 4, near Lake Mary, sent black smoke billowing into the air Sunday afternoon.
The emergency stopped traffic eastbound, as firefighters worked to put out the blaze.
Lake Mary Police say this all started with a call about a stolen vehicle.
Witnesses say they saw two men jump out of the car and run away. 
A short time later, officers swarmed the Sun Lake apartments in Lake Mary.
Only The News Station was there as police put two men in handcuffs in connection with the stolen vehicle and fire.
One witness said that one of the men stole his sneakers, which were outside his apartment door.
The man, who asked not to be identified, says he had no idea where his shoes were until he saw Fox 35's exclusive video.
He said, "I was like, 'Man! That's crazy! My shoes are on that guy.'" 
Fox 35 shared the video with police, and the man is hoping to get his sneakers back on Monday.
He says that's not soon enough. 
"I have to go to work tonight [Sunday] too, so I have to buy another pair of shoes, I guess."
Lake Mary Police took the two men in for questioning. 
Police are also still investigating how the car caught fire.