Hurricane Fiona track: Here is where Hurricane Fiona could be headed next
ORLANDO, Fla. - Fiona strengthened Sunday morning to become a category 1 hurricane, and made landfall in Puerto Rico hours later. Power has been knocked out across the island, and "catastrophic flooding" is expected, according to National Hurricane Center.
Where is Hurricane Fiona?
As of 5 p.m. Sunday, Hurricane Fiona was about 10 miles west of Mayaguez, Puerto Rico, and 75 miles east-southeast of Punta Cana, Dominican Republic.
Maximum sustained winds are at 85 mph.
Fiona is moving northeast at 9 mph, according to National Hurricane Center. Minimum central pressure is 986 mb.
"On the forecast track, the center of Fiona will move near the northern coast of the Dominican Republic tonight and Monday, and near or to the east of the Turks and Caicos Islands on Tuesday," NHC said in its 5 p.m. advisory.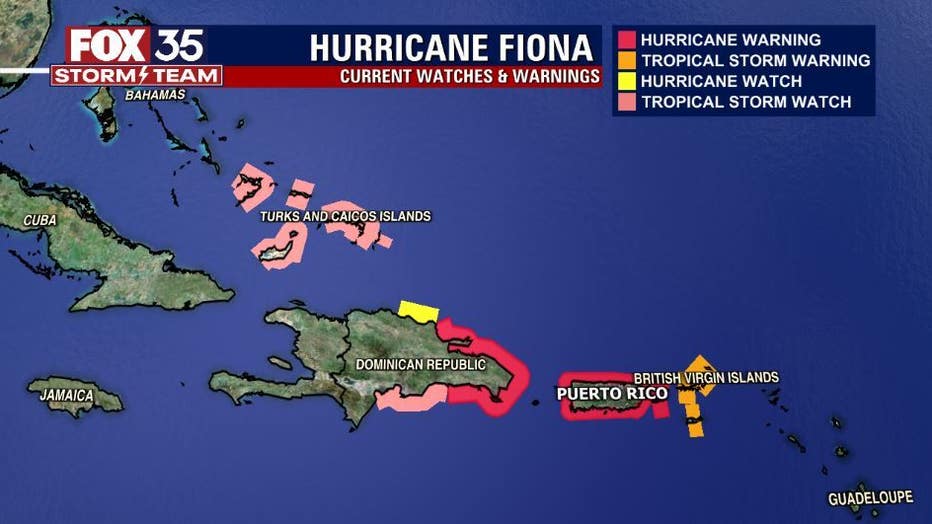 What is the forecast for Hurricane Fiona?
Hurricane Fiona is expected to strengthen during the next 48 hours, the NHC said.
Will Tropical Storm Fiona threaten Florida?
Hurricane Fiona won't have direct impacts on Florida as models indicate it will remain well east of the U.S. coast. However, it will bring high surf this week which means the rip current risk will be higher. So, if you have plans to head to the beach, be aware of those hazards.