Florida woman says French bulldogs were stolen from front yard: 'They are my whole life'
CASSELBERRY, Fla. - A  woman in Casselberry, Florida is desperate for answers after she says someone stole her two French bulldogs from her front porch Tuesday.
Police are investigating, and she is going door to door to find clues.
"I always joke that my dogs are local celebrities because I take them everywhere with me and Cornelius is a pretty unforgettable name," said Ashley Britton.
Cornelius and Chanel were leashed in front of Britton's home for about 20 minutes.
When she walked outside to get them, they were gone.
"You would like to see the faith in humanity and think that they just got off their harness maybe," Britton said. "You would hate to think that someone would be malicious, especially to such friendly and trusting dogs."
Britton reported it to the police and has taken it upon herself to put up flyers all over town and ask local businesses for their security footage.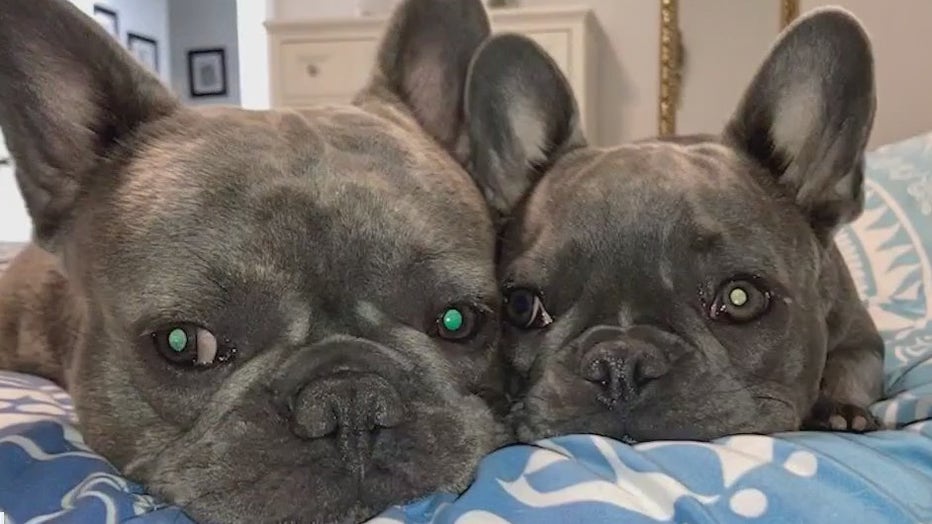 A neighbor who knows the dogs well says she was walking her own dog when she noticed three people walking the two French bulldogs out of the neighborhood.
"I waved, and I thought someone was paid to walk their dogs, so I just kind of took note, and then they didn't wave back or anything, so I kept walking," said Morgan Cark, who's now a witness in the investigation.
Cark told police there was a woman in her 50s and a man and woman in their 20s.
She says one of them showed some bizarre behavior.
"The male was kind of dancing around in this yard over here," Cark said. "So, I was like, 'That's kind of weird, why are you in someone's yard?'"
While the search continues, Britton hopes her dogs are at least being fed, treated well, and being kept together.
"They are my whole life, my absolute everything," Britton said. "I joke with everyone that ever since getting them, they're my entire personality."
Britton is now offering a $3,500 reward.