The Iron Sheik, WWE Hall of Famer and icon, dead at 81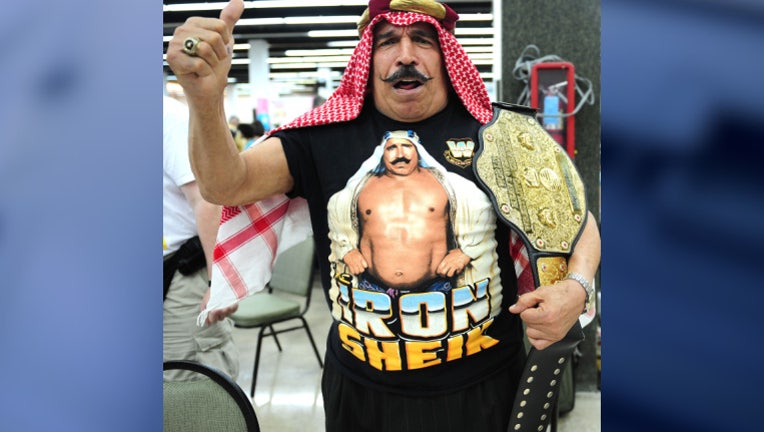 article
Wrestling legend and WWE Hall of Famer The Iron Sheik has died at the age of 81, according to a statement posted Wednesday to hits social media accounts, leaving the wrestling community in mourning.
"Today, we gather with heavy hearts to bid farewell to a true legend, a force of nature, and an iconic figure who left an incredible mark on the world of professional wrestling," the statement read. "It is with great sadness that we share the news of the passing of The Iron Sheik, but we also take solace in knowing that he departed this world peacefully, leaving behind a legacy that will endure for generations to come."
The Iron Sheik, whose real name is Hossein Khosrow Ali Vaziri, became a WWE Champion on Dec. 26, 1983, after he defeated Bob Backlund in Madison Square Garden, according to WWE.
He went on to battle against rivals Hulk Hogan, Sgt. Slaughter, and Nikolai Volkoff in memorable matches throughout his career. He teamed with Volkoff to win the WWE World Tag Team Championship at the first WrestleMania in 1985, WWE said.
He left the WWE in 1988, but made a return in 1991. His last in-ring appearance was WrestleMania 17, where he returned as The Iron Sheik to re-ignite his rivalry with Slaughter. 
The WWE said he would be remembered for his "larger-than-life personality and natural gift for inciting crowds" to become"one of the great villains in sports-entertainment history."
Outside the ring, he was a devoted family man to his wife, Caryl, and his three children, Tanya, Nikki, Marissa.
"The Legend," Triple H said on Twitter. "An all-time great performer and WWE Hall of Famer who brought his character to life and transcended our business."