'Teletubby' boot by Christian Cowan can be yours for $2,500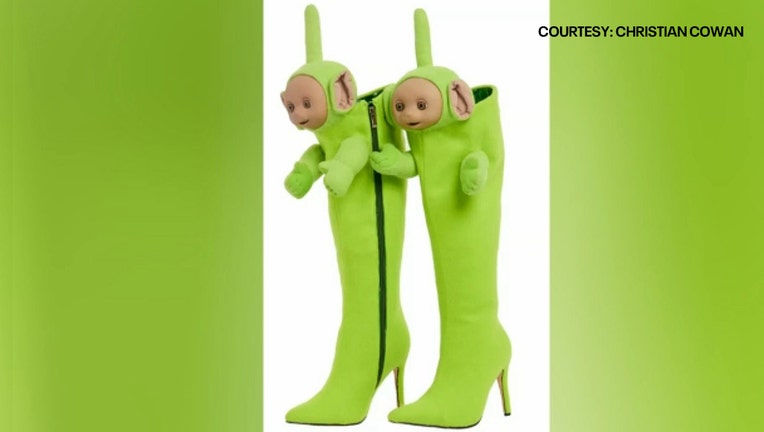 article
These boots are made for gawking. A designer is combining high fashion with a childhood classic, and it has received mixed reaction.  

London label Christian Cowan is paying homage to the 90s British children's television series Teletubbies to create the "Teletubby boot."  Many of the reviews are favorable, and it's garnering lots of excitement among Millennials who grew up with the show.
The knee-high boot features the character "Dipsy," who is prominently displayed with its head, arms, and antenna at the top.  The limited edition boots are available on Christian Cowan's website for $2,500.
Cowan is also offering a Teletubby graphic tee ($195), graphic hoodie ($350), denim jacket ($595), and wide leg jean ($495), all described as, "an exclusive capsule collection of classic styles featuring screen prints of the characters themselves in a 90's inspired fashion campaign."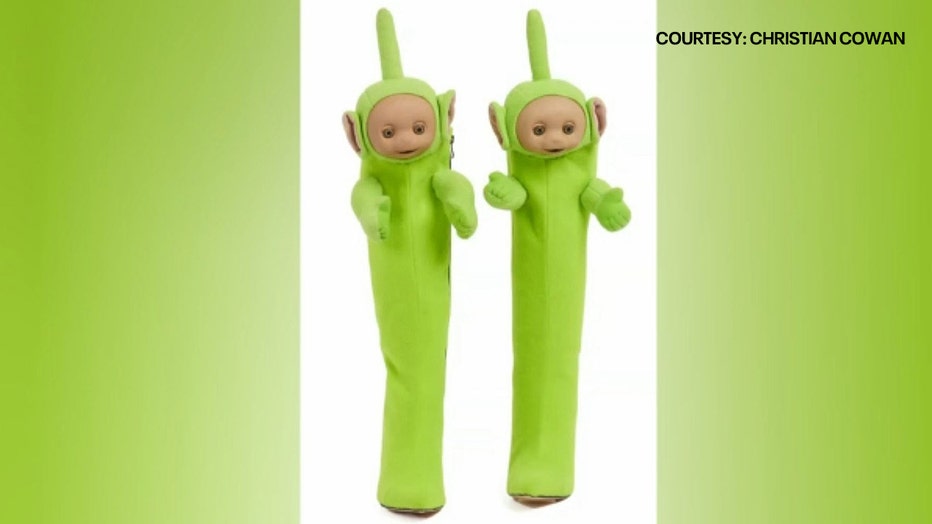 The preschool show, created by Anne Wood and Andrew Davenport of Ragdoll Productions for the BBC, began airing in the United Kingdom in March 1997. The series starred Tinky Winky, Dipsy, La-La and Po, as "brightly coloured creatures with aerials [antennas] on their heads," the BBC explains. The show quickly became an international hit, airing on PBS in America.
"Some people were concerned over the Teletubbies' language, which was based on the first words children say," the BBC writes on its website. "But by encouraging the viewers to join in and play, Teletubbies successfully stimulated children of all abilities to communicate with confidence."
The Teletubbies were some of the hot toy licenses during the following holiday season, but some shoppers didn't like what Teletubby Po had to say. Some toy chains pulled the plush dolls from its shelves amid complaints about some of the red-suited Teletubby's comments.  Some offended shoppers believed the doll said a pejorative term used to refer to gay men. The itsy bitsy Entertainment Co., which licensed the Teletubbies, said the doll was actually saying the nonsensical words ``fidit, fidit,″ which the character regularly sang on the television show. Toymaker Hasbro, which manufactured the stuffed doll, started inserting cards in each doll's box to familiarize people with the Teletubby language.
"Teletubbies" were once again at the center of controversy when pastor, televangelist, and conservative activist Jerry Falwell suggested that Teletubby Tinky Winky was gay. 
Dipsy isn't the first Teletubby to collaborate with Cowan. Tinky Winky met with the British designer during New York Fashion Week in 2021 and made a big splash.
Last spring, the Teletubbies celebrated their silver anniversary, reuniting to release a new album. 
Teletubbies' Icon Tinky Winky visits Mentor and Designer Christian Cowan during New York Fashion Week on September 10, 2021 in New York City. (Photo by Jeff Schear/Getty Images for Teletubbies)
Some information taken from the Associated Press.