Suspects finally caught for spree of over 29 business burglaries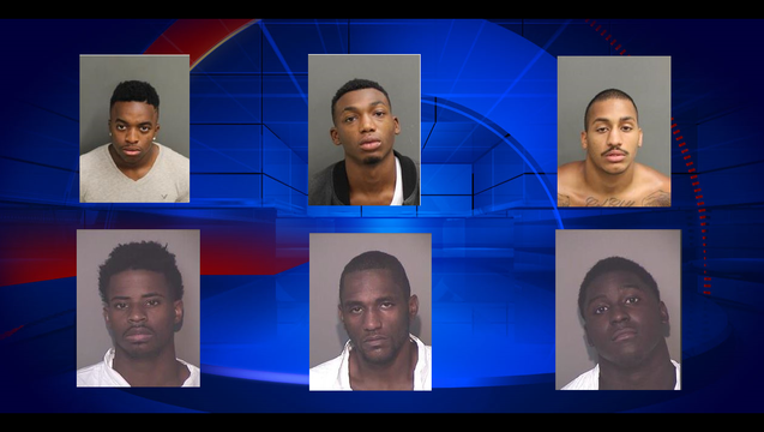 article
OSCEOLA COUNTY, Fla. (WOFL FOX 35) - Osceola County Sheriff's Detectives have been actively investigating 29 business burglaries, all of which share similar trends and are believed to be connected.
These burglaries have spanned across Osceola County and other parts of Central Florida for over a month. Usually, incidents involve a suspect smashing the front glass of a business to enter and steal money or merchandise. The cost of the damage and loss of money and merchandise have totaled to tens of thousands of dollars when combined.
Of the 29 burglaries in Osceola County alone, the stores that have been robbed are: 12 liquor stores, 8 cell phone stores, 3 clothing outlet stores, 2 pawn shops, 1 auto dealership, 2 hair salons and 1 armory store.
On Thursday, May 11th, another burglary, which matched the trend of the previous ones, occurred. Detectives went to investigate and were able to follow the suspect's vehicle fleeing into Orange County. The suspect vehicle drove until three suspects bailed out of the vehicle and ran on foot. Deputies later made contact with all three suspects who were hiding inside of a residence. They were arrested for Burglary and booked into the Orange County Jail. The three subjects arrested were identified as: Markell Isom, Xavier Stinson Jr., and Daniel Moore.
More suspects were captured as well the day before. On Wednesday, May 10th, deputies reported responding to a burglary alarm in Harmony, Florida. As deputies responded, they learned of several other burglaries that had just occurred in Saint Cloud, The suspect vehicle matched the vehicle description previously identified as the vehicle that took part in numerous burglaries across Central Florida. Deputies were able to spot the vehicle traveling in Saint Cloud. They stopped the car and apprehended the three subjects inside. Detectives investigated the burglary and their investigation led to the arrest of; Marquise D. Sapp, Tyreke S. Nelson, and Samuel Richardson.
These men may be involved with other burglaries within Central Florida. Anyone with any information on these incidents or similar ones to contact the Osceola County Sheriff's Office at (407) 348-2222.