Suspect charged with kidnapping after carjacking vehicle with 3 kids inside; 2nd suspect at large
BARTOW, Fla. - A man is in jail and another man on the run after an armed carjacking a mother and her three children in Bartow Sunday night.
Bartow police said two masked men walked up to a mother while she was securing her children in their car seats and demanded her car, one of the suspects holding a gun.
"She kind of put up a little bit of a fight with them, and then one of the suspects shot a firearm into the air. So she kind of ducked for cover there, they pulled her away. They jumped into the car and pulled away with her three children in the car," said Interim Chief Bryan Dorman of the Bartow Police Department.
Dorman said the carjackers left the Bartow apartment complex on Ethelene Street and drove a few blocks away where they dropped off the children. The children were found in the roadway in different locations a few blocks away.
"The silver lining in this whole thing is that these suspects left the children out," said Dorman.
Related: Lawmakers introduce Senate bill that would make attacks on police officers a federal crime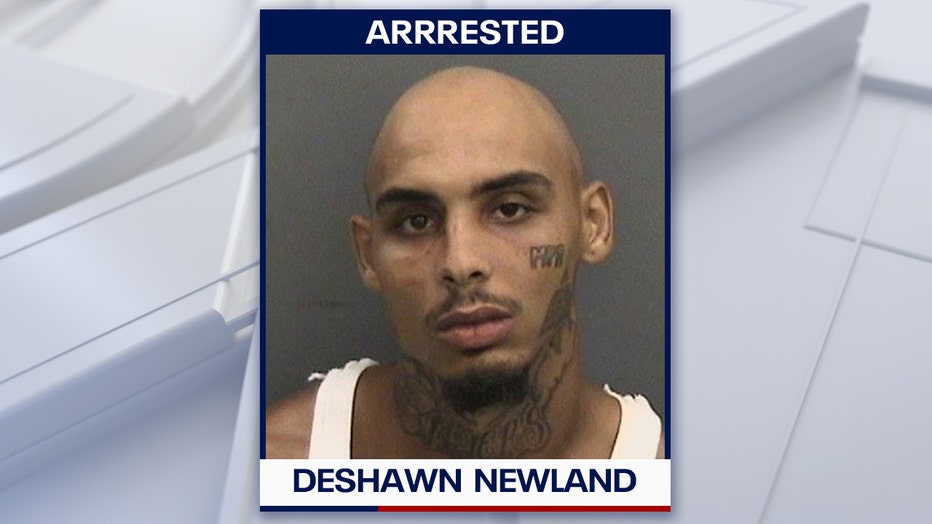 (Hillsborough County Sheriff's Office)
Officers used GPS tracking to catch up to the stolen car. Tampa police found the car and one of the suspects at a Sunoco gas station on Nebraska Avenue in Tampa.
Police chopper video shows the moment officers moved in and arrested Deshawn Newland, 25, in connection to the carjacking and kidnapping.
Related: Winter Haven police search for two shoplifting suspects
"I felt so bad for this mother, you know, putting up a fight to try to keep these kids in her custody. She did everything she could," said Dorman. "It's just that we are extremely fortunate, very lucky and blessed that these children were found safe."
No one was hurt in the incident. Newland is in jail for violating probation, and he faces charges of armed carjacking, kidnapping, child endangerment and discharging a firearm in public.
However, the second suspect is still on the run. Anyone with information is urged to call Bartow police at 863-534-5041, or call Crime Stoppers at 1-800-226-8477.