Super Bowl LVII: The role U.S. Customs and Border Protection, Air Force will play to protect celebrations
PHOENIX - Law enforcement is stepping up security at the Super Bowl to protect fans and the teams from potential threats.
U.S. Customs and Border Protection's Air and Marine operations Unit will be in full force circling the skies around State Farm Stadium.
Before, during, and after the big game there will be flight restrictions in place, stopping everyone from being in the air, except for these guys who will be there to ensure no one gets in and will intervene if you try.
Agents brought a fleet of helicopters to protect and deter any potential threats in the skies above the stadium.
"Three Black Hawks, two A-Stars, one MEA, which is a multi-enforcement aircraft, and then one 206. We are looking at about 50 agents that will be down here," says Alexander Zamora, Supervisory Air Enforcement Agent.
He's seen a lot in his 19 years of service. In fact, this will be his fourth Super Bowl.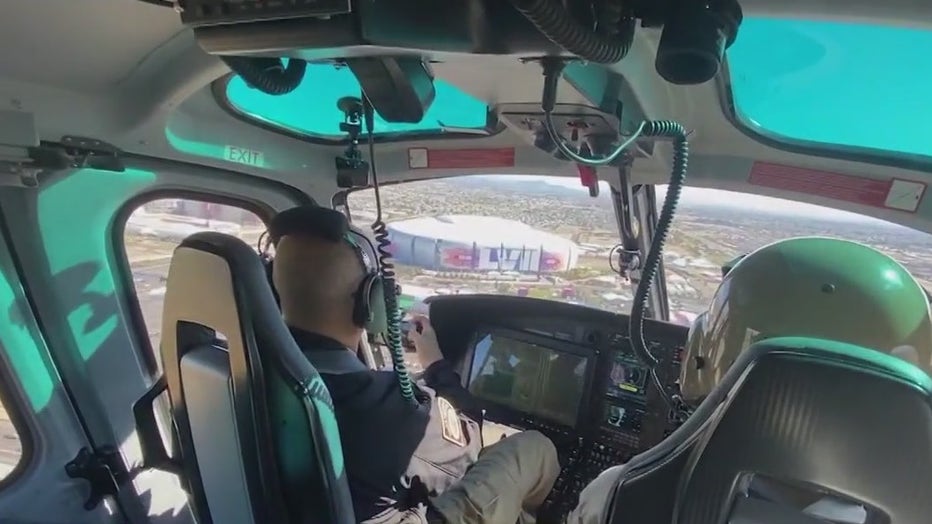 "There is a lot of logistics, a lot of planning, working up to the Super Bowl, but the day of the Super Bowl happening, the excitement, all the energy, it's great. We might not be in the stadium but there is still the energy here knowing that we are accomplishing something that's providing the public a safe event," he said.
The airspace will be tightly restricted Sunday, meaning there will be a 'no drone zone' for a two-mile radius around the stadium and a temporary flight restriction will be in place for 30 miles.
"So if we have some kind of general aviation aircraft starting to move toward the stadium, we would identify and intercept that aircraft. Try to start communications with them and even if we weren't able to get any kind of communications with them, anybody in general aviation would look out their left window and see a black and gold Blackhawk. They would probably know they did something incorrectly. We can get them to an airport and have a discussion with them there," Zamora said.
They'll also have a birdseye view of everything happening on the ground and can coordinate with teams below.
"What's so great about the aircraft is you are able to jump from one activity to the next. One concern to the next and kind of analyze what is needed, whether it be a medical or law enforcement officer," he added.
While these guys are up in the sky for the Super Bowl, they tell us they still have plenty of man power down on at southern border.
Meanwhile, U.S. military planes will be in the skies above the Phoenix area for the Super Bowl, patrolling the airspace and enforcing the Temporary Flight Restrictions (TFR) on Sunday.
The mission will also involve Arizona's Air National Guard, with supertankers from the 161st Air Refueling Wing in Phoenix being deployed on Sunday as part of a NORAD mission.
"We rely on the tanker to arrive and allow us to stay the duration of the mission," said F-16 pilot Cpt. Andrew See.
F-16 jets can burn about 4,000 lbs (~1814.37 kg) of fuel every 45 minutes while in the air. The supertankers can refuel these fighter jets in the sky, as the fighter jets go on with their mission.
"Our goal as NORAD responders is intercept an aircraft, guide them away from the populous and away from the flight restriction," said Cpt. See.
More reports: