Turtle seen hitching ride with alligator 'like it's a horse' at Florida pond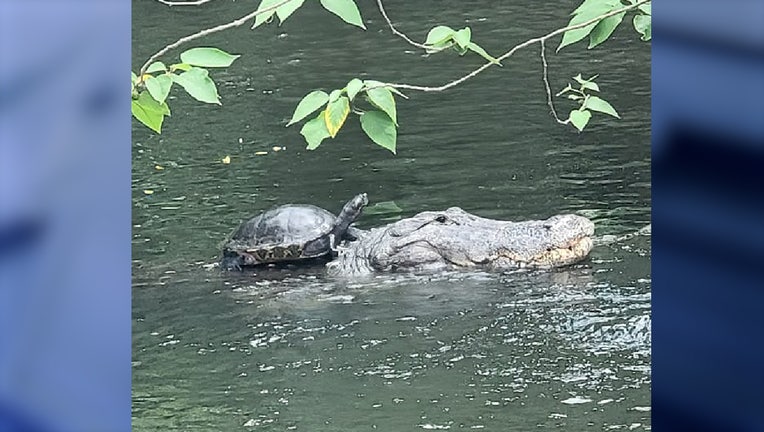 article
TAMPA, Fla. - Turtles and alligators are normally not friends. In fact, officials with the Florida Fish and Wildlife Conservation Commission say alligators eat turtles and other prey that is abundant and easily accessible.
So, when a travel blogger in Tampa, Florida, came across the rare sight of a turtle hitching a ride on top of an alligator, he had to take a photo!
"I was laughing because it just seemed like such a Florida thing," he told FOX 35 News in a statement. 
MORE NEWS: Alligator found hiding underneath Florida man's truck
He posted the incredible photo on his Traveling with Jef Facebook page with the caption, "You know you're in #florida when you see a turtle riding a gator around a pond like it's a horse."
One Facebook user jokingly called the turtle a hitchhiker in the comment section of the post, while others commented, "A ride is. A Ride" and "Ooohhhhh FL."
 The turtle eventually hopped off the likely 10-foot gator onto a log, Jef told FOX 35 News.