Sex trafficking survivors push for law change to hold businesses accountable
ORLANDO, Fla. - Advocates are pushing for a new piece of legislation they say can help human trafficking survivors, and hold businesses accountable that allows the crime to occur.
Survivors of human trafficking tell FOX 35 they've been pushing for this for years.
"I was first trafficked at the age of 15," said Marianne Thomas.
Thomas made it out, became a psychologist, and now helps other survivors. Right now, she's leading One Purse, which hires other survivors to refurbish donated designer purses, selling them to fund scholarships.
She and others are supporting House Bill 7045, which would allow survivors to sue businesses like hotels for damages if they are found to be complicit in their trafficking.
"What I know from my personal experience –  I was sold out of the same hotels over and over," Thomas said. "So, the people who worked at those hotels knew what was happening, they saw that I was being sold."
"I was sold as a child in hotels beginning around the age of 11, my mother started selling me for her drugs, and I was sold out of a hotel in Central Florida on a regular basis between the ages of 11 and 13," said Savannah Parvu, another survivor who now actively works on new legislation.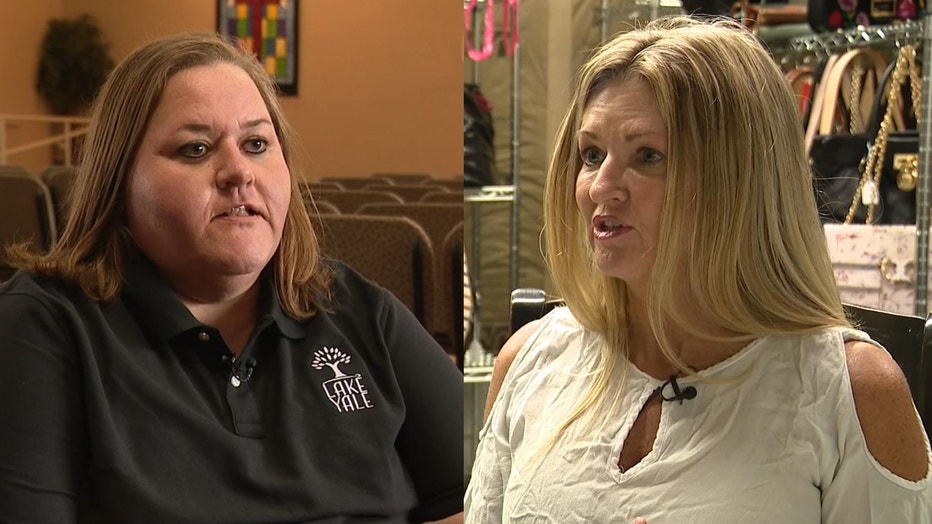 Sex trafficking survivors Savannah Parvu (Left) and Marianne Thomas. 
Survivors are telling their stories, hoping lawmakers can't ignore them. Last week in Orlando, four people were arrested for human trafficking after investigators say a 15-year-old girl was allowed to perform at a strip club. Advocates say the bill would cover strip clubs and any other businesses found to allow or profit from trafficking.
"There are a lot of businesses that support the ecosystem of trafficking, and without those, trafficking becomes starved," said Carissa Phelps, a survivor who is now an attorney who works on trafficking cases.
Lawmakers say businesses like hotels could help avoid getting sued by doing training already required in Florida.
"We set up opportunities for training to get done years ago, and unfortunately right now there's over 12,000 non-compliant hotel employees that are out there," said Rep. Toby Overdorf, one of the bill's sponsors.
Supporters of the bill say most hotels are doing things right already and shouldn't have to worry.
"They are turning a blind eye, they are choosing profits over protecting children and people, and we are not in any way trying to wrap good companies," Rep. Taylor Yarkosky, another sponsor, said about the bad actors.
Survivors say getting damages from companies involved in their trafficking can help people start the long road to recovery. Right now, they can sue in federal court, something lawyers say is much more difficult.
The bill will be heard in a Florida House committee Wednesday. It still has a few more steps before it gets to the Governor's desk.