Seminole County tax collector faces discrimination lawsuit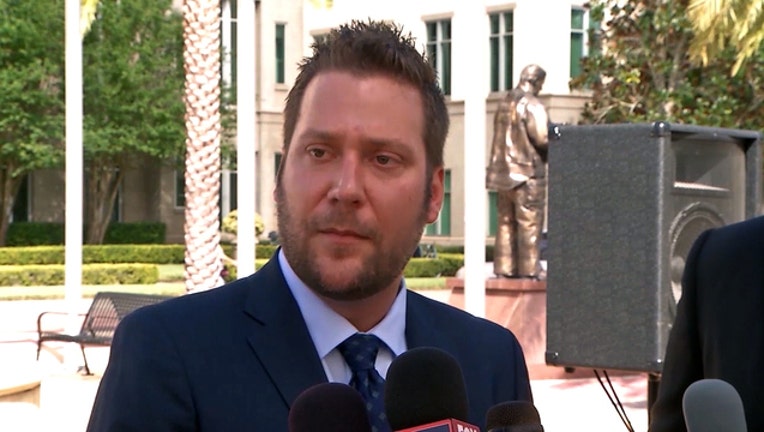 ORLANDO, Fla. (FOX 35 WOFL) - The Young Democrats of Orange County held a press conference on Tuesday morning to address a federal discrimination lawsuit filed against Seminole County Tax Collector Joel Greenberg and the Seminole County Clerk of Courts Grant Malo.
The lawsuit is in reference to former employee of Greenberg, Minaz Mukhi-Skees. The Leach Firm says that they have found Greenberg to be in violation of the Family Leave Act and federal employment laws regarding sex, race, and religious discrimination.
Carlos Leach, Managing Partner at the The Leach Firm, P.A. says that "Discrimination of any kind is not only illegal, but a threat to all citizens of Seminole County and the state of Florida. My client and I look forward to exposing the county in court for their actions and having a jury confirm that was what was done to Ms. Mukhi-Skees cannot be tolerated."
Muslim American Mukhi-Skees says that she believes she was one of  five minority employees constructively discharged by Greenberg. "I still cannot believe that I would be the victim of employment discrimination in the year 2018. What's worse is that when I made a complaint, I was terminated.  I am confident that a jury of my peers will that Seminole County discriminated and retaliated against me in violation of the law," she said. 
The Young Democrats of Orange County say that several advocacy groups are calling on  the immediate resignation of Seminole County Tax Collector, Joel Greenberg and are calling on Governor Rick Scott to remove Greenberg from office. Advocates are also calling on Greenberg's family business, Greenberg Dental & Orthodontics, to condemn the statements and his discriminatory treatment against employees of color. 
Rasha Mubarak, President of Young Democrats of Orange County and civil rights advocate, say that "We are disheartened to find that yet again, Joel Greenberg has furthered mistrust between him and his constituents. Joel Greenberg promised to meet with the Organizations and the Muslim Community on September 5th, only to find his Publicist cancel the meeting.  We refuse to let Seminole County Tax Collector, Joel Greenberg continue to use the Muslim Community as a tool for his political banter. His provocative posts are not new and his responses have been increasingly condescending, inappropriate, and dismissive. His Islamophobic views not only impacts the Muslim community, it disturbs the peace in Central Florida, moreover compromises the safety and inclusivity across the state, and our country as a whole. We reject the normalization of xenophobia against all  of our underrepresented communities. There is no room for any kind of discrimination in office. We will continue to stand up against hate, no matter who spews it."
Watch the press conference below.
<iframe src="https://www.facebook.com/plugins/video.php?href=https%3A%2F%2Fwww.facebook.com%2FFOX35News%2Fvideos%2F315460305932972%2F&show_text=0&width=560" width="560" height="315" style="border:none;overflow:hidden" scrolling="no" frameborder="0" allowTransparency="true" allowFullScreen="true"></iframe>
Greenberg has been under fire recently, as back in August, he posted a derogatory question about muslims on his Facebook page. Some local advocacy groups are calling for his resignation.