See dramatic moment police arrest Jared Bridegan's ex-wife for his murder
Police are shown storming the Washington home of Shanna Gardner-Fernandez last Thursday in front of her tearful mother and 12-year-old twins in dramatic body camera footage obtained by Fox News Digital.
Gardner-Fernandez, 35, was arrested shortly before 9 a.m. in West Richland on a warrant for allegedly orchestrating the fatal shooting of her ex-husband, Microsoft executive Jared Bridegan, Feb. 16, 2022, in Jacksonville Beach, Florida.
"Warrant! Police!" ATF agents can be heard shouting as West Richland police officers' bodycams record the raid. 
As Gardner-Fernandez is handcuffed inside her $1 million home, her mother, Shelli Gardner, is shown sobbing in a chair outside the front door.
EX-WIFE OF JARED BRIDEGAN ARRESTED IN MICROSOFT EXEC MURDER
"Can I be with the kids or can you at least bring the kids out to me?" Gardner, wearing a black baseball cap, tank top and jogging pants, asks an officer.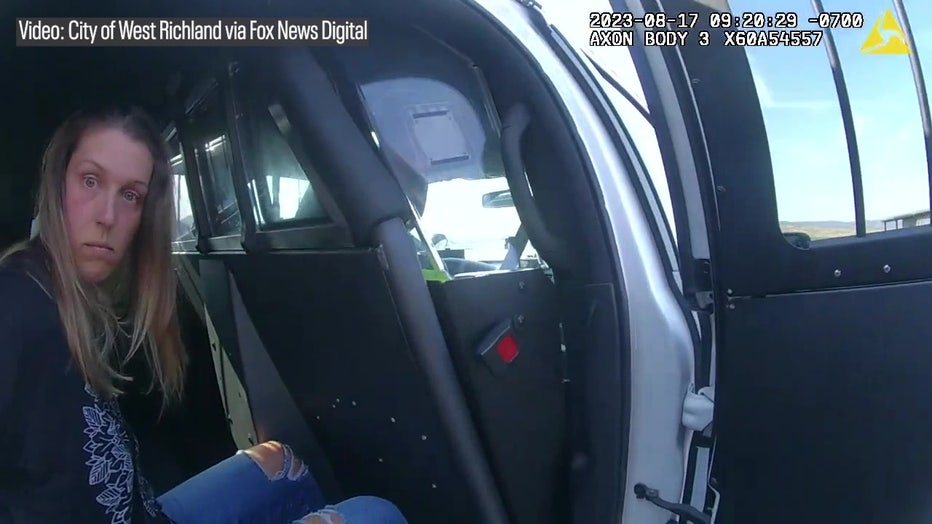 Shanna Gardner-Fernandez shown handcuffed in the back of a police cruiser in West Richland, Washington, after her arrest for the murder of her ex-husband, Jared Bridegan, in Florida. (West Richland Police Department)
Gardner-Fernandez's children aren't visible in the footage, but they can be heard off camera.
MAJOR BREAK IN JARED BRIDEGAN MURDER MYSTERY AFTER EX-WIFE MOVES CROSS-COUNTRY
Gardner, the owner of multimillion-dollar papercraft company Stampin' Up!, has financially supported her daughter for most of her adult life, providing a monthly stipend and buying her the West Richland home late last year.
Court records show that in May, Gardner applied to be the twins' conservator, suggesting that she knew her daughter's arrest was imminent. 
The walls have been closing in on Gardner-Fernandez ever since her ex-husband and the father of her twins was shot to death in front of his then 2-year-old daughter, Bexley.
He had just dropped off the twins at Gardner-Fernandez's house after taking them to dinner and was headed home to his second wife, Kirsten Bridegan.
FLORIDA EX-WIFE OF SLAIN MICROSOFT EXECUTIVE HIRES CRIMINAL DEFENSE LAWYER
The software developer, who shares Bexley and London, now 2, with Kirsten, was lured from his car by a tire placed in the middle of the road. 
Although Gardner-Fernandez and Bridegan divorced in 2015 after she allegedly had an affair with a personal trainer, they continued to square off in court over finances and custody of the twins until his murder. 
In the body camera footage, Gardner-Fernandez, wearing a T-shirt, pajama shorts and no shoes, looks stunned and stares blankly as she waits on a chair outside her home near a pair of ATF agents with assault rifles.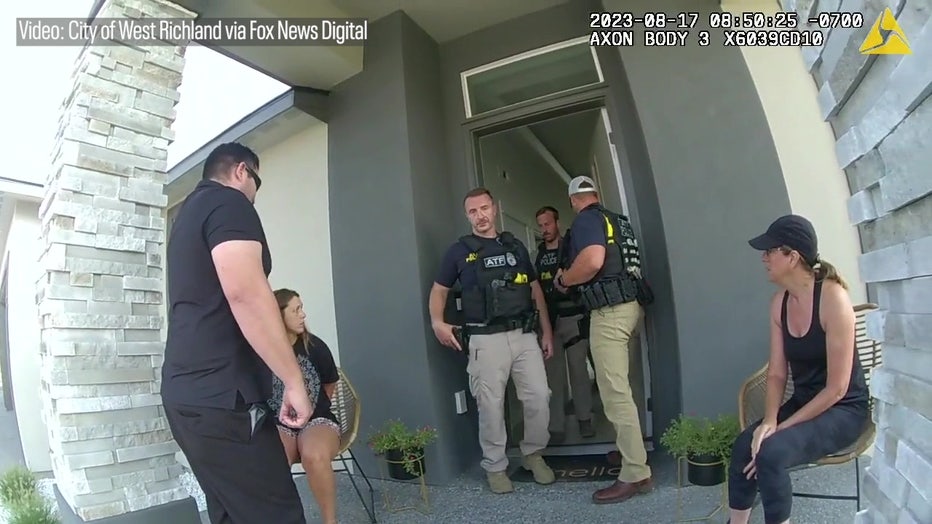 Shanna Gardner-Fernandez sits in a chair across from her mom, Shelli Gardner, after her arrest for the murder of her ex-husband, Jared Bridegan, in West Richland, Washington. A Jacksonville Beach Police detective and ATF agents can be seen in the scr
Throughout the footage, she is exceedingly polite and obliging. 
EX-WIFE OF SLAIN MICROSOFT EXEC MAKES SUPRISING LEGAL MOVE AFTER ARREST
Her mom goes inside to find her jeans while Gardner-Fernandez nonchalantly gives her daughter instructions.
"You have orders on the Instagram that I'm managing for you. You have orders. So just have grandma help you get into — " she says before her son's voice can be heard interjecting. 
"Where are your jeans, Mom?" he asks without a hint of emotion.
Her daughter pipes in, "I know where they are." 
After changing into a pair of torn jeans, Gardner-Fernandez can be heard saying "I love you" to her kids as she's escorted to a police cruiser.
Kirsten told Fox News Digital that although she's grateful for Gardner-Fernandez's arrest, she's heartbroken for the twins. 
"I cannot begin to imagine what they must be feeling and thinking," she said. "They lost their dad a year and a half ago to cold-blooded murder, and now they've witnessed their mother's arrest. I wish with everything that we could be there to support them and to give them the love that their father would want to give them at this moment." 
EXCLUSIVE: WIDOW OF SLAIN MICROSOFT EXEC RELIEVED BY EX-WIFE'S ARREST: 'SALT IN THE WOUNDS'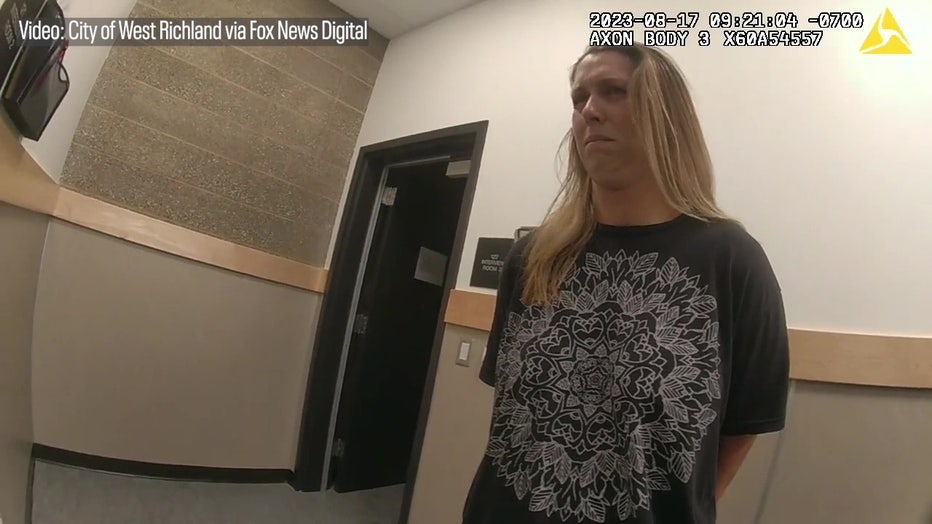 Shanna Gardner-Fernandez reacts to a loud noise at the West Richland Police Department after her arrest last Thursday for the murder of her ex-husband, Jared Bridegan.
West Richland officers drove Gardner-Fernandez to the local police station, where she was cuffed to a metal railing in an interview room for over an hour. 
When an officer returns to take her to the Benton County Jail, her eyes appear red and puffy in the footage.
While her wrists are cuffed behind her back, she asks if she should tidy up the table.
"I feel bad. Do you want me to grab this and put it in the trash?" she says. 
"No, we'll get it for you," an officer replies.
After she's escorted back to the police cruiser, the officer apologizes for the heat. 
"It's harder for you guys wearing all this stuff," she says sympathetically before he closes the door to the back seat. 
Melissa Nelson, state attorney for Jacksonville's Fourth Judicial District, announced last Thursday Gardner's Fernandez's indictment on first-degree murder, conspiracy to commit first-degree murder and child endangerment charges. 
Gardner-Fernandez's new husband, Mario Fernandez, and his former tenant Henry Tenon, who was the shooter, were already charged in the case.
Nelson has said she's seeking the death penalty against Gardner-Fernandez and her husband while Tenon is cooperating. Gardner-Fernandez is fighting extradition from Washington.
After the slaying, Gardner-Fernandez cut off all contact between Bridegan's family and the twins.
Last week, Kirsten begged the Gardners to let them have a relationship again. 
"We are their family. We love them. We have prayed for them every single day for the last 547 days since they were ripped away and isolated from us," she told reporters.
LINK: GET UPDATES ON THIS STORY FROM FOXNEWS.COM
Fox News' Julia Bonavita contributed to this report.