Second red-tailed hawk becomes entangled in net at Florida Topgolf driving range
ORLANDO, Fla. - The same week that a red-tailed hawk became entangled in one of the barrier nets at a Topgolf location in Orlando, another red-tailed hawk reportedly became entangled in the net at a location in Jacksonville.
While seemingly coincidental, raptor specialists with the Audubon Center for Birds of Prey, which is now caring for both hawks, said birds becoming trapped in nets is quite common, and that birds can sometimes have trouble recognizing any type of net while flying. The biggest learning lesson is to know what to do if and when a bird does become stuck (and we'll get to that shortly).
Last week, Orange County Fire Rescue responded to the Topgolf venue off Universal Blvd. in Orlando to assist with the hawk's rescue. Photos showed rescue teams using a lift to access the hawk, followed by a photo of the hawk in a box with linens.
"This evening Orange County firefighters rescued a tired and scared hawk. We would like to thank Top Golf for shutting down temporally while fire units rescued the Hawk," Orange County Fire Rescue said in its tweet.
It was transported to Audubon Center for Birds of Prey in Maitland. A spokesperson there told us that the hawk was a bit sore and dehydrated, but was not seriously injured. That hawk is now expected to be released back to the wild this week, FOX 35 has learned.
Last week, a second hawk became trapped in the net at a Topgolf location in Jacksonville and was also brought to the Audubon Center, said Director Katie Gill Warner in an email to FOX 35. She said that hawk is being treated for a fractured clavicle, dehydration, and parasites.
However, it appears that the second hawk may have a longer journey to recovery.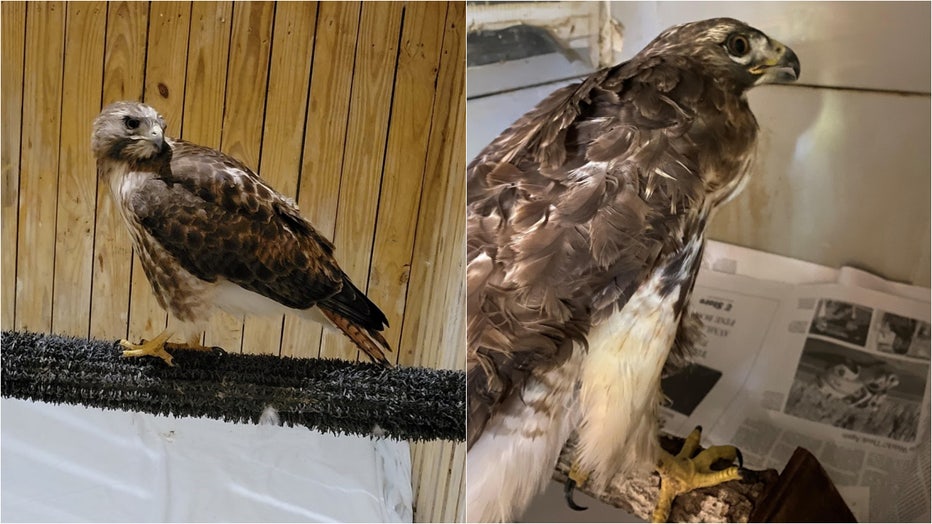 A photo of a red-tailed hawk being cared for at the Audubon Center for Birds of Prey after being rescued from Topgolf in Jacksonville. Photo credit: Audubon Center for Birds of Prey
Samantha Little, a raptor conservation specialist and technician at Audubon Center, told FOX 35 that while this is the first time they've had two hawks rescued from TopGolf, "birds getting caught in netting is not a new thing."
What is important is knowing what to do when you see a bird trapped in a net, whether it's an outdoor net, a golf course, driving range, baseball stadium, or any other entertainment venue.
"The biggest thing for all locations that have these larger nets to know is how to respond if a bird gets caught (quickly responding to a rehabber for assistance), what to do so that it doesn't become more injured, monitor areas where the net is going to be constructed to reduce the occurrence (for example is a net placed between good foraging ground and large roosting trees causing birds to have to fly back and forth over the net frequently), and trying to find ways to make the net more visible for birds (for example there is reflective tape that can be used on windows for birds)," she said in an email.