Seaweed piles in Florida may contain flesh-eating bacteria
Scientists have discovered a dangerous bacterium living in seaweed on Florida's coasts.
The seaweed, known as Sargassum, commonly manifests as thick, tangled globs of algae. 
Hotels, resorts and public areas are frequently burdened with extensive clean-up duties as truckloads worth of the unpleasant plant wash ashore.
Once it is washed onto land, the sargassum usually begins to rot and decay, producing a noxious odor.
Scientists have warned that sargassum has the potential to intermix with plastic litter contaminated with Vibrio bacteria.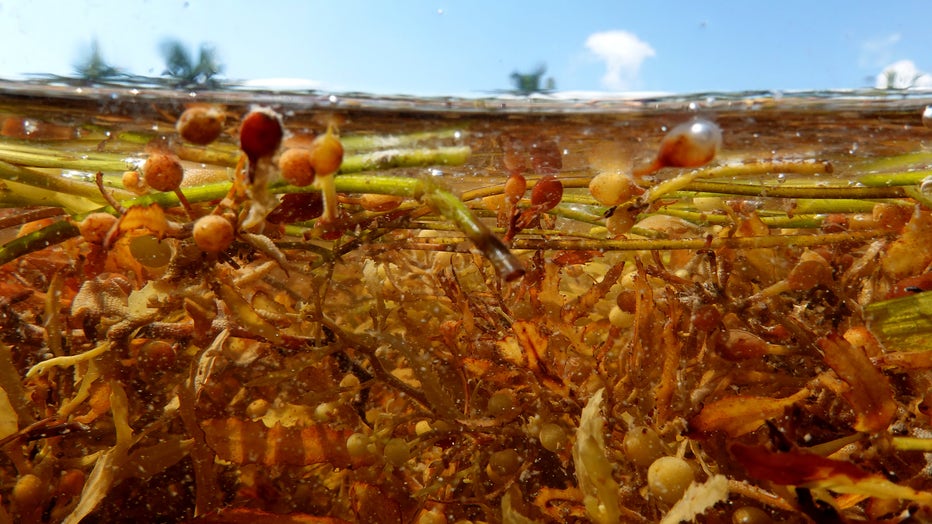 KEY WEST, FLORIDA - MAY 18: Sargassum floats along the shoreline on May 18, 2023 in Key West, Florida. Reports indicate that as summer progresses, a huge mass of sargassum seaweed which has formed in the Atlantic Ocean is possibly headed for the Flor
A study published in Scientific Reports on March 23 found that Vibrio vulnificus infections in the eastern U.S. between 1988 and 2018 increased from 10 to 80 per year and may increase further to 200 per year by 2100.
According to the Centers for Disease Control and Prevention, some Vibrio vulnificus infections lead to necrotizing fasciitis, a severe infection that kills the flesh around an open wound.
People with open wounds, cuts or scratches can be exposed to the bacterium through direct contact with a mixture of fresh and ocean water.
The bacterium can invade the bloodstream, causing a severe life-threatening illness with symptoms that include fever, chills, decreased blood pressure and blistering skin lesions.
The CDC says about one in five people die, sometimes within a day or two of becoming ill.
Fox News Digital's Stephen Sorace contributed to this report.