School Closings & Event Cancellations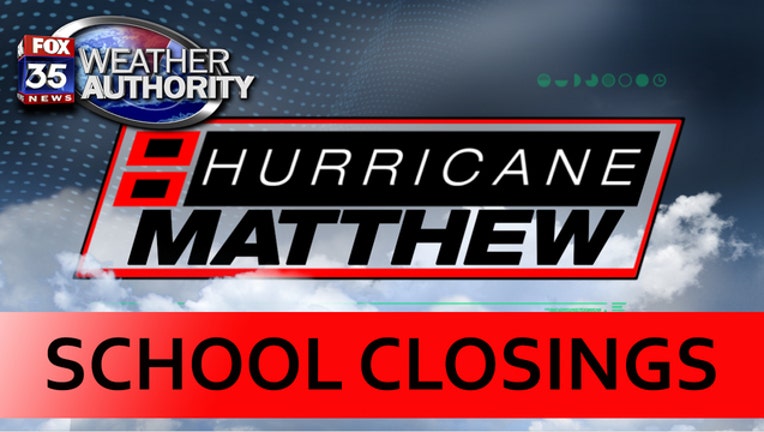 article
We are monitoring announcements for any school closures and school-related events cancelations. 
Any updates will be posted here.  Scroll down to find information about your county.  
AIRPORTS
Orlando international airport is monitoring, preparing and responding to projections of the current path of Hurricane Matthew.
With hurricane force winds forecast to impact the area, commercial service at Orlando International Airport is expected to cease by 8:00pm this evening. There are some cancelations already noted with 110 arrivals and 75 departures.
Storm preparations for this major hurricane are nearing completion. Airport and air carrier personnel are preparing the airport and airfield to sustain the heavy impact by:
· Securing equipment and vehicles
· Tying down jet bridges
· Removing debris from airfield and curb areas
· Securing and lowering cranes in the construction areas
Passengers are advised to check directly with their airlines. It is anticipated that flight operations will resume Saturday October 8th, subject to the ability to clean up and staff availability. The speed of return to normal operations depends on availability of aircraft and crew.
Please be reminded that the airport is not a shelter and inquiries should be directed to call 3-1-1 for information on available emergency facilities.
Orlando Sanford International Airport (SFB) will close at 8 PM today, Thursday, October 6.
Passengers should not come to the Airport until commercial flight operations resume. The Airport is not a shelter.
Commercial flight activity will resume as soon as possible and will be announced accordingly. Passengers should check the airlines' websites for specific flight details. For airline contact information please visit www.OrlandoSanfordAirport.com
Orlando Melbourne International Airport:
·    Delta Flight #2195, scheduled to depart at 5:50 p.m. has been cancelled.
·    There will be no more commercial flights arriving/departing from MLB today or tomorrow.
·    The last flight scheduled to depart today is Delta Flight #2213 at 2:15 p.m.
·    Following that departure, the airport terminal will close.
·    The airport is not a shelter of last resort.  Public shelters are available throughout the county.
·    Do not attempt to return rental cars.  They will not be allowed to park at the airport.
·    Airfield operations will continue as long as conditions allow.

 
ALACHUA COUNTY
Based on current forecast, schools will be open Thurs, Oct. 6 but closed Fri., October 7. Parents are being notified by phone/email/text.
BREVARD COUNTY
Due to extreme weather conditions, Brevard Public Schools will be closed on October 6th and 7th. This includes all extra-curricular activities and before/after school childcare programs. School will remain open tomorrow, Wednesday, October 5th, which is a regularly scheduled early release day. Additionally, excluding after school care, which will close at 6:00 p.m., all after school activities on Wednesday through the weekend are canceled.

School activities are expected to resume on Monday, October 10th, unless otherwise notified. For updates on the storm's progress and for shelter information, please visit embrevard.com or follow @BrevardEOC on Twitter, like "Brevard County Emergency Management" on Facebook, or sign up for text messages (Text: "Follow BrevardEOC" to 40404). For BPS updates, please download our mobile app by searching for "bps mobile" in your app store. Make sure to "follow" the district and your student's school for timely information.
Aging Matters in Brevard is committed to the safety of our employees, volunteers, and the seniors we serve. At this time all programs will be closed Thursday and Friday
All Seniors At Lunch Sites
Bone Builders
Home Care Programs
Meals on Wheels
The Sunflower House
Senior TranServe
Vets Driving Vets
A local state of emergency has been declared for the City of Melbourne. City Hall and all non-emergency will be closed Thursday and Friday (Oct. 6-7). All city-related activities and street events are cancelled through the weekend (through 10/9).
Keiser University's Melbourne and Daytona campuses will be closed on Thursday, October 6, 2016 through Friday, October 7, 2016. Classes will resume on Monday, October 10, 2016.
Melbourne Regional Chamber has cancelled all activities, meetings, and events for the rest of the week.
LAKE COUNTY
Lake County's emergency operations team is making storm preparation plans that include using many of our schools as safety shelters. To accommodate that need, Lake County Public Schools will be closed on Thursday and Friday this week. Students will make up lost instructional time on Nov. 21 and Nov. 22, previously scheduled storm makeup days.
Beacon College in Leesburg is closing on Thursday at 4 p.m. and will remain closed all day Friday.
SEMINOLE COUNTY
Seminole County Public Schools (SCPS) will be closed on Thursday, October 6th and Friday, October 7th.  This includes all extra-curricular activities and before/after school childcare programs such as Extended Day, 21st Century, and our YMCA middle school programs.  Weekend athletics and extracurricular activities are also cancelled. School activities are expected to resume as normal on Monday, October 10th, unless otherwise notified.  
SCPS will make-up the missed school days on:  Thursday, October 13th and Friday, October 14th. These are previously scheduled Board-approved make-up days.
Thursday night football games are moving to Wednesday evening. Any athletic events currently scheduled for Thursday night that are unable to move to Wednesday evening will be canceled.
Seminole State College campuses will be closed for all operations, classes and activities from 10 p.m. Wednesday Oct. 5 until 11:59 p.m. Sunday Oct. 9.
Seminole State College is closely monitoring Hurricane Matthew and working with Seminole County's Office of Emergency Management. An assessment will be made on Sunday regarding Monday opening.
OSCEOLA COUNTY
All Osceola district public schools will be closed on Thursday and Friday, October 6 and 7, due to Hurricane Matthew.  All school activities, events, and programs scheduled for Thursday and Friday are also canceled.  No Osceola School District employee should report to work on Thursday and Friday unless directed by their supervisor.  Forecasters are expecting deteriorating weather conditions to include sustained heavy winds and substantial rainfall for Osceola County.  
ORANGE COUNTY
All Orange County Public Schools, including the campuses of Orange Technical College will be closed Thursday, Oct. 6, 2016 and Friday, Oct. 7, 2016. All activities planned for schools on and off campus are cancelled beginning Thursday and lasting through Sunday, October 9th.
Christian Victory Academy in Orlando will be closed Thursday and Friday. 
Rollins College has canceled classes for Thursday, Oct. 6, and Friday, Oct. 7.   The college will close at noon on Thursday. 
Everglades University: Due to inclement weather, the Orlando campus of Everglade University will be closed for students, administration, staff and faculty at 5:00 p.m. on Wednesday, October 5, 2016 through Friday, October 7, 2016.  Classes will resume on Saturday, October 8, 2016. Students, staff, and faculty should visit www.evergladesuniversity.edu or call the emergency hotline at 1-877-353-4737 for further updates. 
UCF and Tulane have agreed to postpone the football game scheduled for Friday evening until Saturday, Nov. 5.
Webster University Orlando will be closed Thursday and Friday in anticipation of the arrival of Hurricane Matthew.
VOLUSIA COUNTY
All Volusia County Schools will be closed Thursday, October 6, and Friday, October 7. This includes all after school/athletic events. Today, Wednesday, October 5, we will continue normal operations, including athletic events and extended day. Follow Volusia County Schools on Facebook and Twitter for the latest school-related updates.
Embry-Riddle Aeronautical University will be closed Thursday through Saturday to allow for students, staff and faculty to prepare for Hurricane Matthew's projected impact on the Central Florida coast.
This closure affects Daytona Beach Campus, Worldwide headquarters building and university administrative offices. Several Embry-Riddle Worldwide Campus locations within Hurricane Matthew's forecasted path along the eastern coast of the United States also have been closed (for an updated list of those locations, go to news.erau.edu/headlines/hurricane-matthew-updates).
Residence halls will remain open with staff onsite and supplies provided. Students living off-campus are advised to monitor the Volusia County's Public Information website (volusia.org/services/public-protection/emergency-management/pin/) for updated local shelter and other information.
All Alumni/Homecoming activities (including Industry/Career Expo and The College of Business 50-year Anniversary Celebration) scheduled on Thursday, Friday and Saturday are officially canceled.
The Bethune-Cookman University (B-CU) Department of Emergency Management in collaboration with the Volusia County Emergency Management is actively engaged in monitoring the development of Hurricane Matthew. Due to the anticipated trajectory of Hurricane Matthew, B-CU is issuing a mandatory evacuation order.
The University will be closed and all classes will be suspended beginning Wednesday, October 5th at 12 noon. We anticipate residence halls will reopen on Sunday, October 9th at 12 noon. 
Students must evacuate the campus and residence halls by 6 p.m. on Wednesday. 
All students are strongly encouraged to:
-Secure their personal belongings.
-Remove all contents from refrigerators.
-Unplug refrigerators and all electronics.
-Bring all medications and valuables with you.
-Close and lock all windows.
First floor residents must remove personal belongings off the floor.
Students who are unable to evacuate will be assigned a designated on-campus shelter. Off-campus students must report to local shelters.
Stetson University will cancel classes today, Oct. 5, at noon and encourages students to head home and seek safe shelter from Hurricane Matthew.
Residence halls will close Thursday, Oct. 6, at noon. If students have no place to shelter, Stetson University will work with them to provide safe and appropriate accommodations.
Students are asked to fill out an evacuation information form, available to all residential students through Housing Central, accessible through mystetson.com. Students are encouraged to check in with families and let them know their plans.
Essential personnel will remain on Stetson's DeLand campus. All events and classes are canceled from noon today, Wednesday, Oct. 5, through Sunday. Today's 1:30 p.m. faculty forum with a candidate for Stetson's Executive Vice President and Provost position will take place as planned in the Lynn Business Center's Rinker Auditorium and so will an open forum with staff, faculty and students there at 3.45 p.m. today.
•    Students with pets can seek shelter with their pet at the Volusia County Fairgrounds off State Road 44, west of DeLand, starting Thursday, Oct. 6. Do not leave pets in residence halls.
•    University staff will work through the end of today, Oct. 5. Thursday and Friday are paid days off. Staff should check with supervisors to see if they are considered essential personnel.
Trinity Christian Academy in Deltona will be closed Thursday and Friday.
Volusia Flagler family YMCA closures due to Hurricane Matthew:
All Family Center pools will be closed today at Noon. The Afterschool Program will remain open through 6PM today. All Family Centers will close today at 7PM. All Volusia Flagler Family YMCAs will be closed Thursday, October 6th through Noon Saturday, October 8th. Our Holly Hill Family YMCA will open Monday, October 10th. Please contact your Family center on Saturday, October 8th for reopening hours
Council on Aging of Volusia County has announced that their Administrative Offices in Daytona Beach and DeLand will be closed starting at 1pm Thursday, October 6, 2016 and will reopen at 8am on Monday, October 10, 2016.
COA SENIOR CENTERS will be closed Thursday and Friday October 6 & 7 for social activities and will reopen at their normal time on Monday, October 10, 2016.
COA NEIGHBORHOOD CONGREGATE DINING SITES WILL BE OPEN ON THURSDAY for the lunch meal and for Meals on Wheels (MOW) deliveries. All MOW clients will receive their hot meal on Thursday with a cold meal to meet their needs for Friday.
Orlando VA Medical Center is closing its Viera and Daytona Beach-based VA clinics effective Thursday, Oct. 6 through Saturday, Oct. 8.
The closure means VA medical services will not be available at those locations until Tuesday, Oct. 11, due to the Columbus Day federal holiday Oct. 10. The decision also closes the Port Orange Psychosocial Recovery & Rehabilitation Center (PRRC) on South Clyde Morris Blvd.
The Orange City VA Clinic will close on Friday, Oct. 7 and remain closed until Tuesday, Oct. 11.
The closures will occur as an abundance of caution in preparing for the potential effects of Hurricane Matthew. Veterans needing emergency medical services are encouraged to visit the Orlando VAMC's Urgent Care facility at 13800 Veterans Way in Lake Nona. The facility is open 24 hours, 7 days a week.

Barry University Dwayne O. Andreas School of Law will remain closed on Thursday and Friday based on latest Hurricane Matthew storm prediction information.
Barry University announced on Tuesday evening it was closing multiple campuses, including the Dwayne O. Andreas School of Law campus in Orlando, on Wednesday, October 5 at noon.
All classes and school-related activities will be suspended throughout the weekend. Normal campus hours are scheduled to resume on Monday, October 10th, however, please monitor the Barry University website (barry.edu/prepare)  for updates.
Daytona State College: Due to Hurricane Matthew, Daytona State College will close Thursday, Oct. 6, and reopen Monday, Oct. 10, at 8 a.m.  Due to new information, evening classes for today, Wednesday, Oct. 5, are canceled. 
FLAGLER COUNTY
After consulting with the National Weather Service and Flagler County Emergency Managers, Superintendent Jacob Oliva has canceled all after-school events Wednesday, October 5th. Extended-day programs will continue. Additionally, classes and school activities for Thursday and Friday, October 6th and 7th have been canceled because of Hurricane Matthew.
Flagler Schools is preparing to have a number of schools activated as emergency shelters as this very dangerous storm system approaches the Flagler County coast..
MARION COUNTY
Marion County Public Schools will be open on Thursday but will be closed on Friday.  All evening activities for Thursday and Friday are canceled.
SUMTER COUNTY
Sumter District Schools announced early dismissal Thursday, October 6, at approximately 12:20 pm for elementary schools and 1:20 pm dismissal for secondary schools. School canceled Friday, October 7, for students and staff.
Sanitary Garbage Services
City of Mascotte sanitary garbage services for Friday, October 7, 2016 have been suspended due to possible impacts associated with Hurricane Matthew.  Services will take place Saturday, October 8, 2016 instead.  Residents are asked to keep the carts in a secure place until after the storm has passed.  DO NOT place them roadside during the storm.

Sand bags are available for City residents at the Public Services Department located at 161 Knight Street.  Bags are limited to five (5) per resident at this time.  Customers will need to supply their own shovel and labor.
City of Ormond Beach announced there will be no residential or commercial trash pickup on Friday, October 7, 2016, due to Hurricane Matthew, and this day will not have a "makeup" day. Normal trash pickups will occur on Thursday, October 6, 2016
Brevard County Solid Waste will shut down waste collection operations early Thursday. Plans are to resume operations on Sunday with a make-up day for citizens of Palm Bay. Also on Sunday, County residents can bring trash to any of the County's solid waste facilities, except Household Hazardous Waste in Cocoa.
Volusia County Waste collection services for unincorporated areas of Volusia County (not cities) normally scheduled for collection on Friday, Oct. 7, are canceled. Residents should not place waste receptacles or yard trash at the curb on this day. No makeup day is planned.
Regular scheduled collection services are planned to resume on Monday, Oct. 10.    
The Tomoka Landfill and West Volusia Transfer Station will close at 2 p.m. today, Oct. 6. The landfill will be open from 7 a.m. to 5:30 p.m. Saturday and Sunday. The transfer station will be open from 8 a.m. to 3 p.m. Saturday and Sunday.
 
Court Closures
Chief Judge Terence R. Perkins has ordered the closure of all courthouses in the 7th Judicial Circuit on Thursday, Oct. 6, and Friday, Oct. 7.

However, First Appearance hearings will be conducted Thursday morning in all four counties.  There will be no First Appearances on Friday.  Weather and facilities permitting, First Appearances will resume on Saturday, Oct. 8 and normal courthouse operations will resume on Monday Oct. 10.  

The 7th Circuit includes Flagler, Putnam, St. Johns and Volusia counties. This order affects the Kim C. Hammond Justice Center in Bunnell, the Putnam County Courthouse in Palatka, the Richard O. Watson Judicial Center in St. Augustine, the Volusia County Courthouse in DeLand, the S. James Foxman Justice Center in Daytona Beach and the two Volusia County Courthouse Annexes in Daytona Beach and New Smyrna Beach.

During this emergency, all court deadlines will be extended and all scheduled court hearings will be rescheduled when court resumes.

We will send updates via email, on our website circuit7.org, as well as on Twitter @7thCircuitFL, as necessary.
All Courts in the Ninth Judicial Circuit – Orange and Osceola Counties – will be closed Thursday, October 6th  and Friday, October 7th due to Hurricane Matthew.
Seminole and Brevard court proceedings are cancelled Thursday and Friday to allow deputies to report to hurricane shelters and other assigned duties. Brevard hearings scheduled after 12 p.m. today are canceled, with the exception of Shelter and Detention Hearings. Shelter hearings begin at noon at Moore Justice Center.  Detention Hearings will be moved to 1:30 at the Brevard County Jail. Seminole Courts remain open all day Wed..