Princess Cruises to sail out of Florida's Port Canaveral: What you need to know
Watch FOX 35 News for the latest headlines:
PORT CANAVERAL, Fla. - Another cruise line will soon join Florida's Port Canaveral: Princess Cruises.
Port Canaveral and Princess Cruises announced Tuesday that Princess would join Port Canaveral's fleet of cruise lines in the fall 2024 and offer voyages to eastern and western Caribbean destinations, including St. Thomas, St. Maarten, San Juan, Grand Turk, Cozumel, Costa Maya, Belize City, Mahogany Bay, and others.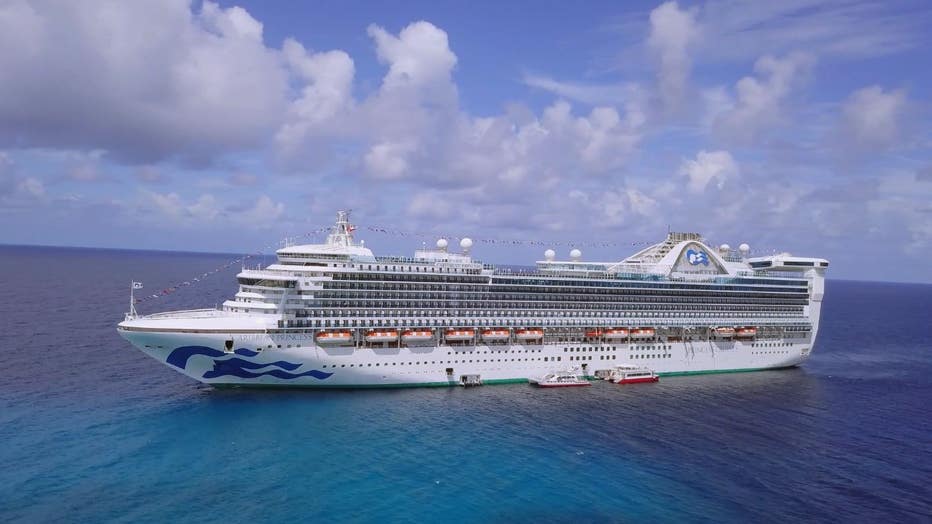 A general photo of the Caribbean Princess cruise ship which will join Port Canaveral in November 2024. (Princess Cruises)
Sailings aboard Princess' Caribbean Princess cruise ship will begin on November 27, 2024, marking the first time that Princess has sailed out of Port Canaveral. Princess will offer four-day up to 14-day trips around the Caribbean.
"So the world's busiest port, can only be busier," said John Padgett, president of Princess Cruises.
"It's certainly no surprise why Princess is here at Port Canaveral. My only wish is we were here sooner. Port Canaveral is the total package, when you think about it from a port standpoint. You have a great port from top to bottom, left to right," he said.
Port Canaveral is already home to Carnival Cruise Line, Disney Cruise Line, Royal Caribbean, Norwegian Cruise Lines, and MSC Cruises.
Here are some of the trips Princess Cruises will offer out of Port Canaveral:
One departure of a 4-day Turks & Caicos Getaway over Thanksgiving holiday
Five departures of our 8-day Eastern Caribbean with St. Thomas sailing to St. Thomas,St. Maarten, San Juan and Grand Turk
Five departures of our 8-day Western Caribbean with Mexico sailing to Cozumel, CostaMaya, Belize City and Roatan (Mahogany Bay)
Nine departures of our 6-day Eastern Caribbean with Turks & Caicos including Nassau,Grand Turk and either Amber Cove or San Juan
Combine any of the 8-day and 6-day itineraries for a 14-day vacation
The Caribbean Princess ship launched in 2004 and can hold 3,140 guests and 1,200 employees. It has 1,571 state rooms, 19 decks, and weighs 112,894 tons, the cruise line said. It's 952 feet long and 195 feet tall. It was refurbished in May 2019, according to Princess' website.