Pres. Obama vows to overcome terror threat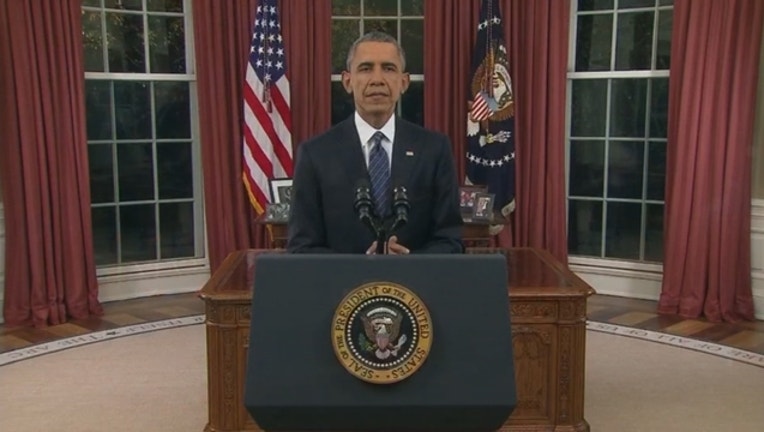 article
WASHINGTON (AP) - WASHINGTON (AP) -- In a rare Oval Office address, President Barack Obama vowed Sunday night the United States would overcome a terror threat that has entered a "new phase" as he sought to reassure Americans shaken by recent attacks in Paris and California.
 
"I know that after so much war, many Americans are asking whether we are confronted by a cancer that has no immediate cure," he said, speaking from a lectern in his West Wing office.
 
The president's speech followed Wednesday's shooting in San Bernardino, California, that killed 14 people and wounded 21. Authorities say a couple carried out the attack and the wife pledged allegiance to the Islamic State and its leader in a Facebook post.
 
Obama said that while there was no evidence that the shooters were directed by a terror network overseas or part of a broader plot, "the two of them had gone down the dark path of radicalization."
 
He announced no significant shift in U.S. strategy and offered no new policy prescriptions for defeating the Islamic State, underscoring both his confidence in his current approach and the lack of easy options for countering the extremist group.
 
In speaking from the Oval Office, Obama turned to a tool of the presidency that he has used infrequently. He's made televised statements from the Oval Office just twice, the last in 2010 when he announced the end of combat missions in Iraq.
 
While Obama has spoken frequently about the Islamic State in recent news conferences and other events, the decision to speak in prime-time reflected concern among his advisers that his message isn't breaking through. The White House has been particularly concerned about the heated rhetoric from Republican presidential candidates about Muslims.
 
Obama said, "We cannot turn against one another," but he also said radicalism has spread into some Muslim communities and has become a problem that Muslim leaders "must confront without excuse."