Polk County issues mandatory evacuations ahead of Irma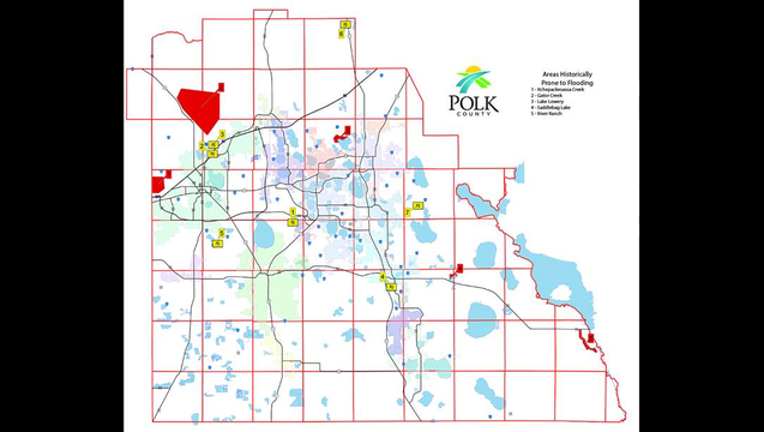 article
POLK COUNTY, Fla. (WOFL FOX 35) - Polk County public shelters are now open. Residents requiring assistance for transportation to special needs shelters have begun moving into their shelters.
Polk County's Emergency Management division says now is the time to decide whether you should move to a shelter, or shelter in place.
Polk County residents who live in manufactured and mobile homes, or in areas of the county that historically are prone to flooding following heavy rains, should evacuate and take advantage of open shelters during Hurricane Irma.
This mandatory evacuation includes people who live in manufactured and mobile homes, and areas of the county that are most vulnerable including:
Itchepackesassa Creek, bordered by Deeson Road, the County Line, Ariana Street and Chestnut Street;
Gator Creek, in extreme northwest Polk bordered by the County Line on the north and west, Marcum Road on the south and Highway 33 on the east;
Lake Lowery's northwest side of the lake;
Saddlebag Lake
 River Ranch
You should only decide to shelter in place if you live in a secure structure that is not a mobile or manufactured home. When sheltering in place, you should:
Bring your pets indoors
Secure outdoor objects such as lawn furniture, garden decorations and anything else that could become a flying projectile
Be sure you and your family have a safe room in which to ride out the storm. This should be a room that is in the interior part of your home with no windows.
Get your survival kit out and ready. Be sure to pull out your weather radio so you can keep up with current weather conditions.
Public shelters now open are:
Auburndale High School -- 1 Bloodhound Trail, Auburndale
Bartow High School -- 1270 S. Broadway, Bartow
Davenport School of the Arts --  4751 N CR 547, Davenport
Horizons Elementary -- 1700 Forest Lake Drive, Davenport
Lake Region High School -- 1995 Thunder Road, Eagle Lake
Haines City High School -- 2800 Hornet Drive, Haines City
Spook Hill Elementary 321 Dr. -- J.A. Wiltshire Ave., E., Lake Wales
George Jenkins High School -- 6000 Lakeland Highlands, Lakeland
Phillip O'Brien Elementary -- 1255 E. Lime Street, Lakeland
R. Bruce Wagner Elementary -- 5500 Yates Road, Lakeland
Sleepy Hill Elementary -- 2285 Sleepy Hill Drive, Lakeland
Tenoroc High School -- 4905 Saddle Creek Rd., Lakeland
Mulberry Middle School -- 500 Martin Luther King Ave., Mulberry
Lake Marion Creek Middle -- 3055 Lk. Marion Creek Rd., Poinciana
Donald Bronson Community Center -- 124 Bronson Trail, Polk City
Chain of Lakes Elementary -- 7001 CR 653, Winter Haven
Lake Region High School in Eagle Lake and Phillip O'Brien Elementary in Lakeland are pet-friendly facilities.
"Special Needs" Shelters are open for those residents with special medical needs.
Polk County Emergency Management Special Needs Program is designed to provide shelter and/or transportation for residents with medical or physical conditions and/or dependent on medical electrical equipment who require assistance during an emergency.
The "Special Needs" Shelters are located at:
Polk Co. Health Department -- 1255 Brice Blvd., Bartow
Ridge Community H. S. -- 500 W. Orchid Dr., Davenport
McKeel Academy -- 1810 W. Parker Street, Lakeland
----------------------------------------------------------------------------------------
Information Courtesy: Polk County Communications Division